Residential / 1st Quarter 2022
Baan Hom Din
March 16, 2022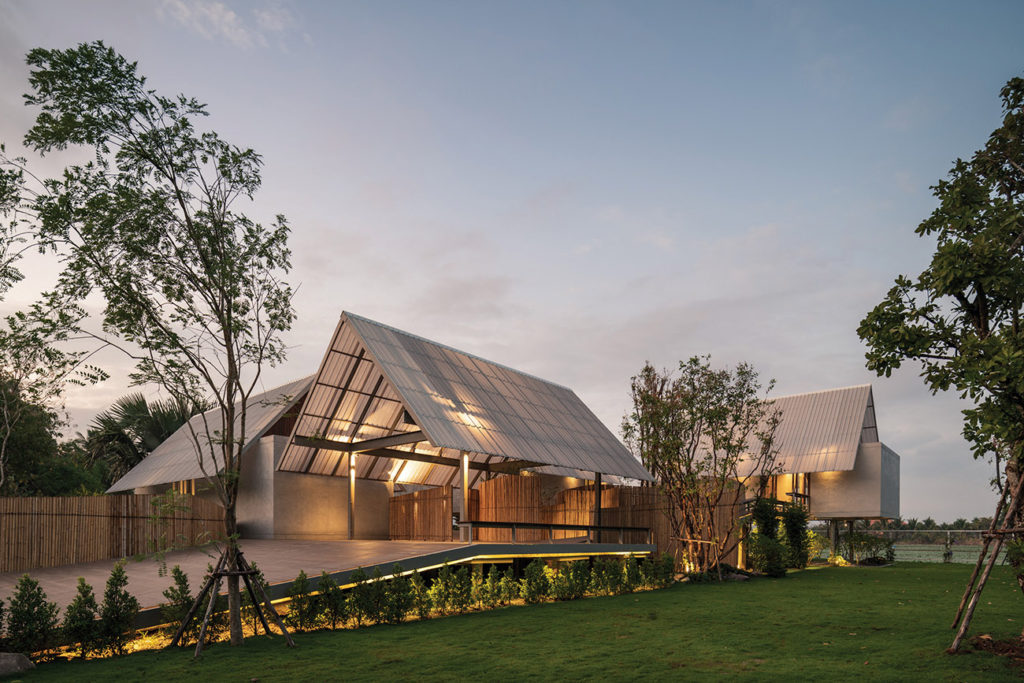 LIGHTLY TOUCHING THE GROUND AND TUCKED AWAY
Blink and you might miss it, although that was the intention of the owners for this new design-and-build house.
Located at the edge of a small village, more than 350 kilometres away from Bangkok, this house is unlike any other in its surroundings—the wide, sloping pedestrian ramp defines the entrance to the property, alongside bamboo fencing that curves around the perimeter of tree canopies. Despite the size of the ramp, the house does not 'shout' its existence—it instead shrouds its cluster of rectangular masses behind trees that line the main road.

This abode belongs to a couple who are doctors. They have been staying at a doctors' residence downtown, but had wanted to build a private house to welcome a new member of their family. As such, the house needs to have easy access within the home and privacy within the rural setting. The architects addressed these requests by organising the main idea around elevating the house above ground and connecting it to the people-friendly ramp.
FORM AND MATERIALITY

The architecture was intended to have a humble expression that is harmonious with the rural context, while also being different enough to express the owner's personality. Thus, it took the form of grey-painted, lightweight concrete blocks—a material chosen for its practicality and ease of construction, considering the project's distance from the city—topped by a gable roof. Besides being commonly used in the area, the gable roof here is able to harness the advantages of natural daylight: around 75 per cent of the enclosed rooms are covered by transparent fibreglass roof panels, enabling hot air to rise to the top to help cool the interior space.
[This is an excerpt. Subscribe to the digital edition or hardcopy to read the complete article.]
---
PROJECT DATA
Project Name
Baan Hom Din
Location
Phetchabun Province, Thailand
Completion Date
February 2022
Site Area
3,370 square metres
Gross Floor Area
240 square metres (terraces); 175 square metres (enclosed areas)
Number of Rooms
5
Building Height
8.6 metres
Client/Owner
Wongsakorn Charoenthai
Architecture Firm
TA-CHA Design
Principal Architects
Waranyu Makarabhirom; Sonthad Srisang
Main Contractor
Chulakarnchange Co Ltd
Civil & Structural Engineer
Montien Keawkon
Images/Photos
TA-CHA Design
---

Previously Published Projects