Commercial / May - Jun 2016
Automated Warehousing Facility
May 7, 2016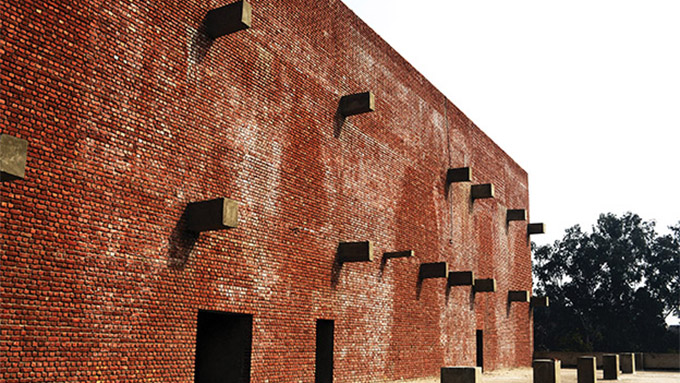 The brief was to create a large warehousing facility that would be equipped with a high degree of automation. With the exception of the office block, the building would have minimal human occupancy. However, the architects wanted an environmental and energy strategy to maintain habitable temperatures throughout the year. New Delhi has an extreme climate and a severely dusty environment, both of which contribute to making buildings highly energy intensive in trying to cool down ambient temperatures to human comfort levels.
The 140,000-square-foot structure was planned in three incremental phases and programmatically divided into three parts—warehouse, loading bay and north-facing office block, which is interlocked with the other two. This layout enables the easy stacking of blocks for future expansion. The office space is thin and narrow, facing the north through a glazed wall that brings in daylight. The warehouse is largely square to enable efficiency, and the dimensions of robotic arms and stacking pallets dictate the spatial planning and the 20-inch-high ceilings. The loading bay acts as an interface between the two elements and the exterior cargo area.
BRICKWORK FAÇADE

Instead of overlaying a conventional window-based punctured façade over the structural frame, the warehouse and loading bay are wrapped in a perforated brickwork screen. This screen shades a glazed dust barrier—recessed by 1,200 millimetres from the south and north façades—creating a buffer zone that cuts glare; serves as a utility zone; and provides a high degree of passive insulation. The glazed barrier can be opened during good weather for ventilation and closed during extreme weather to allow for mechanical ventilation. The west façade is mostly blank with only a thin brick screen near the ceiling to allow for illumination at night. The completely blank east façade faces the loading bay.
PROJECT DATA
Project Name
Automated Warehousing Facility
Location
Anangpur, Faridabad, India
Completion Date
May 2014
Site Area
7 acres
Gross Floor Area
140,000 square feet (built-up area)
Building Height
18.5 metres
Architecture Firm
Amit Khanna Design Associates
Principal Architect
Amit Khanna
Images/Photos
Amit Khanna Design Associates
Previously Published Projects