Residential / Sep - Oct 2018
Artists Retreat
September 23, 2018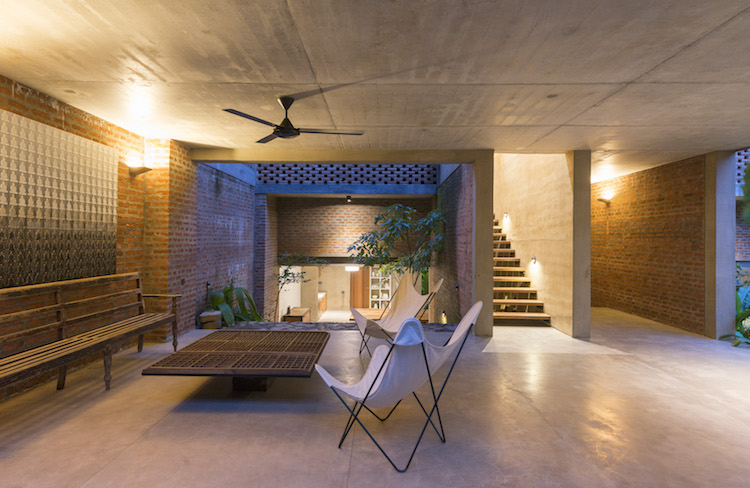 ARTISTS RETREAT
The clients—contemporary Sri Lankan artist JC Ratnayake and his wife, Tanuja, a printmaker—wanted a multifunctional space that would serve as a residence, work space, art storage and gallery. The budget was low; hence the brief called for a contextual design with cost-effective measures that would reflect their simple lifestyle and aesthetic sensibility.

Situated on a 3,700-square-foot site, paddy fields and a busy expressway between Colombo and Galle are on the periphery of the retreat-like abode. The design is reminiscent of the striking ruins of the ancient city of Polonnaruwa, where Ratnayake grew up in. A split-level layout accommodates the sloped terrain, avoiding the cut-and-fill process.

Despite the hot summer months in Sri Lanka, the need for air-conditioning is negated as the entire dwelling is passively ventilated—a jaali (a screen of perforated brickwork that provides air voids in the façade) gives definition to the house while allowing for a cooler microclimate and filtered sunlight.

During the day, each area of the house can be used without any artificial lighting; multiple indoor open-to-sky courtyards enable daylight and natural airflow, as well as for rainwater to be naturally dispersed and absorbed into the ground. Furthermore, the house is buffered from traffic noise from the highway by abundant internal gardens filled with tropical plants and paddy fringe species (such as Alocasia) that serve as private oases.

The architecture offers a fluidity that is distinctive and refreshing—roofed, but open to the natural environment, tropical gardens surround the miniature courtyards abound on the ground floor. The absence of doors and windows at the ground level helped save costs. Instead, indoor courtyards divide the spaces into their respective functions that double up as work and gallery areas: living space, dining-cum-studio, kitchen and garage.
The high-volume studio with an elevated ceiling and ample storage spaces (area under the staircase, for example) is a requirement from the clients to accommodate large-scale paintings and sculptures. This open-concept design eliminates boundaries and gives the entire area an uninterrupted aesthetic, with a view to the distant expansive paddy scape.

This home also offers a space for the art community, a gallery where the clients' artist friends contributed art pieces. Wide steps reminiscent of Sri Lankan monastic gardens connect the living pavilion to the studio—made of affordable rubble and surrounded by Syzygium trees and wild creepers, they serve a dual purpose as seats for dialogue and as a socialising area.

While the ground floor is an open, continuous space, the upper floor is a private sanctuary comprising three bedrooms and a rooftop pond with water lilies and freshwater fish—a meditative zone for the clients. This 1-foot-deep biological pond, replete with aquatic fauna and flora, encourages biodiversity and keeps the spaces beneath cool.
PROJECT DATA
Project Name
Artists Retreat
Location
Athurugiriya, Sri Lanka
Completion Date
2017
Site Area
3,700 square feet
Gross Floor Area
3,600 square feet
Number of Rooms
3 bedrooms
Building Height
21 feet
Clients/Owners
JC Ratnayake; Tanuja
Architecture Firm
Palinda Kannangara Architects
Principal Architect
Palinda Kannangara
Contractors
Local workmen
Landscape Architect
Varna Shashidhar
Civil & Structural Engineer
Rajapakshe
Images/Photos

Mahesh Mendis; Sebastian Posingis;
Palinda Kannangara Architects
Previously Published Projects