Online Exclusive Feature, Residential / 2022
An 'alley-oop' in the alley: Ring House by Delution
March 30, 2022
It may not be uncommon to have a basketball ring in one's backyard, but to place a court at the very centre of one's home would be a manifestation of passion.
At Ring House, the mini-basketball court at the heart of the house is even more remarkable when considering its limited land area.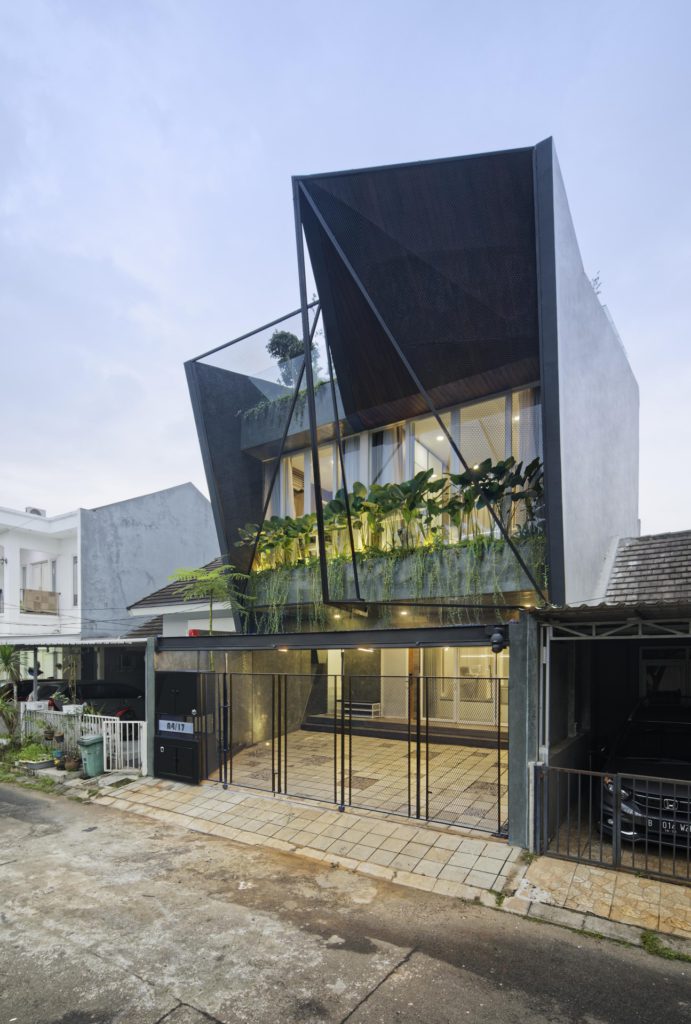 Located within a cluster of one- and two-storey row houses in Serpong, Indonesia, this residence has a modest site measuring around 8×16 square metres. The client wanted a space to play basketball with his son inside the home, and this hobby was taken as the main design inspiration by the architects.
"With a limited project land, the architect must [find a way to] compromise the functional matters," wrote the architects. The answer was to provide versatile, highly tailored functions.
The central mini-court is built to be the family's multi-functional exercise, seating and gathering space. Vertically, it forms an atrium that spans the house's three levels, inviting in natural light and stack-effect ventilation by way of a skylight and grills near the ceiling. The diagonal slant of this atrium had also been inspired by the conical shape of a basketball net.
Mesh partitions are used to divide the spaces, akin to the fences used around basketball courts. The doors of the family room can be folded away to expand the space—a flexibility that is also reflected in the custom-made furniture. The seats can also be used for storage; some parts can even be pulled out to form an additional bed for guests.

Another special feature of the house is its roof garden. Landscaped with pebbles, boulders and tropical shrubs that lead to a stepped amphitheatre, this roof garden is the inhabitants' own slice of Eden. It becomes the crowning jewel of the house, vertically stacking the programmes of a park within the narrow neighbourhood street.

---
PROJECT DATA
Project Name
Ring House
Location
Serpong, Tangerang Selatan, Banten, Indonesia
Completion Year
2021
Site Area
120 square metres
Building Area
204 square metres
Architecture Firm
DELUTION
Design Team
Muhammad Egha; Hezby Ryandi; Fahmy Desrizal; Sunjaya Askaria; Indira Pramundita S; Naufal Ryandi
Engineers
Muhammad Egha; Nando Rimaldi; Farhan Afifi; Macfud; Dydy Krisnanto
Contractor
DELUTION Build (Ex-CRI)
Photographer  
Fernando Gomulya
---

Previously Published Projects