Institutional, Residential / 1st Quarter 2022
AMN Student Housing
March 16, 2022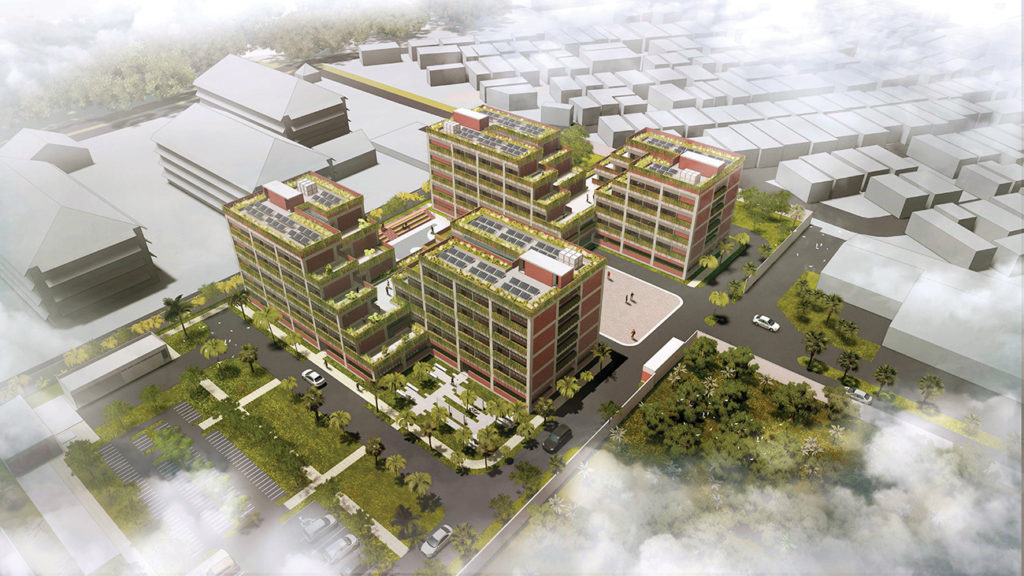 INCLUSION AND REPRESENTATION IN A STUDENT HOUSING PROJECT
When we talk about student accommodation or dormitories, the typical picture that comes to mind is those associated with a single educational/tertiary institution or university, or even a specific faculty. As such, students staying at these dorms would already have been selected by each institution according to entry criteria to study there—thus, it is likely that those staying in a dorm are from the same faculty or school, or share similar backgrounds.
What differentiates Asrama Mahasiswa Nusantara (AMN) from the norm is that it is a pilot project that provides accommodation, training and vocational education for selected college-age students, as part of a programme of the Indonesian State Intelligence Agency (BIN).
Its aim is to allow for an experience of pluralistic living without segregation: students of Papuan, Javanese, Sundanese, Batak, Ambonese and other lineages will be housed together, and given the same attention and facilities. The 1-hectare site is located between Surabaya's old town and Juanda International Airport—within close proximity to the city's 20-plus universities—and it is bordered by the Aviation Polytechnic of Surabaya, government offices and a five-storey housing.

DESIGNING FOR INCLUSION
This project arose out of a need to address past practices of housing Papuan students separately in their own compound, excluded from the rest. The necessity to do away with such unexemplary conventions is key, as Indonesia is a vast archipelagic country comprising some 17,500 islands with around 1,300 recognised ethnic groups.
Against this cultural backdrop, SHAU was commissioned by the Ministry of Public Works and Housing who manages the planning and construction of AMN to come up with an inclusive living environment for the invited students.
During the design process, a socio-cultural expert, Pauline Boedianto, was also engaged to consult on the needs of Papuan students to be included in the design. For example, a tradition of the stone grill ceremony from Papua—where villagers would sit around a fire and cook together on stones, done not only to celebrate events, but also to resolve conflicts—was taken as inspiration and translated into the layout with a circular arrangement of seats. It was further proposed not to have sofas in the rooms, but instead to have a carpet and cushions as floor seating. This seeks to impart an informal, down-to-earth spirit to build trust, especially between mentors and students.
PASSIVE DESIGN
The team approached the architecture by dividing the housing volume into four sculpted masses, elevating them on stilts while connecting them on the ground floor where most of the facilities are located. Considering the tropical climate, having less walls on the perimeter would help to improve air flow, while imparting a more welcoming feel due to the openness. It is also a reference to Indonesian traditional houses, many of which have stilted structures.
[This is an excerpt. Subscribe to the digital edition or hardcopy to read the complete article.]
---
PROJECT DATA
Project Name
AMN Student Housing
Location
Surabaya, Indonesia
Expected Completion
2022
Site Area
9,975 square metres
Gross Floor Area
9,260.7 square metres
Building Height
19 metres
Client/Owner
The Ministry of Public Works and Housing of Indonesia (KemenPUPR)
Architecture Firms
SHAU (Design Architect); PT Tisaga Konsultan
Principal Architects
Daliana Suryawinata; Florian Heinzelmann
Architecture Team (SHAU)
Pauline Boedianto; Ignatius Aditya Kusuma; Aprilea S. Ariadi; Prisca Bicawasti
Equinox
Main Contractor
PT Nindya Karya
Mechanical & Electrical
Engineer
PT Tisaga Konsultan
Civil & Structural Engineer
PT Tisaga Konsultan
Photos/Images
SHAU
---

Previously Published Projects