Urban Design / Nov - Dec 2018
Amaravati
by Bhawna Jaimini
November 7, 2018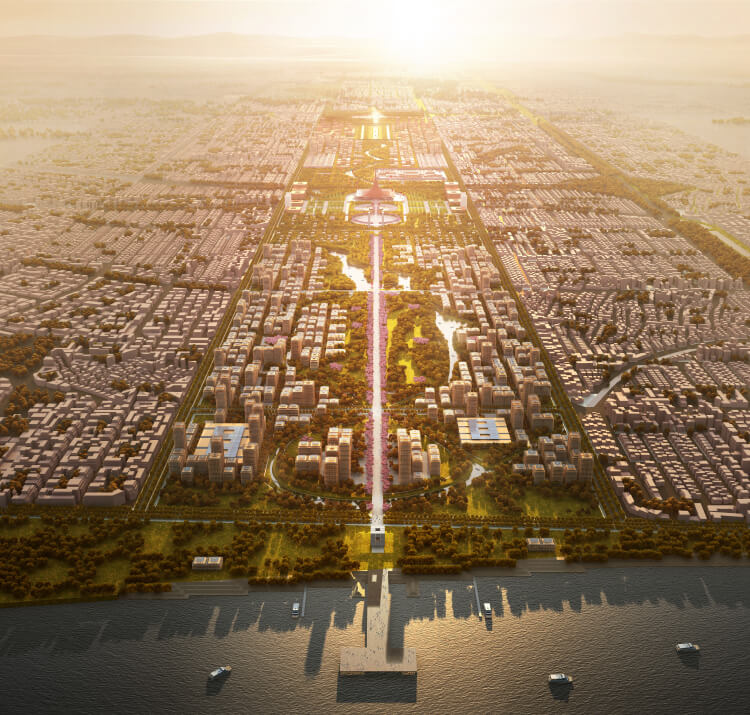 The new state capital of a Southern Indian state is heralded as the most sustainable city in the world. After Jawaharlal invited the Swiss-French architect Le Corbusier to build Chandigarh in the 1950s, Amaravati is the second 'built city' of a massive scale to come up in India.
Though five decades have passed since the dream of Chandigarh was realised, the major challenge that failed Chandigarh looms large over Amaravati's future. How do you design and plan for diverse socio-cultural realities and complexities present in an Indian city?
On 2 June 2014, the state of Andhra Pradesh in Southern India was split into two. The northwestern part of the state became the 29th state of India, Telangana, and the rest continued to be Andhra. After the division, the historic capital of Hyderabad went to Telangana, leaving Andhra Pradesh in the need of a new capital.
From this need rose the ambitious project of creating the 'people's capital' called Amaravati, which translates to 'the place for immortals'. Nara Chandrababu Naidu, the chief minister of the state, reiterated his ambitions on the foundation day by saying, "We have created history as we laid the foundation for our 'Amaravati', the people's capital, on 22 October 2015. We aspire to make
Amaravati a true people's capital, a destination of opportunities and a city of the future. Amaravati beckons us to rededicate ourselves in this mission." 1
After the project of building Amaravati was announced, the state government invited three internationally renowned firms: Rogers Stirk Harbour + Partners; Vastu Shilpa Foundation; and Maki and Associates to participate in the Amaravati Governmental Complex Concept Design Competition. Maki and Associates, led by Fumihiko Maki, was initially declared as the winner but the award was later controversially revoked.
The state government then hired London-based Foster + Partners, along with architect Hafeez Contractor from Mumbai, to design the master plan and the capital complex of Amaravati. According to Norman Foster, the city of Amaravati will be one of the world's truly 'sustainable cities'. On one of his visits to the site, he remarked, "This is a design that brings together our decades-long research into sustainable cities, incorporating the latest technologies that are currently being developed in India." 2  
1 https://amaravati.gov.in/EBricks/Index.aspx
2 https://www.thehindu.com/books/literary-review/Ghosts-of-Chandigarh-past/article14429943.ece
PROJECT DATA
| | |
| --- | --- |
| Project Name | Amaravati Government Complex |
| Location | Amaravati, Andhra Pradesh |
| Status | Under Construction |
| Site Area | 6,117,499 square metres |
| Gross Floor Area | 9,411,397 square metres |
| Architectural Firm | Foster + Partners; Hafeez Contractor and Associates (master plan) |
| Principal Architect | Foster + Partners |
| Client/Owner | Andhra Pradesh Government |
| Mechanical &Electrical Engineer | Hafeez Contractor and Associates |
| Civil &Structural Engineer | Hafeez Contractor and Associates |
| Images/Photos | Foster + Partners; The Energy and Resources Institute (TERI), New Delhi; Andhra Pradesh Capital Region Development Authority (APCRDA) |
Previously Published Projects