Institutional, Online Exclusive Feature, Social / 2021
AKN Nursery
March 30, 2021
Forest House in Akiruno
This is a facility that has two functions. One is a training center of Montessori education (hands-on learning and collaborative activities) for toddlers from 0 to 3 years of age, and the other is a playing hall for children of the nursery next to this facility.

Forests make up more than half of the area in Akiruno, Tokyo. So, this facility was designed with the concept of a 'Forest House', for both children and adults to cultivate their sensitivity and independence through an interaction with nature.

This building consists of two square-shaped buildings that are simply designed with timber, akin a forest. Columns and beams are arranged at equal intervals. The columns can be an element in children's play during a game of hide-and-seek or mingle with friends. In the childcare support room next to the entrance, a wooden board is set as a bookshelf too.

In a simple space, the facility seeks to offer a space for children to enjoy playing and learning with independence. With large, full length openings, the facility provides a connection to the natural environment for occupants. Natural lighting and ventilation are also designed to enhance the experience of children to relate to nature. Greenery are allocated within the compound for the children's first-hand education.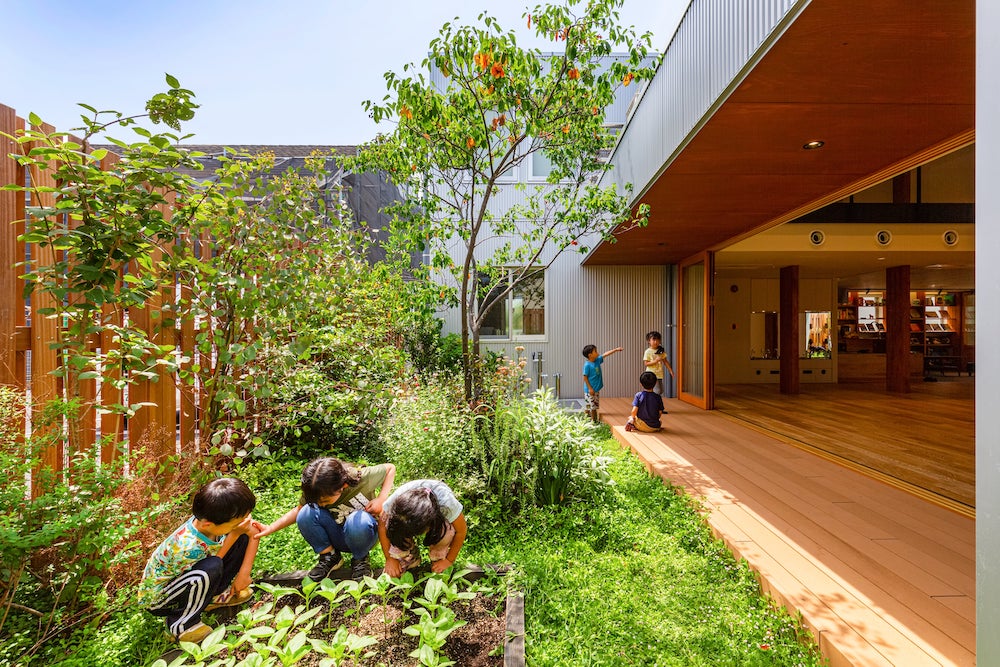 The childcare support room is open to neighbours as well. On the wall and ceiling, local timbers are used without any artificial coatings. People can feel the wood's real texture. The café counter is designed with piled local timbers.
Project Data
| | |
| --- | --- |
| Project Name | AKN Nursery |
| Site | Akiruno, Tokyo  |
| Completion | March 2020 |
| Design | HIBINOSEKKEI + Youji no Shiro |
| Site Area | 320 square metres |
| Building Area | 191 square metres |
| Total floor area | 292 square metres |
| Structure | Wooden, 2 storeys |
| Photos | Toshinari Soga (studio BAUHAUS) |
Previously Published Projects