Institutional / 2nd Quarter 2022
Agora Cancer Research Pole
June 15, 2022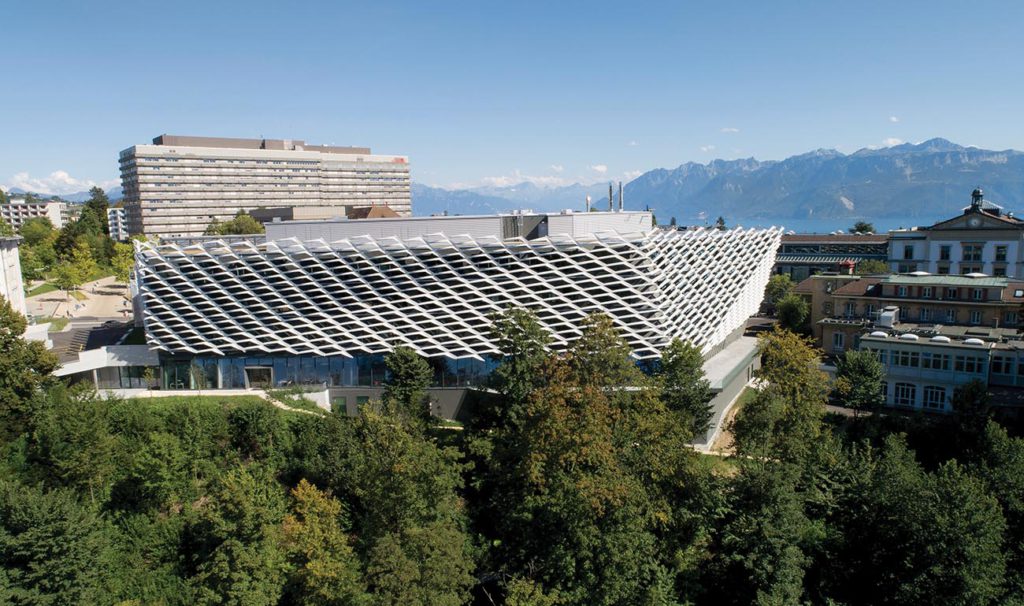 Behnisch Architekten's first project to introduce a highly-sophisticated, geometrical fixed sunshading grid, the Agora Cancer Research Pole in Lausanne, Switzerland, aims to offer sun protection that allows practically unobstructed views of the environment while keeping the summer sun out, facilitating ambient light into the depth of the room and permitting the winter sun to partially enter the space.
RELATED: Commentary | Igniting Ideas from Other Insights
As Agora's building mass is freely shaped with complex volumes, tilted walls and corners merging at geometrically complicated angles, with hardly any façade being vertical, individual elements had to be calculated and produced for each situation. The façade was computer simulated and tested for sun and heat protection, light enhancement and glare, proving that the performance of this newly-developed fixed sunscreen is much greater than any other fixed or movable sunshading device.
[This is an excerpt. Subscribe to the digital edition or hardcopy to read the complete article.]
---
PROJECT DATA
Project Name
Agora Cancer Research Pole
Project Location
Lausanne, Switzerland
Completion Year
2018
Client
Fondation ISREC
User
UNIL (Université de Lausanne); EPFL (École Polytechnique Fédérale de Lausanne)
Architects
Behnisch Architekten Stuttgart; Stefan Behnisch; Stefan Rappold
Partner-in-Charge
Stefan Behnisch
Project Leader
Cornelia Wust
Team
Natasa Bogojevic; Ioana Fagarasan; Michael Innerarity; Matthias Jäger; Heinrich Lipp (Wbw); François Servera; Saori Yamane
Partner Architect
Fehlmann Architectes SA
Photography
David Matthiessen


---
RELATED: Project | Harvard University Science and Engineering Complex

Harvard University Science and Engineering Complex: World's first hydroformed façade | FuturArc
Completed in 2021, the complex in Allston, Massachusetts, features the world's first hydroformed tensile exterior façade system sheathing research areas on the upper floors, which plays a vital role in both energy performance and occupant comfort. The fixed sunshade is geometrically calibrated to lo…
RELATED: Project | Adidas World of Sports Arena

Adidas World of Sports Arena | FuturArc
For the Adidas World of Sports Arena office in Herzogenaurach, Germany, the façade elements are larger than on Agora to match its monumental scale, more structurally complex and attached on each floor to a vertical frame. Highly challenging as the building's thermal envelope is fully glazed, the fix…

Previously Published Projects