Institutional / 2nd Quarter 2022
Adidas World of Sports Arena
June 15, 2022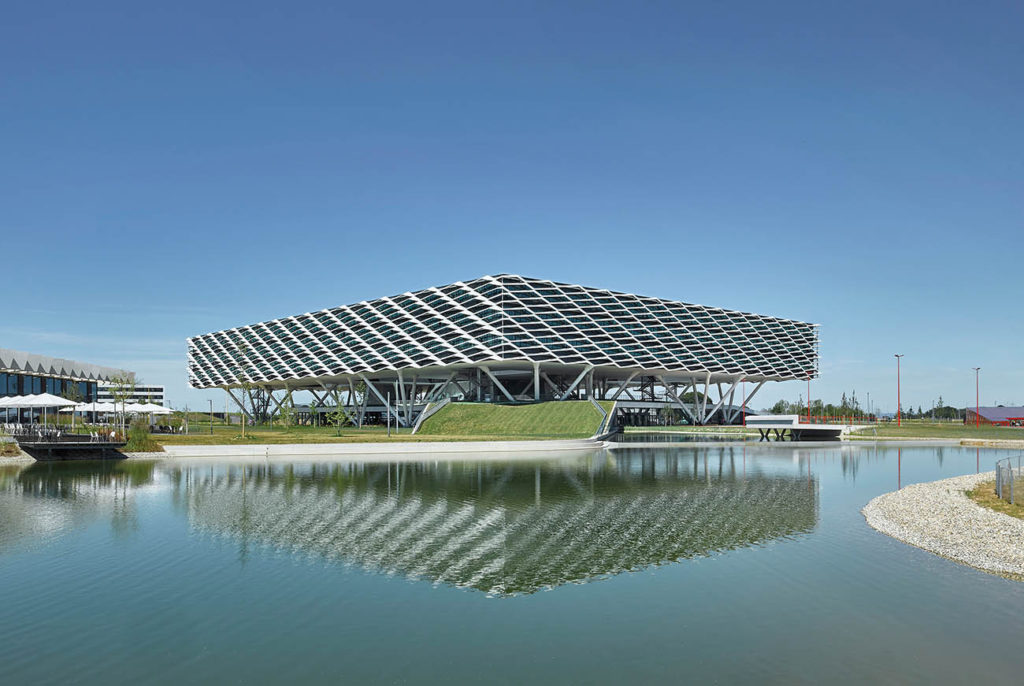 For the Adidas World of Sports Arena office in Herzogenaurach, Germany, the façade elements are larger than on Agora to match its monumental scale, more structurally complex and attached on each floor to a vertical frame. Highly challenging as the building's thermal envelope is fully glazed, the fixed sunshading system consists of opaque and perforated aluminium panels mounted to a reinforced steel frame, and open wings, spaced 2.7 metres apart, guarantee excellent views from within.
RELATED: Commentary | Igniting Ideas from Other Insights
Behnisch Architekten developed a system adapted to the orientation of each façade and taking into account the sun's varying angles during the day and throughout the year, with the spring, summer and fall sun mostly blocked, and the winter sun shining directly onto the glass. A simulation of the building's thermodynamics made it possible to geometrically optimise the equilibrium between daylighting and heat gain. The building has been submitted for LEED Gold certification in light of its energy-efficiency standards and wide use of recyclable materials.
[This is an excerpt. Subscribe to the digital edition or hardcopy to read the complete article.]
---
PROJECT DATA
Project Name
adidas World of Sports ARENA
Location
Herzogenaurach, Germany
Completion Year
2019
Gross Floor Area
52,000 square metres
Client/User
adidas AG
Architect and General Contractor
Behnisch Architekten Stuttgart
Project Leaders
Stefan Rappold (Partner); Cornelia Wust  
Team 
Nadine Hoss; Carina Steidele; Dennis Wirth; Nevyana Tomeva; Martin Buchall; Jorge Carvajal; Laetitia Pierlot; Saori Yamane; Adriana Potlog; Ioana Fagarasan; Anna-Lena Wörn; Abdalrahman Alshorafa; Arlette Haker; Hamdy Saflo; Matteo Cavalli; Mahboubeh Shoeybi; Andreas Peyker; Nadine Waldmann
Photography
David Matthiessen


---
RELATED: Project | Harvard University Science and Engineering Complex

Harvard University Science and Engineering Complex: World's first hydroformed façade | FuturArc
Completed in 2021, the complex in Allston, Massachusetts, features the world's first hydroformed tensile exterior façade system sheathing research areas on the upper floors, which plays a vital role in both energy performance and occupant comfort. The fixed sunshade is geometrically calibrated to lo…
RELATED: Project | Agora Cancer Research Pole

Agora Cancer Research Pole | FuturArc
Behnisch Architekten's first project to introduce a highly-sophisticated, geometrical fixed sunshading grid, the Agora Cancer Research Pole in Lausanne, Switzerland, aims to offer sun protection that allows practically unobstructed views of the environment while keeping the summer sun out, facilitat…

Previously Published Projects