Landscape / Sep - Oct 2017
A river in need
September 10, 2017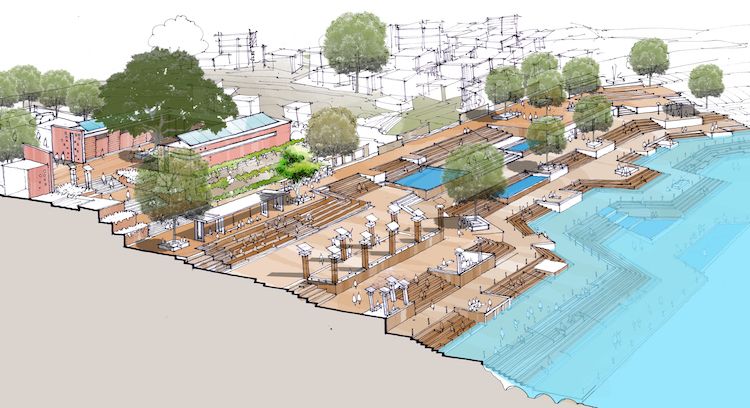 The Ganga (or the Ganges), one of the greatest rivers in the world, is almost one with human civilisation, directly and indirectly supporting about 10 percent of the world's population. It carries a variety of flora and fauna, providing life and livelihood.

Yet, the Ganga is dying. The issues that the river faces today are environmental, social, hydrological and infrastructural. Whilst all are important, the most critical one to tackle is the Ganga's environmental degradation. It probably carries more sewage than any other water body in the world today, where 260 million litres of industrial waste pours into it every day—more than the output of several nations. While the Ganga provides life to a significant portion of the population, the number of waterborne deaths it causes due to pollution, at a conservative estimate, is 600,000 per year.
The architects had also looked at varying flood levels on the ghats, and proposed to introduce reforestation with resilient plants as well as hume pipes to stabilise the edges. Piers have been designed to support water transport along the river. Permeable materials—such as bricks, Kota and Dholpur stones as well as red sandstones—are locally available and will be used to allow for water percolation.

The stones will be used for flooring/paving, as well as in the built structures that are designed to be submerged at high tides. Low-maintenance bricks can be made from good-quality soil that are sourced from the region, and is thus suitable to be the main building material for almost all structures. These structures will be lifted above ground level for natural ventilation, ideal for a hot climate.

The architects' social agenda is to respond to a river in need, in this case one that sustains one of the highest populations in the world. Its resurrection will ensure a balanced water system that will deliver opportunities for future generations.
PROJECT DATA
| | |
| --- | --- |
| Project Name | A river in Need |
| Location | Kila Ghat, Shree Narayan Ghat and Darugunj Cremetorium, Allahabad; Serpur Ghat, Mirzapur to Varnasi |
| Status | Proposal and advocacy |
| Site Areas | Kila ghat: 7,500 square meters; Shree Narayan ghat: 950 square meters; Daragunj Cremetorium; 3,550 square meters; Serpur Ghat: 770 square meters |
| Gross Floor Areas | Kila ghat: 300 square meters; Shree Narayan ghat: 105 square meters; Daragunj Cremetorium; 450 square meters; Serpur Ghat: 105 square meters |
| Building Height | Kila ghat: 4.1 meters; Shree Narayan ghat: 4.1 square meters; Daragunj Cremetorium; 6.3 square meters; Serpur Ghat: 4.1 square meters |
| Client Owner | Government of India |
| Architects Firm | Morphogeneis |
| Project Architects | Sonali Rastogi |
| Main Contractor | Local vendors |
| Images/Photos | Morphogeneis |
Previously Published Projects