Commercial, Online Exclusive Feature / 2021
276 Office by A+ Architects
November 25, 2021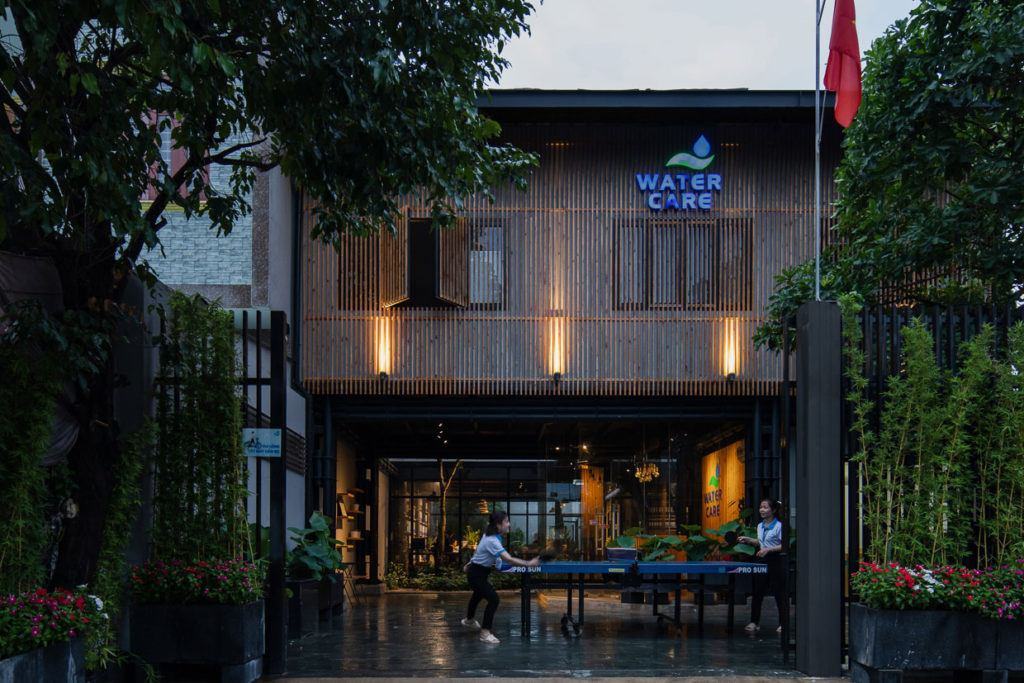 Binh Duong, a province adjacent to Ho Chi Minh City as Vietnam's economic and cultural capital, is being developed to hold industrial estates. Sitting in this context is the site of 276 Office, which serves a company that provides water and waste treatment solutions for industries. They wanted a workplace that emphasises the environmental focus of their work, thus requesting for a different façade from the typical pre-engineered steel ones that populate its surroundings.  
And a different architectural tone was indeed created. Save for the company's logo on the wooden façade of the building, at first glance, one would not immediately discern this as an office. The use of wood, warm tones and greenery makes it look like a cosy wellness outfit. But beyond the frontal appearance lies a more in-depth strategy that helped make this office a Greener asset.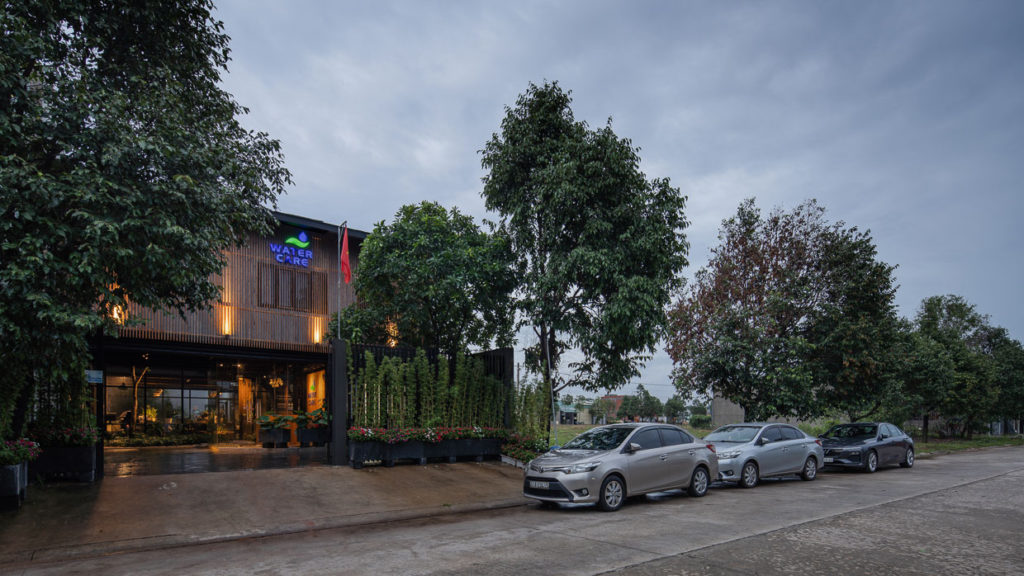 An 'non-industrial' façade
The design team's response for a different façade was a louvre system that uses heat-treated pine 'thermowood', which helps to regulate the amount of solar radiation against the south wall, while still ensuring the circulation of natural light and cool breeze throughout the building. These elements add to the building's vertical emphasis, which are further accentuated by the structural solution.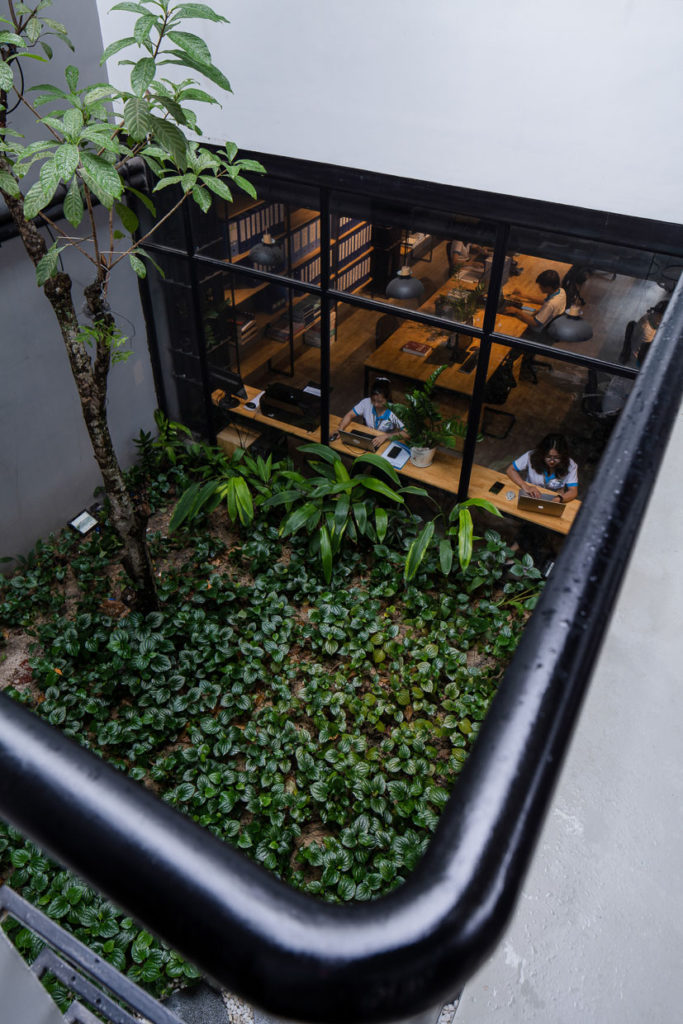 Spatial layout & materials
In order to accommodate the green pockets of space at the 280-square-metre site envisioned for the project, the designers compacted and vertically stacked the required space to make room for more greenery on the ground. Then, they separated the mass into two parts to encourage air flow between the blocks. Keeping to the environmentally friendly focus of the brief, the team sought readily available materials within the area. These included locally sourced pine and acacia wood for furniture applications, as well as old iron pipes that they found at a recycling shop.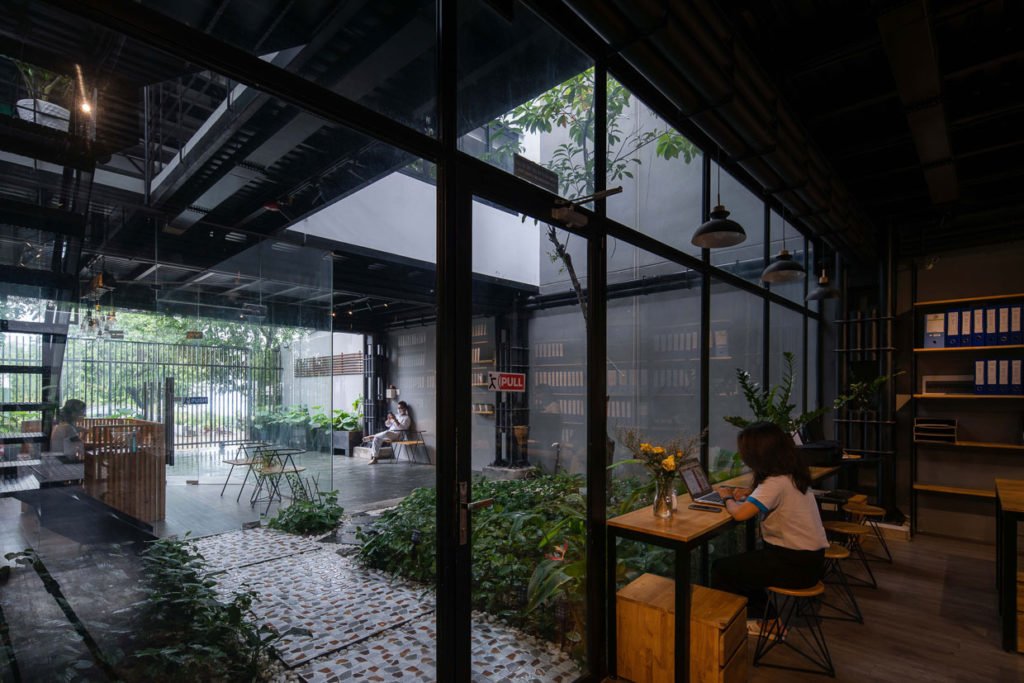 Stronger together
Usually, for construction projects, builders would apply iron pipes with I, C, or round profiles for mechanical systems only, due to their small size. However, the designers wanted to use this material as an important part of the load-bearing structure. So, the question was how could they arrange the recycled iron pipes to make them much steadier? Referencing Aesop's fable on "the bundle of sticks"—the story of how unified parts are much stronger together than separately—the designers bundled together the iron pipes, forming pillars that in turn constitute the beam-column system of the building.
The architects hoped that this project would serve as an example for young architects to find new solutions using locally available materials. Using simple ideas to create a standout building in the industrial estate, 276 Office seeks to convey a message of environmental conservation and sensitivity to all.
---
PROJECT DATA
Project Name
276 Office
Location
Ben Cat District, Binh Duong Province
Completion Year
2020
Site Area
280 square metres
Gross Floor Area
264 square metres
Building Height
2 storeys
Architecture Firm
A+ Architects
Principal Architect
Vu Hoang Kha
Main Contractor
APlus Build
Mechanical & Electrical Engineer
Viet M&E
Civil & Structural Engineer         
T&B.Cons
Images/Photos
A+ Architects
---
Previously Published Projects