2023
WindFree Cooling for comfortable, clean air everywhere
Brought to you by Samsung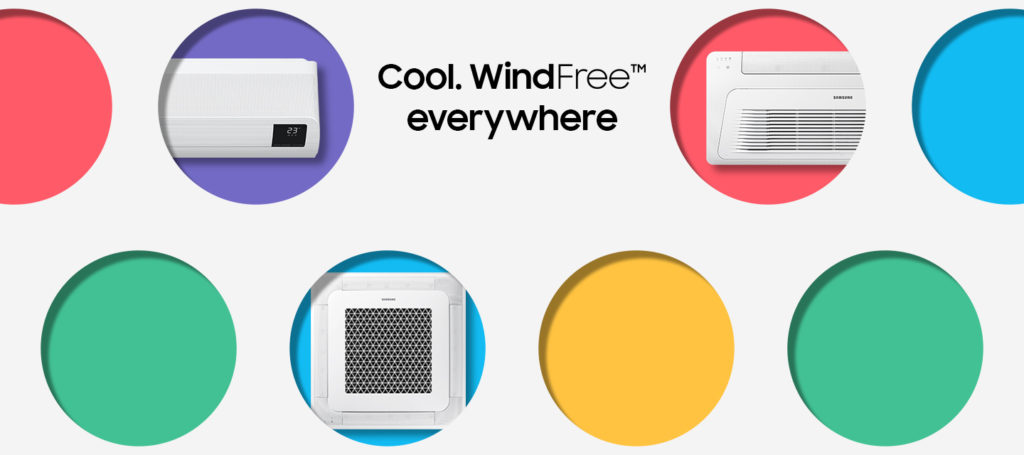 Staying cool when it is hot outside is a priority, but there is more to air conditioning than just bringing down the heat.
Not only does the Samsung WindFree Air Conditioner let users remotely maintain a stable home temperature that is optimised to your daily schedule, its world-first WindFree Cooling technology will keep a pleasantly cool sensation for everyone in the room.
Using the WindFree Cooling mode, the air conditioner works with a very low fan speed while an outdoor unit runs with minimum power. As a result, it consumes much less energy1 to keep the indoor temperature stable for over 8 hours, even on a hot summer day. Once the desired temperature is set, WindFree Cooling will quietly and gently disperse cool air through 23,000 micro air holes2. It creates a "still air" environment3 with very low air speed and much less noise4. Its advanced airflow structure also means that larger areas can be cooled more evenly.
Samsung's WindFree Air Conditioners are equipped with an AI Auto Cooling feature5 that makes it easier to stay cool. Using artificial intelligence, the devices analyse room conditions, user-preferred temperatures and cooling modes, and even the climate outdoors to automatically switch to an optimal room setting. The unit also features a Motion Detect Sensor that will register when there is no one in a room, switching modes automatically to reduce energy consumption.
WindFree also works with the SmartThings app6, where users can switch the air-conditioner on and off, schedule operations, adjust settings, and even monitor power consumption remotely from their smartphones. Even when you are away from home, rest assured that your air-conditioning is not left on to unnecessarily waste energy, and that your room can be cooled efficiently ahead of time.

Staying cool is one thing, but to be truly comfortable, one also needs to be breathing clean air. The Samsung WindFree Wall Mounted air-conditioner incorporates an air purifier that is designed to improve air quality with its advanced filtration system7. It also captures particles, from large dust to ultrafine dust and bacteria8 with the PM 1.0 filter by using an electrostatic precipitator, and eliminates unpleasant odours using a deodorisation filter.
By pushing the boundaries of cooling, Samsung's innovative WindFree technology allows people to live, work and relax more comfortably.
For more information, visit: www.samsung.com/ph/air-conditioners/wall-mount/ar9500t-wind-free-ar10aykagwkntc/.
---
WindFree = WindFree™
1 Tested on the AR07B9350MA3 model by Intertek, a leading Total Quality Assurance provider to industries worldwide, comparing the power consumption of Fast Cooling mode vs. WindFree™ Cooling mode. Results may vary depending on the actual usage conditions.
2 The number of micro air holes may vary based on the capacity of each model.
3 ASHRAE (American Society of Heating, Refrigerating, and Air-Conditioning Engineers) defines "still air" as air currents at speeds below 0.15m/s that lack the presence of cold drafts.
4 Tested on the AR12TXCAAWKNEU model. WindFree mode generates only 23dB of noise, compared to 26dB with the Samsung conventional model.
5 Available for Wi-Fi enabled models.
6 Available on Android and iOS devices. An optional Wi-Fi Kit with a Wi-Fi connection and a Samsung account are required.
7 This function is optional. The number and shape of filters may vary by model.
8 Tested at test lab in Korea for anti-bacteria & virus, and Japan test lab for anti-allergy. Data has been measured under specific testing conditions and may vary depending on environmental factors and individual use. Bacteria testing and results are for Staphylococcus aureus and Klebsiella pneumoniae bacteria. Illustrative image simulated.
---
The views, thoughts and opinions expressed in the text belong solely to the advertiser and does not necessarily reflect those of the Publisher.
Previously Published Products