Sep - Oct 2016
State-of-the-art façade technology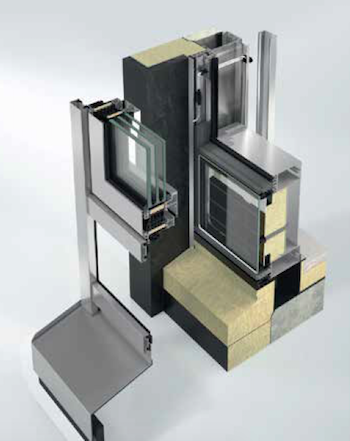 The façade from Schüco is not only a building envelope, it is also a platform that involves mechatronics. With the new cable guidance system, cables can now be installed reliably and efficiently. This facilitates the integration of windows that can be opened automatically with Schüco TipTronic fittings, Schüco building-integrated photovoltaics (BIPV) and the accentuation of the façade using LED lighting with Schüco LightSkin or traditional external advertising.
Profile system
The mullion and transom profiles are available in incremental basic depths of 50 to 250 millimetres. Special e-mullions and e-transoms are also available for concealed cabling in the façade. A new aluminium cable guide system can also be subsequently installed to be almost invisible on the back of the profile, providing the option of laying future electrical cables safely and flexibly.
Thermal insulation system
A high level of energy efficiency is achieved through the super insulation (SI) system certified by the Passive House Institute in Darmstadt. The new generation of SI isolators has an impressive lambda value and excellent fabrication qualities. With optimised material usage, the high insulation version offers thermal insulation to meet passive house standards. A system with standard thermal insulation completes the range, thus offering a suitable solution for all climates.
Gasket system
Based on Schüco SimplySmart, this new continuous system for attaching façade systems to building structures ensures a fast and simple planning and fabrication. Minimising interfaces between the adjoining disciplines increases the level of safety for implementation. Façades with low projections at the base point are also compatible with this system and support safe ventilation.
For more information, please visit www.schueco.com/web2/sg.
Previously Published Products