3rd Quarter 2020
SOLEAL 55: Universal sliding system
The SOLEAL system (without thermal break) provides tailored solutions for external joinery in temperate or tropical climates, as well as indoor joinery for partitioning spaces. Its refined and high-quality design makes it the ideal solution for a variety of architectural requirements in the residential and commercial sectors or public buildings.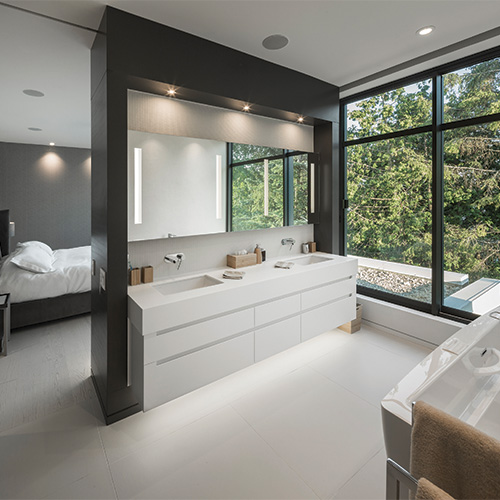 SOLEAL is also available in two main styles: the visible and minimal opening windows. It offers a range of options to accommodate various stylistic requirements: one- or two-leaf windows and balcony doors; integrated or stacked units; casements on sills, with transom or sidelight windows; as well as tilting, turning, projecting and top-hung casements. This range has many applications, such as open-in and open-out windows and patio doors; integrated or stacking assemblies; fixed-light frames, with overpanel or side-fixed lights; as well as Italian-styled and top-hung frames.
The SOLEAL range offers excellent acoustic performance and weather resistance, properties that come as standard with the new generation of TECHNAL windows. As a result, not only does this range meet current regulatory demands, it also anticipates future requirements with its high performance.
In addition, it can be made with Technal's recycled aluminium, Hydro REDUXA 4.0., a low-carbon, sustainably produced aluminium. Using renewable energy from water (hydropower), wind and solar, cleaner aluminium can be produced, which reduces the carbon footprint per kilogramme of aluminium to less than a quarter of the global average. The result means projects could contribute positively to climate change. Hydro's low-carbon aluminium products are designed to reach sustainability goals.
Previously Published Products