Brought to you by AHEC
AR43 Architect's Lim Cheng Kooi marries the philosophy of responsible design with an innovative approach for the Lengkok Merak House with American walnut.
With more than 30 years of experience, it may be easy to pigeonhole Lim Cheng Kooi of AR43 Architects as just another recognised architect with an established practice. While his work in hospitality, commercial and residential projects speaks for itself, if one digs deeper that's where one uncovers his parallel passions for art and social responsibility.
Lim has undertaken pro bono work such as designing the Karuna Home for the Disabled in Karnataka State in South India. An avid painter, he held an art exhibition to raise proceeds for the Karuna Home and a school in Singapore. This all ties back to his design philosophy of responsible design, which is practised at AR43 Architects which he founded in 2008.
"Responsible design is about practising mindfulness in designing to ensure we fulfil the client brief and budget, while respecting the site, built environment and context. This also means that architects need to be socio-culturally involved and contribute back to their communities."
Practicing mindfulness in design also extends to material selection. Lim often selects natural materials for residential projects such as timber, as it adds warmth to ambience. Beyond the aesthetic aspects of timber, its sustainability is also an important consideration, and he prefers using sustainably harvested timber if the project allows for it.
In one of Lim's latest projects, the Lengkok Merak house, the client brief was for an innovative approach to fully utilise the unique site characteristics of a double frontage and an elevated plot above street level. The result is a visually-arresting 10,000 square feet house over two levels, with an attic.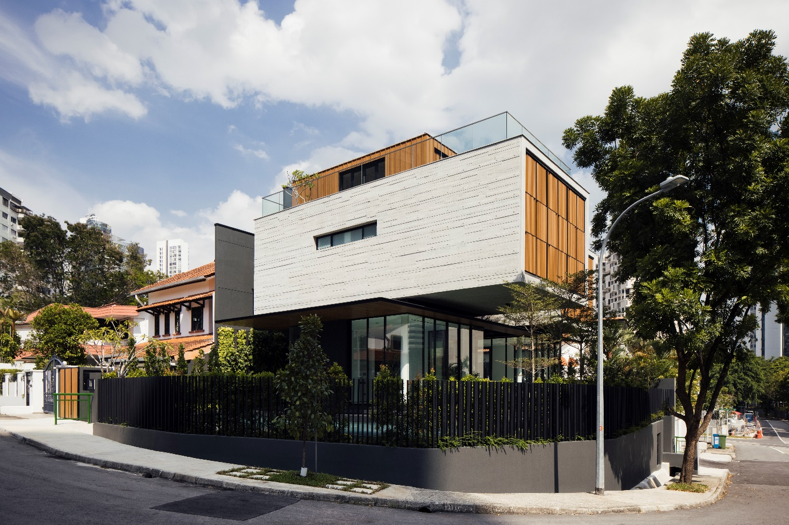 Timber features prominently in the design, starting with a textured concrete façade and aluminium louvres designed to look like timber.
For the interior, Lim selected a neutral colour palette of white walls, black trim and timber. American walnut is used for the timber flooring and feature walls, chosen due to its attractive grains and colour, which also complements the Italian white marble in the kitchen, living and dining rooms.
The master bedroom is located on the third floor and intended to be a sanctuary for the client, with an expansive walk-in wardrobe finished in American walnut, and a unique Japanese-style onsen wooden bath taking pride of place in the bathroom.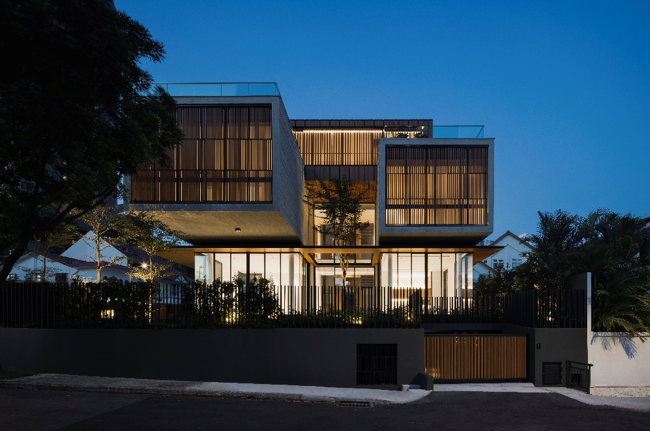 Lim prefers to observe his work at night, sharing that "the house glows like a lantern in the still night, and offers a hint of mystery". With Lim's continuing deft touch and practice of responsible design, we can look forward to more mysterious lanterns in the Singapore's landscape at night.
About American Hardwood Export Council (AHEC)
AHEC is the leading international trade association for the U.S. hardwood industry, representing the committed exporters among American hardwood companies and all the major U.S. hardwood product trade associations. For over 25 years, AHEC has been at the forefront of international wood promotion, successfully building a distinctive and creative brand for American hardwoods and providing technical advice for manufacturers, specifiers and designers around the world.

Website: www.americanhardwood.org/SEA
Follow us on Facebook @americanhardwoodSEA and Instagram @ahec_SEA.
Previously Published Products