3rd Quarter 2019
Rapid yet gentle cooling of the Samsung Wind-Free air conditioner
Samsung Electronics introduces the new Wind-Free 4-Way Cassette, which features an advanced Wind-Free cooling technology that gently disperses cool air instead of a direct cold draft that could be uncomfortable.
Consumer studies have shown that besides a rapid process, users also prefer an even and pleasant cooling. As such, not only does the Samsung Wind-Free 4-Way Cassette lowers the indoor temperature rapidly in the beginning, it also maintains an optimum cooling level consistently. This is possible with its 15,700 micro holes in the panel, which produce a dispersed and gentle airflow.
In addition, the Wind-Free 4-Way Cassette comes with a broader optimised blade design that provides wider and stronger wind flow to cool the surroundings quickly and evenly. Its smart comfort operation feature enables an automatic maintenance of an optimal room condition by detecting both temperature and relative humidity. The air conditioner also comes equipped with an optional motion detect sensor that customises air direction and ensures a more efficient operation by detecting the location and presence of people.
Best suited for both residential and commercial uses, the Samsung Wind-Free series of air conditioners includes the 4-Way Cassette, Wall-mounted, 1-Way Cassette, and the 4-Way Cassette (600 by 600). For more information, please visit www.samsung.com/business/air-conditioners.
Wind-Free is a trademark of Samsung Electronics Co., Ltd.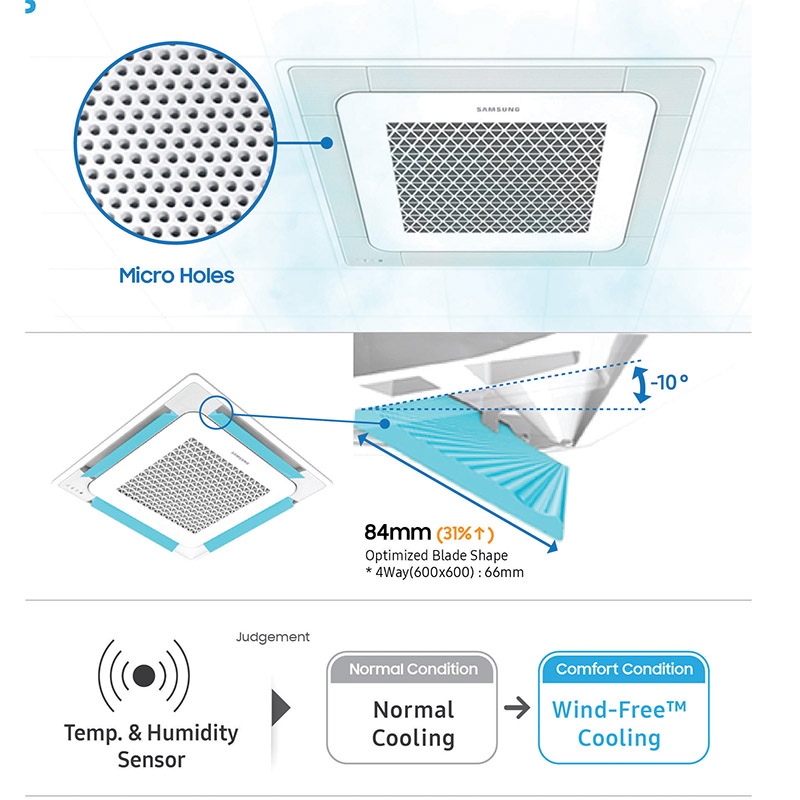 Previously Published Products