2nd Quarter 2019
New concealed mechatronic fittings: minimise noise, maximise opening
Schüco TipTronic SimplySmart is a concealed mechatronic fitting for automating Schüco aluminium window systems, which combine energy management, building automation and security. The window thus becomes an integral component of the intelligent building, taking advantage of the energy efficiency potential of the building envelope, while also featuring an aesthetically pleasing design for commercial and residential projects.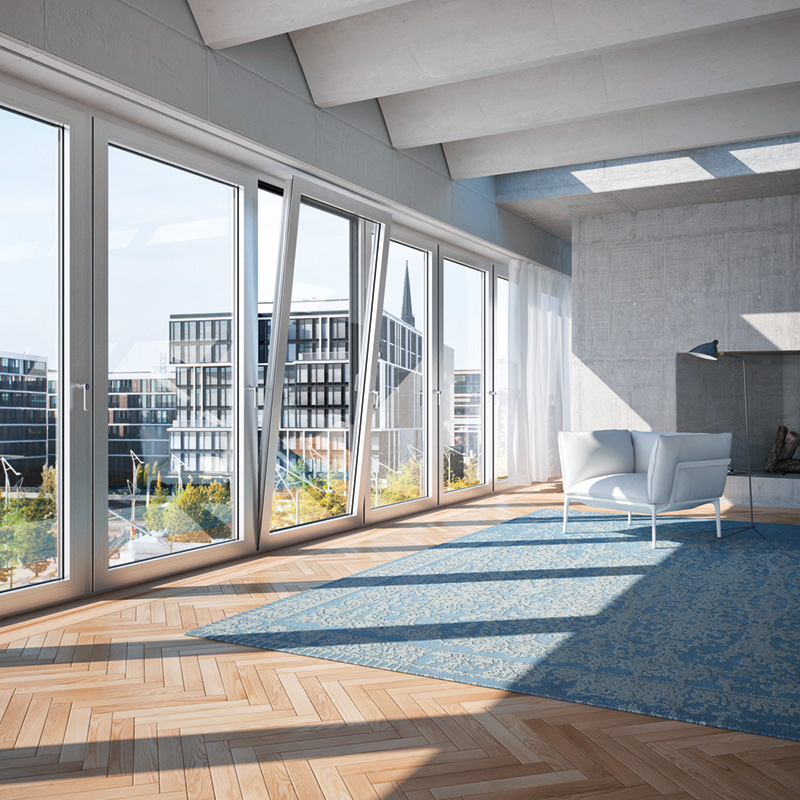 Quietest mechatronic
The fitting is not only the quietest mechatronic Schüco actuator on the market, but is also a fully-tested system consisting of an actuator, fitting and profile system. Increased opening widths and flexible unit sizes also allow Schüco TipTronic SimplySmart to be used in almost all Schüco window systems with various opening types. It offers a variety of automated ventilation functions such as night-time cooling, crack or timed ventilation to ensure a pleasant indoor climate, as well as energy savings. In addition, it can be easily combined with fire protection requirements (smoke extraction, NSHEVs).
Schüco TipTronic SimplySmart uses modular security locking to secure the window at multiple points and provide an increased burglar resistance of up to RC 2 (WK 2). In addition to the integrated anti-finger-trap protection in safety class 2, Schüco also offers anti-finger-trap protection with a sensor strip, which reacts to the slightest contact with any part of the frame and corresponds to safety classes 3 and 4. Besides being more time- and cost-efficient to fabricate, due to the extensive use of identical parts, the new intuitive software also makes commissioning easy.
Convenience and functionality
With their narrow face widths, the exclusive fittings for aluminium windows ensure clean lines and combine a timeless appearance with a high level of functionality. Operation can be done manually (via a handle or wall-mounted switch) or controlled by mobile devices (tablets and smartphones), ideal for windows or top lights that are difficult or impossible to reach. The innovative technology can also be integrated into the building automation systems and offers long-term convenience at the highest level.
About the company
Schüco is the first company in Southeast Asia to be awarded the 2-tick (Very Good) rating in the Singapore Green Building Product (SGBP) certification for window and façade systems, administered by the Singapore Green Building Council (SGBC). The certification serves as a sustainability credential for Schüco's products. Schüco Southeast Asia continues to collaborate closely with SGBC to identify the key Green features in window, door and façade systems that bring greater awareness and eventual usage in our current and future buildings. For more information, please visit www.schueco.com or email [email protected].
Previously Published Products