2020
Get started with Green and healthy building projects
Brought to you by UL
The Green and healthy building movement is gaining momentum across Asia and is expected to continue in 2021 and beyond. Just two years after launching in Asia, the Center for Active Design (CfAD), an operator of Fitwel and one of the world's leading certification systems committed to promoting health through design, is seeing tremendous growth in the number of Fitwel certifications across the region.
In a strategic partnership with CfAD, UL is promoting Green and healthy buildings in Asia, offering local resources, expertise, testing, assessment and support services. The following are some properties that have earned the Fitwel Certification across Asia.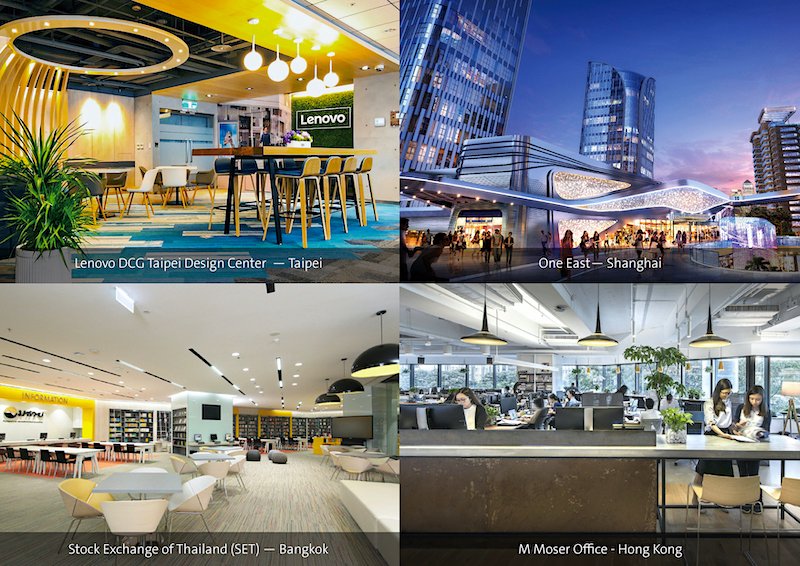 M Moser Office – Hong Kong
M Moser, a workplace design company at the forefront of health and wellness in the workplace, took a fresh look at its company's work and culture when designing their new office space in Hong Kong. The design prioritises its people and inspires the work they do. Earning the highest 3-Star Fitwel rating, in addition to RESET and WELL Certifications, this distinctive workplace demonstrates the company's commitment to spaces that support health and wellness. Learn more about this project.
Stock Exchange of Thailand (SET) — Bangkok
The Stock Exchange of Thailand became the first in Asia to achieve a 3-Star Fitwel Rating in addition to earning the Best in Building Health award. SET offers a restorative garden to promote healthy eating; fruits and vegetables are sold in a weekday farmer's market. The building also monitors indoor air quality to ensure compliance with Fitwel and World Health Organization recommendations, which is a boon to occupants in a country that suffers from air pollution.
One East— Shanghai
Brookfield Asset Management earned the 3-Star Fitwel rating for its One East property in central Shanghai, receiving 127 out of 144 points. The project, offering Grade A, mixed-use commercial spaces, demonstrates its commitment to the health and well-being of its tenants. Click here to learn more about the case.
Lenovo — Taipei
Lenovo DCG Taipei Design Center earned the 2-Star Fitwel Rating by leveraging a variety of strategic measures to improve the physical and mental health of workers. For example, to ensure that employees enjoy good indoor air quality (IAQ), strict requirements were put in place for renovation projects to comply with IAQ management plans during construction, to procure sustainable materials and furniture, and to conduct third-party monitoring of IAQ. Learn more about this project.
Green building resources
If you are considering pursuing Green certifications for your building projects, here are some resources available to help you get started.
UL SPOT: This online resource catalogs hundreds of thousands of products, from electronics, building materials, furniture and flooring to cleaning products, providing information about their sustainability certifications, environmental product declarations, as well as marketing information.
UL GREENGUARD Certified: Products bearing the UL GREENGAURD logo meet rigorous standards for low chemical emissions. These products support healthy indoor air quality and occupant wellness.
Verified Healthy Buildings: This science-based certification programme provides third-party verification of four key areas of healthy buildings: indoor air quality, water quality, building hygiene, as well as lighting and acoustic quality.
Better materials: Green Business Certification Inc. (GBCI) USGBC has launched a website that identifies products that have the appropriate documentation to qualify for the LEED criteria.
About the company
UL offers a range of solutions to support the healthy building movement worldwide. With its Verified Healthy Buildings certification, UL conducts regular testing to verify that indoor environmental quality supports occupant health and wellness. UL SPOT is a resource for architects, designers and other stakeholders to identify sustainable products for their building projects. To learn more about the company's expertise, testing and other services, visit www.UL.com or email [email protected].
---
FITWEL & Design is a registered trademark of the U.S. Department of Health & Human Services (HHS).
IWBI WELL Certified is a trademark of the International Well Building Institute PBC.
UL SPOT and all related product and service names, design marks and slogans are the proprietary trade names, trademarks, service marks and/or registered domain names of UL or its affiliates.
RESET is a registered trademark concept by GIGA to develop actionable, long term strategies towards health and sustainability for the built environment.
Previously Published Products