Mar - Apr 2017
Fire-resistant green wall system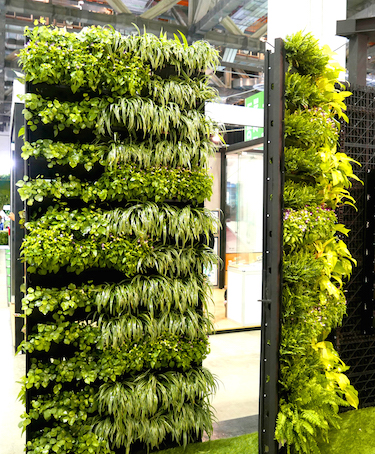 The biggest challenge of greening in highly urbanised areas is space. Owners, architects, designers and professionals in the built industry are embracing vertical gardens, also termed as vertical greenery, green walls or living walls in their projects as an alternative interior façade. The popularity of vertical gardens in buildings is driven by the creative utilisation of unused spaces, its aesthetic value, environmental benefits and occupant well-being.
Elmich has launched VersiWall GT, a new modular green wall system that is engineered to be safe and strong to provide a comprehensive support particularly for indoor vertical greenery.
Long-lasting material
VersiWall GT is manufactured from an extremely durable material and fulfils fire safety requirements, which are some of the essential design considerations in the installations of green walls. It is also fully recyclable.
Efficient installation
VersiWall GT consists of rows of pilasters attached to a structure, onto which the planting trays are hooked to form clean lines for planting. Irrigation pipes can be neatly hidden behind the plants. Additionally, the extruded pilasters (supplied in standard 1.2 metres in height and trays 1 metre in length) can be easily cut to any length both on- and off-site, offering a high level of design flexibility.
Instant green wall
This new green wall system has an added feature that allows for pre-planting with established plants, creating an instant mature green wall for a maximum visual impact in a short period of time.
About the company
Elmich is the leading provider of state-of-the-art and ecologically minded urban landscaping, waterproofing, drainage and stormwater management solutions to developers, contractors and architects around the world.
Headquartered in Singapore with international offices in Australia, Germany, Malaysia, Switzerland and the United States, the company works closely with its network of partners that cover more than 27 countries. VersiWall GT, VersiWall GM and VersiWall GP are the different brands of Elmich's collection of green wall systems. For more information, please email [email protected] or visit www.elmich.com.
Previously Published Products