Jan - Feb 2017
New bendable LED modules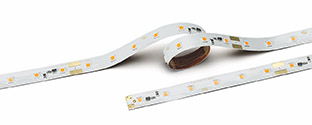 LED Line Flex modules are designed for applications in protected indoor areas.
The LED Line Flex surface-mount device (SMD) indoor module is a highly efficient and bendable LED module with a total length of 5 metres per roll. These modules are available in two output classes (6.5 W/m and 10.5 W/m) and in light temperatures of 3000 K, 4000 K and 5700 K, with an initial colour tolerance of 3 SDCM. On-board power adjustment ensures a constant luminous flux over the entire length, which can be separated into 30 or 50 individual segments, each with seven SMD LEDs.
The LED Line Flex SMD Advanced model is a high-quality alternative that is made in Germany. It offers a service life of 50,000 hours, a minimal decrease in luminous flux (L90/B10) and an integrated ESD protection diode (2 kV). The total length of 4 metres can be divided into 40 individual segments, each with six SMDs. This module is available in six shades of white and the package includes accessories such as PCB connectors.
Both versions are fitted with connection leads, which are soldered onto the input side, and feature a radiation angle of 120 degrees as well as a colour rendering index (CRI) of Ra more than 80.
Typical applications include illumination of complex structures, marking paths, stairs, etc. These modules provide good architectural illumination, and are also ideal for furniture lighting, light advertising, entertainment and shop designs.
LED Line Flex SMD Indoor
• Flexible SMD line module with a low mounting height and self-adhesive rear panel
• On-board current regulation for constant luminous flux on long feed-in length
• Highly efficient: up to 139 lm/W
• Available in different colour temperatures
• Low colour tolerance: 3-step MacAdam
• Service lifetime: 36,000 H (L70/B50)
• Inverse-polarity protection
LED Line Flex SMD Advanced
• Extremely flexible SMD Line module
• Available in different white tones
• Low heat development
• Self-adhesive rear panel
• Integrated ESD protection diode: up to 2000 V
• Service lifetime: 50,000 H (L90/B10)
For more information, please visit www.vossloh-schwabe.com or call +65 6275 7533 (Singapore); +852 2877 9688 (Hong Kong); and +660 26347311 (Thailand).
Previously Published Products