2nd Quarter 2019
Discovery Slides at Jewel Changi Airport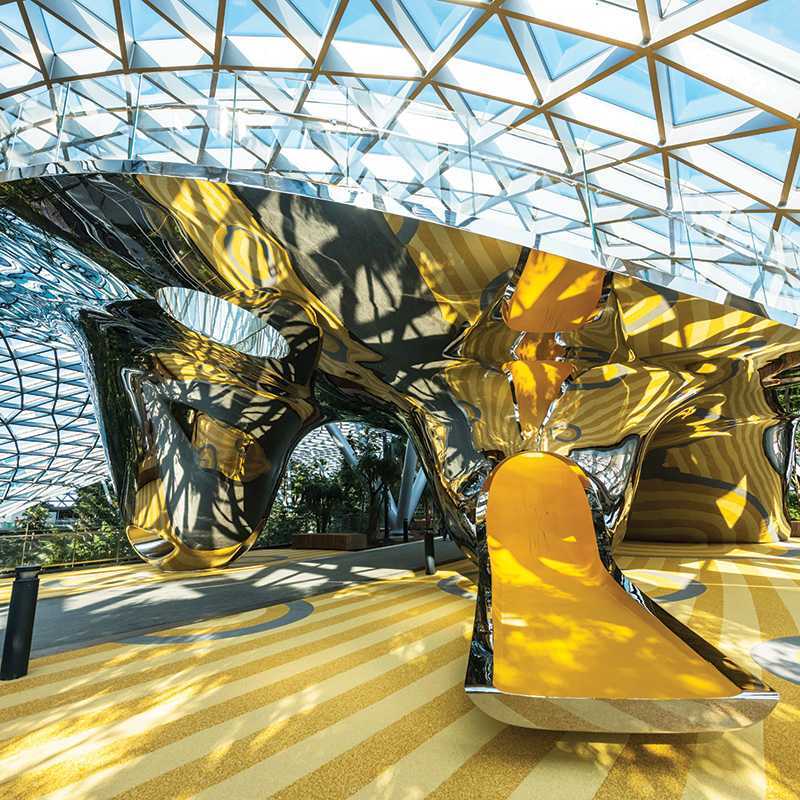 The Discovery Slides attraction, designed by Playpoint (Singapore) Pte Ltd, is located at Canopy Park, the topmost floor of Jewel Changi Airport, a mixed-use development. This attraction has a mirror finish that takes its inspiration from the Cloud Gate sculpture in Chicago. To achieve the smooth mirror finish of the slides sculpture, plates of stainless steel were welded, hammered and polished to achieve a blemish-free appearance.
Spanning over 18.8 by 16.7 metres in length with the highest point of the viewing platform at 6.5 metres, the Discovery Slides is the most complex structure ever built for a playground. It is the world's first design to combine an art sculpture and slides into one single attraction that targets both the young and young-at-heart. The attraction incorporates fibre-optic lights as part of its design, as well as air conditioning to ensure a comfortable experience for everyone. Four slides of varied gradients and heights open up to distinct views of Canopy Park. The viewing platform on the Discovery Slides is an excellent vantage point of Jewel's centrepiece attractions: Shiseido Forest Valley (indoor garden) and Rain Vortex (the world's tallest indoor waterfall at 40 metres high).
For more information, please visit www.jewelchangiairport.com/content/jca/en/attractions/discovery-slides.html.
Previously Published Products