4th Quarter 2020
Building in a post-pandemic world with USG Boral
Demand for prefabricated construction is expected to grow in the post-pandemic world. It brings about many benefits, from cost and time savings to safer construction protocols, with minimal labour needed for installation, allowing implementation of physical distancing measures.
USG Boral offers high-quality building products that are compliant with international standards for prefabrication construction, supporting the building of homes for a new era. The recommended products for this segment are the SECUROCK Glass-Mat Sheathing (GMS) and the SHEETROCK Glass-Mat Mold Tough Liner Panels.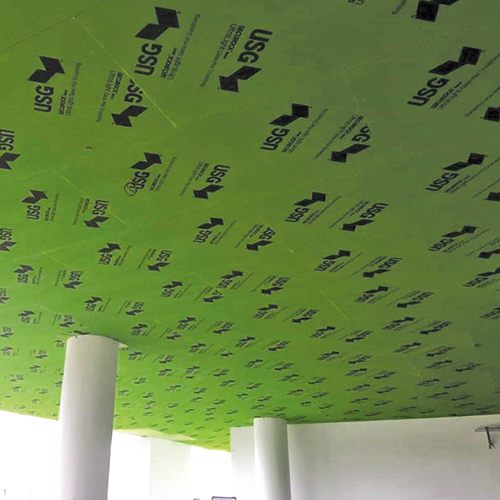 USG Boral SECUROCK Glass-Mat Sheathing (GMS)
GMS is ideal for interior wet-area applications; it is suitable for bathrooms, shower areas, basins, toilets and even public areas like ceilings and indoor walls close to swimming pools. The complete tilebacker system holds tile weights of up to 75 kilogrammes per square metre (kg/m2), giving more flexibility for sophisticated interior designs.
GMS' moisture and mould-resistant properties enable it to withstand harsh weather conditions. GMS interior walls can be installed even before the building façade is completed, speeding up construction time. The SECUROCK Glass-Mat Sheathing possesses high wind-load capabilities when combined with properly designed steel framing, and is suitable for exterior ceilings areas such as balcony ceilings of a high-rise building soffits and eaves.
USG Boral SHEETROCK Glass-Mat Mold Tough Liner Panels (GML)
GML was one of the main building materials for the modular quarantine camps. The product meets various international standards. In terms of mould-resistance, it scores the highest: 10 out of 10 in the ASTM D3273 test.
The GML based shaft wall systems and panels are fire-resistant in accordance to BS EN1364-1:2015 and UL Classified (Type SLX)— providing up to 2-hour fire-rated systems—and are non-combustible per ASTM E136 and BS 476: Part 4. These properties have also made GML an ideal choice for lift shaft areas in semi-exposed exterior conditions. When used with the approved recommended systems and accessories, the boards can achieve optimum performance.
To learn more about the Glass-Mat Portfolio, please visit https://www.usgknauf.com/solutions/glassmat.html, or email [email protected].
All rights reserved. The trademarks USG BORAL, SECUROCK, SHEETROCK and MOLD TOUGH are trademarks of USG Boral or one or more of its affiliates. All systems and products are subject to certain terms and conditions. Systems and products may vary according to the region.
Previously Published Products