Mar - Apr 2016
A powerful game changer: Building information modelling in Asia
by Grace Chua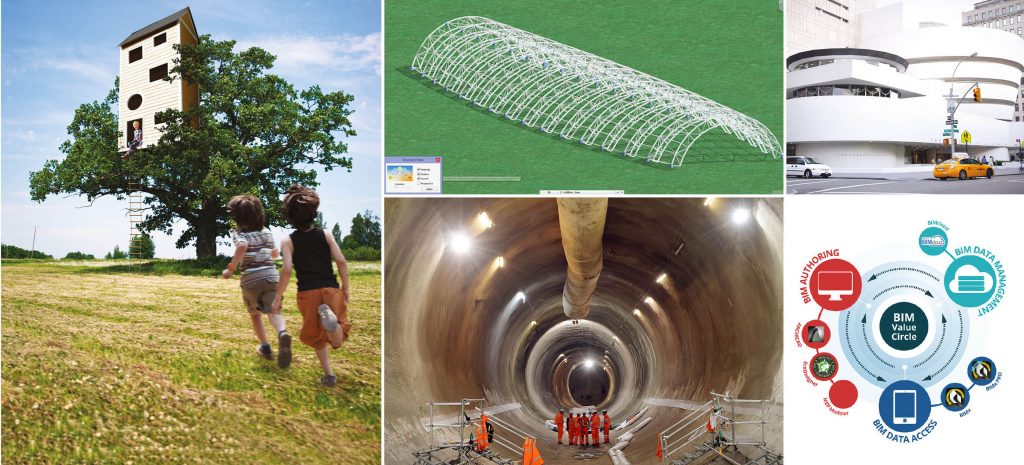 What if a developer could look at any building in its portfolio and see right away how up-to-date its HVAC system or security is? What if designers, engineers and contractors could see instant updates to a building design or during construction, and clashes were automatically detected?
Building information modelling, or BIM, makes these possible. BIM is a key technological innovation that can help Asia's burgeoning architecture, engineering and construction (AEC) sector become more productive and sustainable, especially on large-scale commercial and infrastructure projects. Yet there are hurdles to be overcome, including a lack of skilled manpower and low labour costs.
What is BIM and why is it useful?
BIM is more than just a 3D version of CAD. Rather, entire virtual models can be constructed in BIM. When a change is made to one aspect, the whole model is automatically updated, saving time and averting the errors that creep in when many versions and layers are cobbled together. That provides more clarity on cost and schedule predictions, and avoids cost overruns due to information changes that lead to delays and waste.
It is good for sustainable design too: Factors like site orientation, mechanical capabilities, ventilation, cooling or heating load, insulation, and so on can all be represented in the model, which can then be linked to tools that assess a building's energy use, for instance.
Today's low-cost processing power and cloud computing and storage all help to make BIM technically possible. Still, it does come with a higher upfront price tag—between hardware and software, this can be as much as double the average CAD licence and machine.
BIM trends in Asia
Awareness of BIM certainly seems to be on the rise across Asia. For instance, a report1 last year (2015) by Dodge Data & Analytics (formerly McGraw-Hill Construction) found that the proportion of contractors who will be doing 30 percent or more of their work in BIM will more than double over the next two years in both China (a rise of 108 percent) and South Korea (126 percent), compared to a global average increase of 95 percent. Two-thirds of the Chinese architects and contractors surveyed also said BIM helped generate faster clientapproval cycles.
In Australia, South Korea and Singapore, BIM competitions and training workshops like Build Asia Live and the 5D BIM Immersion and Competition series have garnered interest from students and AEC professionals. In 2015, the National University of Singapore even launched a centre of excellence in building information modelling research and practice to collaborate with industry and train students in the technology.
Meanwhile, governments are starting to mandate the use of BIM. Singapore requires the electronic submission of building models for public sector projects and those greater than 5,000 square metres, and provides outreach, mentoring and subsidised training to help firms meet this goal. South Korea requires BIM for public projects from this year (2016) onwards, as well as all projects over S$50 million.
"In jurisdictions like Malaysia, Vietnam and Indonesia, demand for BIM use has come from the client side," said Daniels Chandra, director of BIM for Singapore-based ONG&ONG, which has projects throughout the region.
"There are some clients who understand the benefits," he said. "At the end of the day, this is your project and you are going to reap the benefits."
ONG&ONG's centralised BIM department supports its architects and engineers throughout project implementation, and has used the technology on all new projects since about 2012. Today, like other architecture and engineering firms, it aims to increase the use of BIM in its other regional offices.
Uses of BIM
The applications of BIM, in Asia and elsewhere, beyond reducing errors and increasing productivity, are manifold. With the right libraries and tools, prefabrication is one major potential use of BIM, experts said. "There is a large potential in Asia for BIM as it allows for the streamlining of projects, especially for repeat architecture," said Camiel Weijenberg, founder and director of Singapore-based consultancy Weijenberg.
Too often, "A stamp of a plan…is multiplied over large areas in many cities without enriching these digital models with local conditions and intelligence from the site," he said. BIM, with its power to model orientation, solar irradiance and other factors, can make prefabrication more environmentally friendly, intelligent and relevant to site conditions.
In growing economies, things happen fast. BIM can help streamline and compress the delivery time for large projects or megaprojects, suggested the report The Business Value of BIM in China, by Dodge Data & Analytics. For instance, for the 121-storey Shanghai Tower currently under construction, BIM has contributed to a compressed construction schedule of about 73 months, or 30 percent faster than a typical project of similar scale.
Beyond construction, BIM can be used for facilities management, such as automating a preventative maintenance schedule or helping facilities managers work out where space can be better used. It can even be implemented for the management of existing buildings. Even the iconic Sydney Opera House, a cultural landmark with a complex building structure, was digitally modelled and the information used to support facilities management.
Hurdles and Challenges
"But for BIM to be more widely adopted, mindsets need to change. Large firms may have the resources to adopt BIM faster," said ONG&ONG's Chandra, but small firms may be more agile. "It is also a hurdle to find staff trained in BIM packages and methods," Weijenberg added.
Meanwhile, the packages and methods themselves need to be standardised across BIM applications. The industry organisation buildingSMART (previously the International Alliance for Interoperability) has chapters in six Asian countries, including China, Japan, Hong Kong, Korea, Malaysia and Singapore, as well as in Europe and the United States. It pushes for the development and active use of open, internationally recognised standards, training and certification across the building and infrastructure sector.
"In addition, the availability of libraries is another challenge," Chandra said. For atypical, large mixed-use buildings, there is often wide variety in design and objects. Often, what is commercially available is either too detailed or not detailed enough.
Beyond technical difficulties, Chandra noted that Asia's low labour costs mean there is less impetus to raise construction productivity in the short term, whereas in mature markets like Europe, firms literally cannot afford to make mistakes.
"And there is debate over whether BIM affects designers' creativity," said Weijenberg. "The digital construction of a building can be done in a fraction of the time with materials hatches and everything that normally would take a considerable amount of time. Students and young designers may fall victim to this efficient working method. It is still equally important to sketch and have a dialogue with other designers and people that are part, or not, of the design process.
"It is important to understand that architecture has a social consequence that is in part established through dialogue in the design process and outside of this. Cutting back the maturing period for a design can be helpful in making decisions. However, it is sometimes also good to let a design rest and ideas mature before going into full detail."
On the other hand, efficient development allows new firms to take on more complex projects more quickly and test designs faster.
If these hurdles can be overcome, BIM can be a tremendously powerful tool for Asia's AEC sector," Chandra said. "With BIM, we have all the ingredients in there."
1 https://inthefold.autodesk.com/in_the_fold/2015/04/china-looks-to-bim-for-a-competitive-edge-in-the-global-economy.html
Previously Published Products