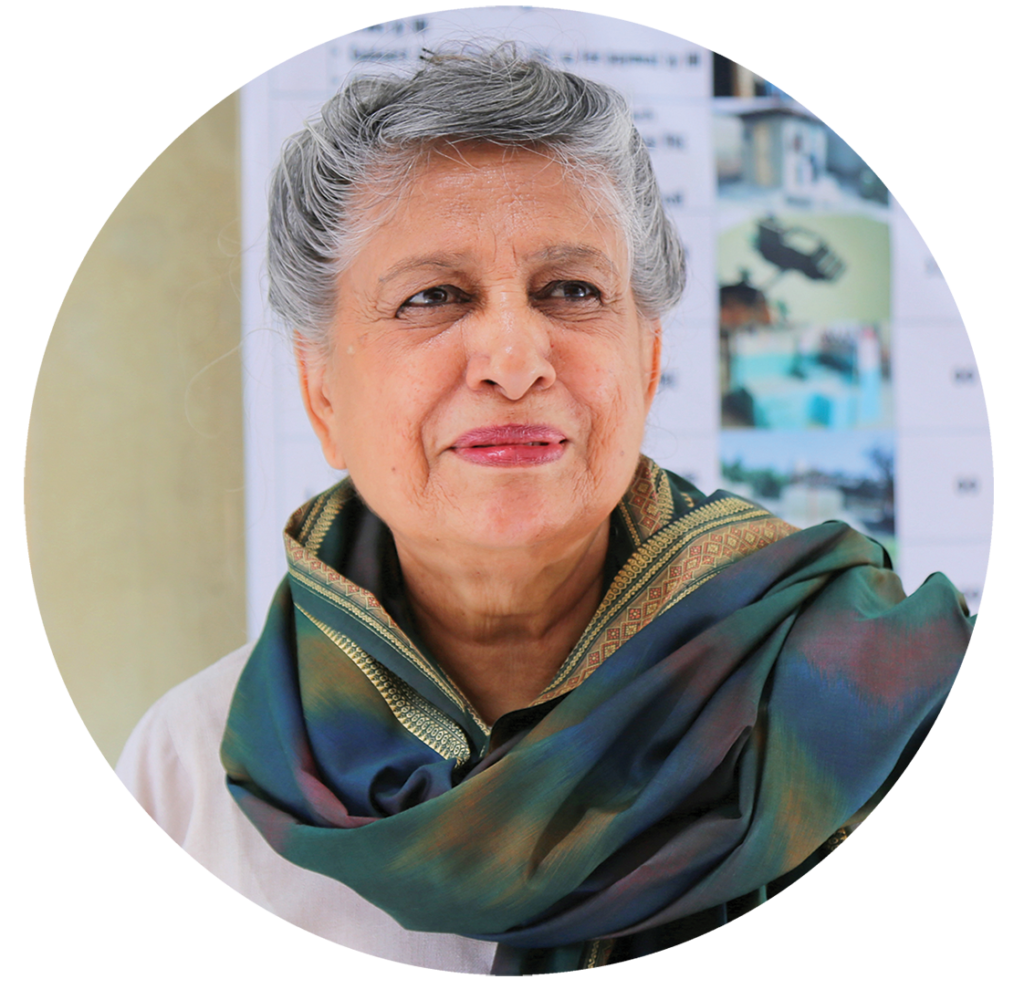 Yasmeen Lari is the first woman architect in Pakistan and the founder of the Heritage Foundation, a cultural and social entrepreneur organisation that she set up in 1980 with her husband Suhail Zaheer Lari. Yasmeen graduated from Oxford School of Architecture (now Oxford Brookes University) in 1963 and got elected into the Royal Institute of British Architects (RIBA) in 1969. She was awarded the Jane Drew Prize 2020 in recognition of her tireless humanitarian work over the last two decades that has led to raising the profile of women in architecture. Yasmeen's career that spans more than four decades has seen her from designing megastructures in a post-independent Pakistan to later working only for those with a bare minimum. She is also a recipient of Japan's Fukuoka Prize for Arts and Culture and she has been published among 60 women who have contributed the most to UNESCO's objectives.
---
Is it true that because you came from a certain economic class in Pakistan, you didn't face sexism in the architecture industry and that your women counterparts in Britain might have faced a lot more challenges being a woman? Has it become easier for women coming from less privileged backgrounds to practise architecture in Pakistan today?

YL: Whenever I tell people at international forums that I am from Pakistan, the assumption is that I would have faced a lot of hardships, but that is not true. I could study at Oxford in those days because I came from a privileged background. When I started practising in the country, there were a handful of women architects, and because we were so few, the fraternity took great care of us. We were always moving and working in protected and privileged circles, so I didn't face a lot of sexism in the early years of my practice. It was only later when I started to build a reputation for myself, both nationally and internationally, that I faced a lot of envy from my male counterparts in the country. But I was unfazed because I had a great support system in my family.
The women taking up architecture these days are facing a lot of difficulties…because now there are more of them and they are seen as a threat to patriarchal structures.
What are your views on sustainability? How has the conversation around sustainability shaped up in Pakistan?
YL: I completely subscribe to the definition provided by the UN World Commission: "meeting the needs of the present without compromising the ability of future generations to meet their own needs". However, we aren't even cognizant of the fact that our consumption patterns are depriving the marginalised and the poor of their rightful resources now—forget about future generations! More than 100 million people in my country do not have proper housing. I believe in empowering these people within a barefoot
ecosystem where even the people from poor communitues can earn a living by learning Green skills and sustainable techniques. I work extensively with women whom I believe have an innate understanding of materials like lime and earth, and can express their creativity freely through them.
RELATED PROJECT: Pakistan Chulha
The self-built, low-cost earthen Pakistan Chulah comprises double stove combustion chambers, chimney, air regulation pipe, utensils storage, and washing area. The chimney ensures minimal smoke and thus curtails any health hazard for the users. The earthen platform raised above the surrounding dirty environment leads to improved hygiene management and a clean dining space for the family. Chulah stoves use 50–70 per cent less firewood than traditional stoves, reducing deforestation and saving valuable time for women, whose job it is to collect fuel. Over 50,000 no-cost stoves have been built by Chulah Barefoot Entrepreneurs. The Heritage Foundation aims to expand the programme to build 100,000 Chulahs per year, bringing the health and economic benefits of the stoves to millions more disadvantaged women and their families.
RELATED PROJECT: Green Shelters Programme
The work on Green Shelters project was taken up in Janauary 2018. Seven villages located in Mirpur Khas, Tando Allahyar and Thatta districts and eight villages in Makli—in Sindh province of Pakistan—were targeted. The eight Makli villages are largely populated by mendicant (beggar) communities that are the poorest of the poor. They have been surviving due to the alms collected from shrines and meagre portions distributed from their soup kitchens. These villages are located in the vicinity of Makli World Heritage—a spectacular site carrying lofty structures that are profusely ornamented with stone carvings and scintillating glazed tiles.
The project envisages the use of Lari Octa Green (LOG), a prefabricated Green construction technique that allows for quick assembly and ease of transportation for shelters and other structures. These are non-engineered structures that have been successfully tested in disaster-prone areas using zero/low-carbon sustainable materials i.e., bamboo, mud and lime. This low-cost integrated approach has achieved remarkable results with an investment of only Rs. 30,000 (US$260) per household.
Previously Published FuturArc Interview