A consultant, educator and entrepreneur, Veera Sekaran lectures at the National University of Singapore (NUS) for the Masters course in Landscape Architecture Programme and at the Institute of Engineers (IES) for Public Utilities Board's (PUB) Waters Certification programme, and is the founder of Greenology. It is a firm that specialises in designing and building vertical greening features, roof greening features, rain gardens and bioswales. Sekaran has developed the proprietary Greenology Vertical Greenery (GVG), which is a sustainable urban vertical greening solution, and the LED Plant Grow Lights. Both have been used in Singapore and abroad. He is also the founder and director of VertiVegies, an indoor vertical farming company.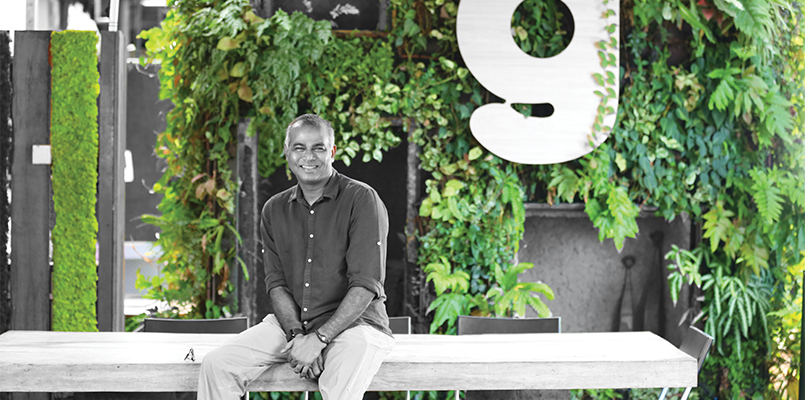 AD: How did your journey into a career associated with nature and greening begin?
VS: I grew up in a kampong where everything was outdoors. I would be climbing trees, running around farms, using my hands to do everything and trying to understand nature. I wasn't shy of the outdoors and I also wasn't shy of hard work. So that's how my journey into greening and being part of nature began.
When I graduated from NUS in 1987 with a BSc in botany, I wasn't sure what to do. I knew that I wanted to pursue something in the green environment but not a lot of work was available at that time. I was offered a job by one of the professors at a laboratory to research on fungi. I stayed there awhile before taking up a job as a manager at the Mandai Orchid Gardens. It was an outdoor job admist nature with plants. It fitted the bill perfectly. This basically became the start of the journey. After a brief stint in Seychelles, I joined the Singapore Zoo as a curator. There, I did a lot of work with animals and botany to design the enclosures and the various greening works. After this, I joined the industry. So, the journey went on from one domain to another. Every move brought newer experiences, exposure and challenges.
AD: What brought about Greenology and its focused attention to vertical greening?
VS: One of my many journeys led me to a mid-career switch into the civil service. I became Head of Horticulture for Changi Airport. From there, I was brought into the National Parks Board (NParks).
NParks then was more about administrative work than involvement in actual greening work. Hence, when the opportunity came along to do something more challenging, I jumped on board and started Greenology in 2008. At the time, I wasn't very sure what the trends were, but I wanted to create something more niche, something more specialised. The trend for green walls was catching on. Many people were importing expensive systems that were not doing very well. That's when I decided to develop my own system. This evolved and took a life of its own (the Greenology Vertical Greenery).
"A lot of things that we and other farmers are doing are very new. Farmers need to be allowed to develop projects like entrepreneurs."
AD: How important is biophilia in your projects?
VS: I actually use another word that I have coined myself. It's called 'bio-filial'. It's about the conscience and consciousness of greening. It's a definition that is more innate to the human spirit. When we talk about biophilia, we are referring to people's want to be close to nature. Filial piety, on the other hand, is about respecting and caring for the past generations. It's embedded in Confucianism, where they talk about care and respect for the elderly. I have used that word a bit differently, to appeal to people to care for and respect nature. This will lead to thoughts and actions that will create habitats and sustainable ecosystems for all species to coexist.
Bibliography
1 Outstanding Science Alumni Award 2014. NUS Faculty of Science. [Online] https://www.science.nus.edu.sg/alumni/alumni-awards/outstanding-science-alumni/.
Previously Published FuturArc Interview