Teresa Heinz Professor of Sustainable Communities, Department of Urban and Environmental Planning, School of Architecture at the University of Virginia (UVA)
Timothy Beatley is the Teresa Heinz Professor of Sustainable Communities in the Department of Urban and Environmental Planning, School of Architecture at the University of Virginia (UVA), where he has taught for the last 30 years. He is the author or coauthor of more than 15 books, including Green Urbanism: Learning from European Cities (recently translated into Chinese); Native to Nowhere: Sustaining Home and Community in a Global Age; and Biophilic Cities: Integrating Nature Into Urban Design and Planning.

Professor Beatley directs the Biophilic Cities Project at UVA (https://biophiliccities.org/) and co-founded UVA's Center for Design and Health within the School of Architecture. FuturArc's managing editor Candice Lim sat down with him when he was here on 18 July as keynote speaker for the International Federation of Landscape Architecture (IFLA) World Congress 2018 in Singapore.
CL: WOHA won the Design of the Year at the President's Design Award last night (17 July 2018) for Oasia Hotel Downtown, so it was interesting to see you referencing their project in your talk this morning.
TB: That is wonderful to hear and very well deserved. WOHA's work is inspiring and gives the world a sense of the many creative ways that nature can be integrated into buildings and built environments. I especially like Oasia and had the chance to stay there on this visit to Singapore. To replace ground-level nature by some 1,100 percent is a significant accomplishment and I love the idea of flowering vines that allow this structure to be 'blooming' throughout the year!

CL: It's their 10th award for the project.
TB: I know they won the Best Tall Building Worldwide by the Council on Tall Buildings and Urban Habitat (CTBUH).
CL: Yes, that's right. We know that for buildings to integrate biophilic design elements, and to have ideas and strategies now, it has become increasingly easier to implement them. But how about at the scale of the city—do you think there are any existing codes or rules so that the same ideas could be writ large, on an urban scale?
TB: We can and must begin to see cities more holistically as natural ecosystems and begin to aspire to a more immersive vision of urban nature, and new biophilic codes can help us do that. Our vision of Biophilic Cities is one in which there is nature everywhere, and at every scale, from rooftop to region, or room to region. New biophilic codes can help to bring this about and Singapore is a positive example. The green plot ratio requirements, for example, and interlocking NPark subsidies, skyrise greening awards, and a lot of policies and programmes help to reinforce these ideas.
In American cities, we have seen some of these codes and policies begin to emerge, but much more needs to happen. But the trends are positive. As I mentioned in the talk, cities like San Francisco recently adopted a green roof mandate, the first city in the US to do so. So, most other cities are a little bit behind Singapore, but the ideas of biophilic design and planning are catching on and building momentum pretty quickly. What's different in Singapore, and what we are advocating for in all cities, is this multi-layered approach—an emphasis not just on green roofs, but on all of these other biophilic features as well, from sky parks and façade habitats on buildings to ground-level investments in gardens, urban trees and forests, re-naturalised streams and water features, to name a few. What is impressive in Singapore is the emergence of a kind of layered approach tonature in the city—it is after all aspiring to be a City in a Garden. We need to follow the Singapore example of biophilic buildings that connect to tree canopy that connects to street level gardens and parks: the vision of immersive nature. It is nothing less than a new vision for global urbanisation—a move from seeing cities as places with small areas of nature that one can visit (like a park or garden or forest) to seeing the entire city as a place of nature (as a garden, as a forest, as a park).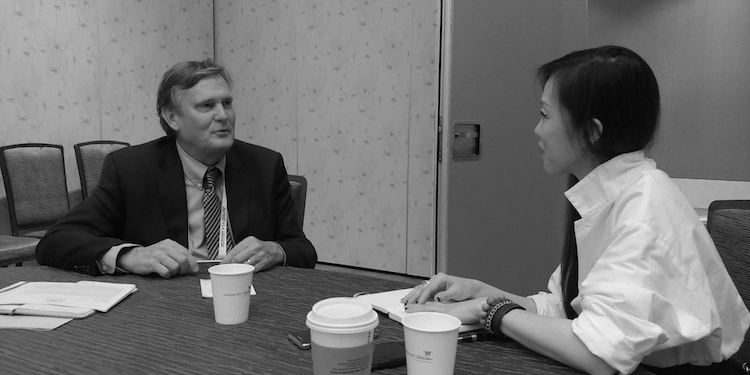 CL: Yes, but for Oasia and also PARKROYAL on Pickering, the fact that they are receiving so much recognition, distinction and awards, it's because they are the exception rather than the rule. If we take this forward to the scale of the city, how do you think biophilia could
be translated into different forms, so that we can say that "yes, this city is biophilic in its design"? I think Singapore is on its way there, but we are not there yet to be able to call ourselves a biophilic city.
TB: We really have no choice but to reimagine and redesign cities as places of nature. We know from emerging research that nature does many things for us—calms us; reduces stress; makes us healthier and happier. There
is even evidence that in the presence of nature we are likely to be more generous, to be better human beings. So nature is not optional; it is absolutely essential to leading a happy, healthy, meaningful life, and we need to design and plan accordingly. The WOHA examples are showing the way at the building scale—really challenging the assumptions about what a building can be and blurring the lines between nature and built structure. That is wonderful and we will hopefully see more of this. But many things must happen beyond the building scale, as I've said, to integrate, insert and re-grow nature in all spaces between and beyond buildings. You're already doing a lot of these things here in Singapore, which is impressive, from the park connectors and neighbourhood gardens to tree planting and making room for wildlife like otters and hornbills! Projects like the restoration of the Kallang River running through Bishan Park—the conversion of a flood channel to a biodiverse, natural habitat—are really wonderful stories and provide ideas for other cities and other parts of the world.

There is more to do here, of course. As I walk around and see the other parts of Singapore, I know there are still lots of flood channels and too much concrete and hard surfaces. The ABC Waters Programme seems to
still be in its beginnings, so there are a lot of things that the city still needs to do. But on the other hand, you have made wonderful progress here in so many ways. I have enjoyed immensely walking the park connectors,
for example—I have some favourite segments, especially the Southern Ridges, which we have seen some pictures of this morning in several presentations. Walking here is one of those nature immersive experiences,
with spectacular views, trees and nature, butterflies and birds, and if you are lucky, you might even encounter amonitor lizard along the way!
CL: They are very popular with the public. They love it. They use it on weekends and weekday nights. So it's good that we have urban infrastructure that the communities really use. What do you think is a good example of a biophilic city in the making currently?
TB: Outside of Singapore?

CL: Yes, outside of Singapore.
TB: We like to say that there is no perfect example and every city can be more 'nature-ful' or biophilic. We haveabout 20 cites now participating in the Biophilic Cities Network and each story is different. Each of these cities
is innovating and experimenting in different ways. A city like Phoenix, one of our newest members, has done an exemplary job setting aside large desert parks. Portland, Oregon has become famous for its 'green streets' that insert nature but also collect and retain storm water, and there are now some 2,000 of them in the city. San Francisco has pioneered the idea of 'parklets', converting on-street car parking spaces into small parks.

Most cities are like Phoenix—they have made wonderful efforts at protecting nature, great strides, but have much more work to do. While that city has a terrific history of establishing large regional desert parks, it has had less success at incorporating nature at the neighbourhood scale. And of course, the opportunities and kinds of biophilic design and planning will vary from city to city, depending on its climate, ecology and biodiversity. Phoenix is a desert city and the nature there, the biophilic design and planning elements, are more brown than green.
CL: It's a different ecosystem.
TB: It's a different ecosystem; it's arid. The flora and fauna are different, but still the opportunities to create sustainable, 'nature-ful' urban environments are great, and indeed there is a special need to adapt to climate change, to address the urban heat problem, to provide shade, to conserve water (but of course, these are challenges every city in our Network will be facing!).

So, we are really trying to highlight the good things; the innovative policies, projects and planning in the cities in our Network, the unique biophilic strategies that these cities are implementing. And there are many wonderful biophilic stories emerging. For example, Wellington, New Zealand, another of our partner cities, has set some
ambitious targets for the future, including the goal of planting 2 million trees. Perhaps most interesting is the work they are doing to protect and connect with the marine nature around them. They have been developing
a Blue Belt strategy to complement their Green Belt, and are beginning to rethink the water around them as places of nature, places of biodiversity. Birmingham, in the UK, another of our partner cities, is reimagining its
400 miles of streams as an important form of natural capital that can be used as a basis for enhancing healthin that former industrial city. San Francisco, as I've already mentioned, is innovating in the area of small parks and green spaces. They have created a new city permit that lets residents take up some of the pavement in their
neighbourhoods and to create sidewalk gardens.
Previously Published FuturArc Interview