FuturArc Interview / 3rd Quarter 2020
Sameep Padora, Prof Dr Lou Yongqi & Liak Teng Lit
by Dr Nirmal Kishnani
September 24, 2020
Sameep Padora, Prof Dr Lou Yongqi & Liak Teng Lit
Sameep Padora, Prof Dr Lou Yongqi & Liak Teng Lit
How the pandemic affects us depends, to a degree, on how cities and buildings are designed. For instance, does density matter? Should we have more urban nature? Maybe grow our own food? FuturArc's Editor-in-Chief, Dr Nirmal Kishnani spoke to three Asian thought-leaders who offer a perspective on their city: Mumbai, Shanghai and Singapore.
Sameep Padora is a Harvard-trained designer who is the principal architect and founder of Mumbai-based studio, sP+a as well as Director of sPare, a research initiative looking at urbanisation and architecture in India.
Prof Dr Lou Yongqi is Dean of the College of Design and Innovation at Tongji University in Shanghai, and founder of Design Harvests, a design-driven urban-rural interaction project.
Liak Teng Lit, an advisor to businesses and governments, was previously Chairman of the National Environment Agency, Singapore, and Chief Executive Officer of several hospitals, including the acclaimed Khoo Teck Puat Hospital, where he championed the role of design as an integral part of healthcare.
NK: The pandemic has shown us how vulnerable urban communities have become. How can we better safeguard public health?
LYQ: Shanghai is looking into artificial intelligence (AI) and the Internet of Things (IoT) to make the city smarter, which can directly support urban resilience. Relying on what we know and can see is not enough. If we can predict the spread of an epidemic with AI, we can decide what action to take. Speeding up the transformation and innovation of technology is therefore a big opportunity.

SP: A book we did three years ago documented and analysed housing types, many of which emerged in the city after the plague of 1898. Habitation in the city was reimagined through a series of spatial adjustments with regards to light and ventilation. Almost a century later, one can see that we have forgotten these lessons; once again there is housing in the city today with inadequate light and ventilation that is exacerbating the spread of respiratory diseases and the coronavirus. We need to reimagine once again how we design our cities through the lens of this pandemic.
LTL: I would argue that there are five pillars of health. Eat wisely, the way your grandparents did, mostly plants and not too much. Exercise regularly. Social engagement is extremely important. Don't smoke and don't drink alcohol in excess. Lastly, take care of personal and public hygiene. A city that is healthy will encourage in its citizens the five pillars of health.
NK: What are the wider implications of these ideas? What can designers and planners do?
SP: The medico-administrative perspective of cities has been around for a long time. This pandemic has a clear spatial implication on the connection between public health and how we occupy space, what is enacted in these spaces.
There are a couple of things that we can do in Mumbai's context. The first is to redefine our building codes. The floor space index, commonly used as a tool in Mumbai planning, is a means to monetise land. It doesn't speak of liveability at all. This health crisis warrants an examination of the qualitative indicators of building codes. We're already working with a few stakeholders to imagine the future home; how, for instance, we can live and work from home.
Second, reimagine shared space. This is a huge challenge in Mumbai. In the context of public transportation, for instance, although each (train) car is [only] meant to hold 1,700 people at the maximum, it usually carries about 4,500. How do you resolve that bottleneck? The new metro system that has been planned is likely to be outdated by the time it is up and running. Therefore, capacity is a big part of the conversation.
What are the alternatives? We are talking about cycling in a big way, which ties in with the fact that 50 per cent of Mumbai's population already cycles or walks to work based on proximity. It's interesting to see if and how we convert what is informal and local into something formal and city-wide.
LYQ: The challenge is how to make high-density spaces safer. And how to give low-density spaces the quality that people seek. Many companies are encouraging their employees to work from home, which changes the traffic situation of the whole city. There is far less traffic, fewer rush hours. And so now there is a new perspective on the question of density in the city.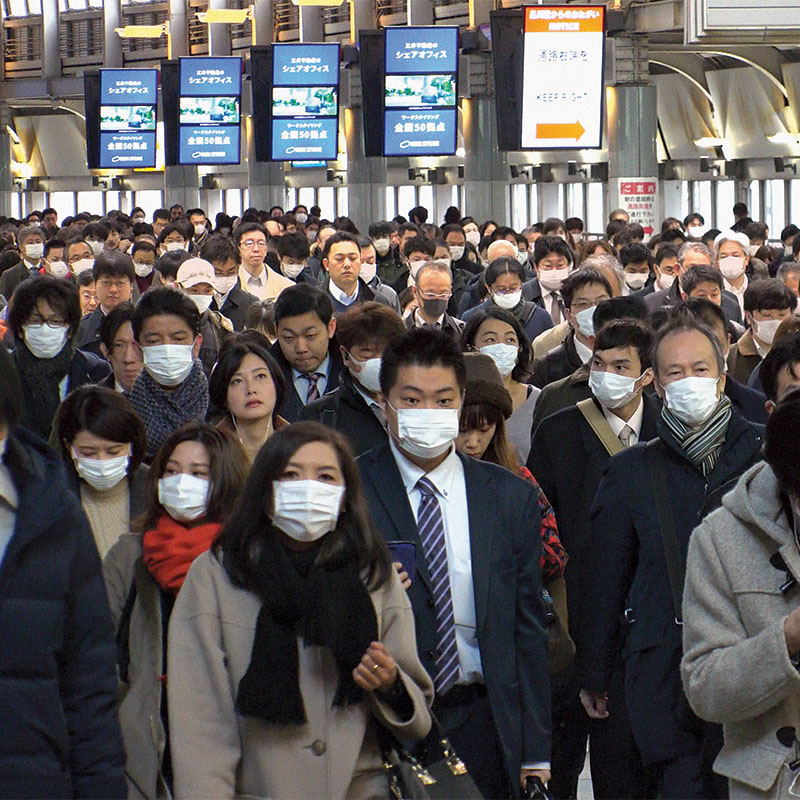 LTL: Is it a question of density? Obviously not. If you look at cities like Shanghai, Hong Kong or Tokyo, densities are high, yet their infection rates are low. Density per se does not lead to a higher number of infections. Density is not just a question of people per square kilometre but also how much space each person has.
The rates of COVID-19 infection in Singapore is a mixed picture. The spread in the community is relatively low. But the rate of infection in the foreign worker dormitories has been very high.
Here is my personal opinion. In Singapore, most people live in well-planned, well-designed accommodations with adequate space. Even our smallest public housing flats (for two persons) are more than 300 square feet in size, which is not too bad. [Hence], infection rate in the community is low. But we neglected the foreign workers. They have been living in tiny spaces of 45 square feet per person in total. This included not just the bed area but also the toilet, circulation areas, staircases etc. When 10 to 20 adults are squeezed into a room of 300 square feet, infections can spread quickly.
If there is more space per person, even if the density per square kilometre is high, there will be a lower risk of spread.
A footnote: while Singapore has had a relatively high overall infection rate, the mortality rate has been amongst the lowest in the world. This is probably because infections in the dormitories mainly affected young and healthy workers who mostly recovered, with many showing only mild symptoms or are asymptomatic. And since the spread in the community has been low, vulnerable seniors and those with medical conditions that put them at high risk were not infected.
Previously Published FuturArc Interview