In Conversation / 3rd Quarter 2019
In Conversation with Palinda Kannangara
by Candice Lim
September 26, 2019
Palinda Kannangara Architects
Today, Palinda Kannangara Architects (PKA) is an award-winning firm known for experiential architecture that hinges on simplicity and connection with the natural environment. The practice has been recognised for its contextual sensitivity, experimental material use and minimalism reflective of the Sri Lankan ethos; the design and working process are always deeply connected to the site.

PKA has received several prestigious awards over the years; more recently it has been awarded first prize in the 2A Awards Asia (residential category in 2016 and 2017); merit award from AZURE Canada (2017); and first prize in the residential category in the Geoffrey Bawa Awards (2017). Their recent work Studio Dwelling at Rajagiriya (published in FuturArc's Residential Nov-Dec
2016 issue) was on the shortlist for the RIBA International Prize 2018.
Although armed with a Bachelor of Science (BSc) in physical sciences, with a specialisation in mathematics, Sri Lankan architect Palinda Kannangara felt his calling was elsewhere. Kannangara joined the study course conducted by the Sri Lanka Institute of Architects in 1994, and trained under Sri Lankan modernist architect Anura Ratnavibhushana, who had worked with Geoffrey Bawa for 16 years. Upon receiving his charter in 2004, Kannangara started his independent practice in 2005. The studio is now located in Rajagiriya, Sri Lanka.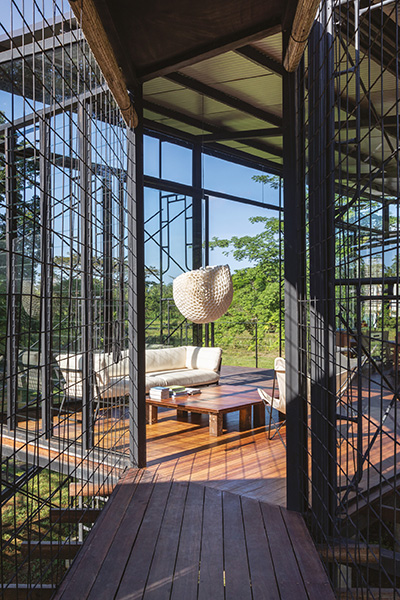 With her interest piqued by his holiday retreat project (see sidebar) that reminded her of a cross between a traditional stilt house on land and a glasshouse, FuturArc managing editor Candice Lim had a chat with Kannangara about site sensitivity, transparency/privacy, and wellness.
CL: How do you define wellness in architecture from your experience?
PK: Wellness is a mental and physical state. And in architecture, I believe it's how you make the mind at peace, and create space in a way that is calming, allowing you to rest, as well as how you connect with nature. Wellness is that which makes for more comfortable living, and that which increases the mental strength of the users, allowing them to focus better, like meditation. Spaces can support your wellness, so architecture can help by allowing for less clutter, and having simpler spatial layouts. Ultimately, being connected with nature is the most powerful factor.
CL: Do you think the implementation of WELL will take off in Sri Lanka?
PK: As mentioned, there are no guidelines in Sri Lanka, but such tools are good if you are not aware of the conditions or know how to create an ecological building. But for us, it comes from our background, and our past practices. [Such tools] may help but more than anything, we are already practising with those guidelines of how to respect nature—they are in our systems, our roots, our ethos. So there is no difference between what we are already practising now and what any official rules or guidelines are asking. But such guidelines are good for any country to follow.
"We are already practising with those guidelines of how to respect nature—they are in our systems, our roots, our ethos."
Previously Published In Conversation