Beca is one of Asia Pacific's largest independent advisory, design and engineering consultancies, and Nghia-Architect (NA) is an architecture firm whose project Maison T was one of the winners in FuturArc Green Leadership Award 2018, Commercial category. We talk to both firms for their take on how COVID-19 will affect environmentally sustainable design (ESD).
The impact of COVID-19 on environmentally sustainable design
How will COVID-19 impact ESD in the future?
Beca: The COVID-19 global pandemic will leave severe impacts worldwide that will affect how buildings will be built and operated in the future. The architectural, interior, mechanical and electrical systems provisions of existing and new buildings will need to learn from this situation. Inevitably, ESD will also need to consider improvements to ensure buildings remain sustainable and healthy in any situation. A good sustainable building design needs to be flexible and adaptable. It should be designed to suit the daily functional needs of the end users, and yet be flexible enough to adapt to changes when the need arises, without major disruption for upgrading or renovation works. The design for open plan, shared facilities and community engagement spaces will need to be redefined to consider how these spaces could still be functional in order for business operations to continue, without risking occupants' health. It is inevitable that expenses on electricity and water will rise during lockdown situations with people staying at home. Residential developers could consider how renewable energy could play a part to offset the high energy expenses incurred. For example, residential buildings could be equipped with non-potable water (NEWater or on-site water recycling) for toilet flushing to decrease potable water consumption.
NA: COVID-19 has been affecting many industries, including architectural design. I would say its impact might lead to minor changes in architecture but I can't yet define it clearly now [since the pandemic is still developing]. However, the initial changes might take effect on large-scale healthcare and public projects. Their functions are interchangeable and flexible in different situations. Currently, large-scale buildings (stadiums, theatres, etc.) have been converted as refuge areas in natural disasters or wars, but this solution can't always be applied in the pandemic because we need social distancing to slow the spread of the virus. Furthermore, flexible modules could be developed in the area of interior design. Demand for material technologies and smart home devices may be increased, even though the architectural form might remain unchanged.
What ESD elements or design features would help people cope with prolonged self-isolation?
Beca: The home environment needs to be conducive to ensure that the person remains healthy, both physically and mentally. The designs for thermal comfort and good indoor environmental quality need to be given greater consideration. Comfortable and naturally ventilated spaces with sufficient daylight, but with low solar heat gain would be essential so occupants will not feel cooped up. Gardening projects can be calming, so small planting balconies could be incorporated in residential units.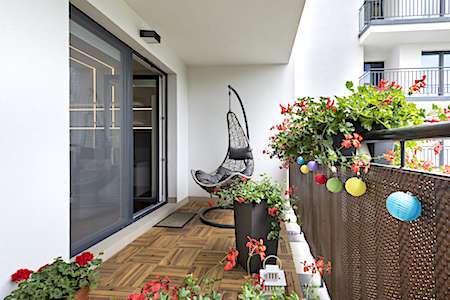 NA: Architectural styles have evolved from prehistoric to modern times, but never separated from nature. But the durability of buildings cannot be compared to the existence of nature. Hence, even without pandemics such as COVID-19 today or the Spanish flu epidemic in the past, sustainable living spaces, which connect to nature, can help people during self-isolation (or self-quarantine). These spaces would be ideal if they could be open and friendly enough, or help improve psychological well-being and ensure food self-sufficiency. When architecture exists in relation to natural conditions like sunshine, trees and fresh air, we can easily overcome this period.
Do you think the open plan will still be popular after the pandemic is over?
Beca: The design for open-plan spaces will still be popular as this improves staff productivity on a daily basis, and encourages interaction and communication to build good working relationships. Nevertheless, a few improvements could be put in place to allow for movement within the open plan. The flexibility to modularise an open office plan, for example, may be a viable option. Instead of having long single-piece tables, opt for modular pieces that allow for greater flexibility. Partitions, office furniture and work desk equipment could be made movable to allow for reconfiguration. Smart-building features such as automatic switches for lights and air-conditioning would reduce wastage in energy usage when spaces have to be temporarily closed.
NA: The use of open spaces in architecture is a basic need for people to communicate with one another as well as create social and cultural cohesion; in my opinion, it is as important as the air we breathe. Obviously, we need to breathe no matter how bad the air pollution is; that's the reason why we need to improve air quality. I personally like to create connections, so it is not a question for me whether to design open spaces to connect people with people or people with nature.
In Asia, living in high-rises in high-density cities is more common than living in single houses. How does that affect the spread of viruses like COVID-19?
Beca: A landed house is inevitably a more controlled environment than mass living spaces, thus curbing the spread of the virus more easily. In a mass living building, however, you may need to touch the entry gates and the elevator buttons, which might have been touched by few hundreds of other people, such as those living in the block, visitors or deliverymen. There are also the shared facilities in private residential buildings such as playground, function rooms and gymnasium. If these are not sanitised regularly, these facilities could be contamination points.
NA: Of course, it's riskier in high-rise residential buildings because of shared public facilities. But sometimes people do not have any other choice when it comes to living in high-rises. Especially with the current living conditions of apartments with high population density (especially in Hanoi or Ho Chi Minh City) in this pandemic, viruses could be spread easily. However, we could still control and prepare for these situations when there are design standards applied to the type of apartment building that are accurately calculated, ensuring comfort and safety in medical emergency situations.
Sustainable features—such as self-sufficient water and power supply; air and water filtration systems—are believed to help bolster buildings' resilience, especially in the current pandemic. To what extend do you agree with this? What other features are relevant in this case?
Beca: In a developed country such as Singapore, water supply is provided by the Public Utilities Board—well-treated and generally safe for consumption. At a building level, there are strict requirements in securing water tanks, maintenance and water quality tests to ensure water quality. Power supply is also relatively stable. Indoor air quality is also more or less regulated with appropriate checks in place to ensure compliance. However, this may not all ring true for developing countries. If this is case, it is imperative to carry out resiliency audits to their building systems to evaluate where improvements could be made. These may include installing high efficiency filters and UVC lights at air systems to reduce the infiltration of external particulates; and a higher level of maintenance regime on potable water and on-site water treatment.
In response to the panic buying that has happened in many countries, sustainable food sourcing may be an alternative to be looked into more seriously in the future. How can we sustain food supply for our people if external food sources are cut off? Urban farming/vertical farming could be a solution, especially when urban land is scarce. Instead of just rooftop landscaping, can these spaces be used for urban farming? Instead of vertical greenery, can these vertical spaces be used for growing edible greens? These are some questions to develop ESD in the future.
NA: I partly agree with integrating sustainable features in buildings because I really care about Green ideas in my architectural designs. However, it is difficult to apply in urban or metropolitan areas because of the dense populations and infrastructure overload. Moreover, the prices of these features are not affordable in general and might be in conflict with the client's budget. But I certainly support sustainable design in a practical way, not just because of the pandemic. We cannot immediately create a perfect sustainable building like a self-sufficient module, but quality living environments can be ensured by changing people's perceptions. For sustainable features to be popular in the future, we need to raise awareness of its benefits and impacts now to the next generation. It is not only about the design or ESD features, but it is also about lifestyles, which will definitely take time [to bring about change].
How do you design a home that is suitable for the work-from-home scheme?
Beca: The outbreak of the pandemic has employers and employees make working from home necessary. In the long run, if people start working from home consistently, commuting will be reduced, so will the traffic congestion, carbon emissions and fuel consumption. Companies can look into reorganising their spaces to save cost on rental and reduce operating costs. Of course, we have to realise that not all businesses could operate from home, such as hospitality and recreational service providers. To accommodate work-from-home schemes beyond the pandemic situation, community accessibility should be planned within residential developments, so that amenities such as grocery shops, healthcare, childcare and exercise facilities are accessible within walking distance. In addition, homes must be equipped with good connectivity and sufficient power outlets for mobility. Good indoor environmental quality must be assured, including well-ventilated spaces, daylighting, as well as direct visual connection to the outdoor from living rooms, bedrooms and study rooms. Good acoustic design should also be incorporated to reduce noise pollution. An aesthetically pleasing external environment with beautiful and lush landscaping can also provide respite from work. A selection of energy and water efficient equipment should be prioritised. For example, developers could select an energy-efficient air-conditioning system, such as one with heat recovery so hot water can be provided simultaneously.
NA: Like I said, let's get close to nature, every problem will be solved. You can live, work, and enjoy your life in a house that is fulfilled with natural light, wind and trees.
To what extend does technology, e.g., thermal scanners, help prevent the spread of viruses? Should people install this kind of technology in their homes?
Beca: Indeed, the advancement of technology can help prevent the spread of viruses as it allows early detection and prevention. Thermal scanners detect signs of high temperature efficiently with no contact. It would come as no surprise if this technology in the near future will be integrated with facial recognition for easy tracking and tracing, such that anyone with high body temperatures could be advised for medical check with minimal human intervention. When the thermal scanning system becomes a more affordable and compact technology, home installation might be feasible, similar to home CCTV cameras. Also, we can see how Geographic Information System (GIS) coupled with attribute data is already helping to inform the community about spatial capacity for social distancing, to avoid overcrowding and to reduce the risk of virus spread in public places.
Previously Published In Conversation, Online Exclusive Feature