Brinda Somaya is an architect and urban conservationist based in Mumbai, India. She started her practice Somaya & Kalappa Consultants (SNK) in 1978 and has worked on a plethora of projects that include corporate, industrial and institutional campuses as well as restoration and adaptive reuse. Her work also extends to the public realm where she has rebuilt and sometimes reinvented as pavements, parks and plazas. She strongly roots for developments that do not come at the cost of destroying the cultural, historical and natural environment. She spoke to Bhawna Jaimini about being a woman in a male-dominated profession, setting up better work environments for site workers, and her apprehension with the word sustainability.
BJ: You were the keynote speaker at FOAID, one of the biggest architecture and design conferences in India. Why do you think most of these conferences happen in an echo chamber where we are only talking amongst ourselves? Why aren't we making the effort to reach out to other professional communities, which are constantly impacting our work?
BS: I completely agree with the fact that we architects do tend to talk and communicate within an echo chamber. However, I feel that the trend is shifting and I do see more multidisciplinary conferences being organised these days. We are organising a conference next year on the theme of Women in Design, where we hope to get women from diverse professions and practices onto one platform, where they can share their journeys, challenges and ideas under one roof. This conference is meant to celebrate the rich contribution and impact of women on design, in ways that go beyond just the accepted definition of design. On the other hand, I also feel that we can't give up serious architectural conferences where the fraternity meets and discusses pressing issues and challenges of the profession, and presents their projects. What we need to achieve is balance.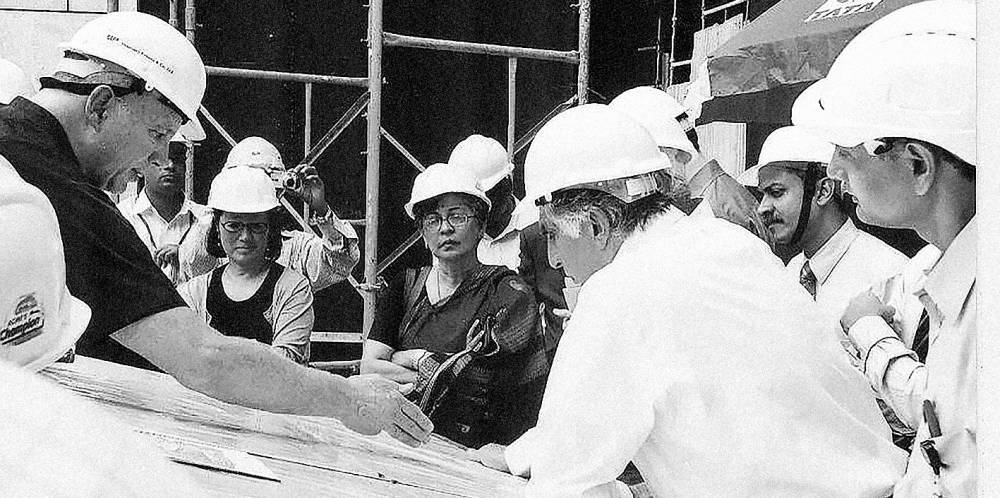 BJ: You are one of the very few women from your generation who were able to set up a practice that is now more than three decades old, and have catered to diverse projects from conservation to post-disaster housing. How easy or difficult is it for women to run a practice today?
BS: I think it is not easy for anyone, be it a man or a woman. If it comes to challenges of being a woman in a fairly male-dominated profession in the present day, I feel that women are not isolated anymore, [at least not in] the way my contemporaries and I were. We were also a handful of women who were running our own practices. There were also advantages of being in isolated spaces because I only focused on building. We had no computers and media was not omnipresent like it is today. In these times, there is a whole fraternity of women in architecture and other professions who support one another through different platforms like social media. There is constant sharing of knowledge and ideas, which has made things much easier for women, and also men, to practice.
BJ: During your keynote address, you dedicated a big portion of your presentation to talk about labour at your sites, especially women labourers, and how you created policies and systems to improve their work environment. The discourse around labour is largely absent from the mainstream architecture space that fails to acknowledge the very people who build architecture.
BS: The first time I was sensitised towards labour was during the early years of my practice. We were building a swimming pool facility for the Bombay Presidency Golf Club in Mumbai, and I had gone for a site visit, while being nine months pregnant. I had to climb on a roof, and while I was climbing, I saw four women labourers watching me with a lot of empathy in their eyes, because this was what they did too. In those days, children were allowed on construction sites and the women had to take care of their children while working hard on-site.
Previously Published FuturArc Interview