Women in Green Building Leadership Award picks first win
The Award recognises Ms Chan's integral role in the early development of Green buildings in Hong Kong, and her involvement in industry initiatives like the Green Shop Alliance, which comprises of 23 developers and 132 shopping malls to date.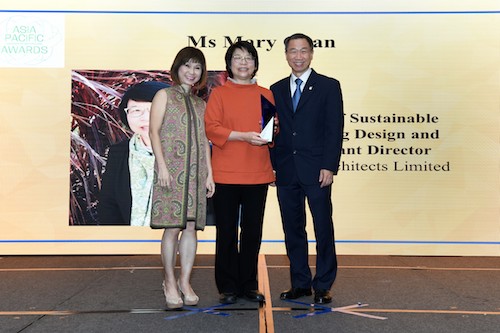 (from left to right) : Dr Amy Khor, Senior Minister of State, Ministry of Health & Ministry of the Environment and Water Resources; Mary Chan (Winner), DLN Architects Limited, Hong Kong; Tan Swee Yiow, President of the Singapore Green Building Council

This was announced during a ceremony attended by 650 professionals and key government stakeholders, including the Singapore Ministry of National Development, Ministry of the Environment and Water Resources, Building and Construction Authority. The biennial Asia Pacific Leadership in Green Building Awards celebrates the region's most iconic Green buildings, up-and-coming innovators and inspiring companies. This year, the awards was extended to recognise inspiring female leaders in the Green building movement, who are driving change for a better future.

Nominations were judged by a prestigious panel of industry experts including Curt Garrigan, Chief, Sustainable Urban Development Section, Environment and Development Division, UNESCAP; Milag San Jose-Ballesteros, Regional Director for Southeast Asia and Oceania C40 Cities; and Luca de Giovanetti, Science-based Targets, World Business Council for Sustainable Development.

"Ms Mary Chan embodies a Green leader who embraces all principles of sustainability in both her professional and personal endeavours," explained Jose-Ballesteros. "Bringing her expertise and affiliations to forefront, she has worked tirelessly and advocated successfully for improved building regulations in Hong Kong. Her leadership and commitment to sustainability is a strong crusade that finds its way through her various projects and personal initiatives."

Among her achievements, Ms Chan was instrumental in the early development of Green buildings in Hong Kong, spearheading public education and engagement for the next generation. She also initiated the Green Shop Alliance, a key programme by the Hong Kong Green Building Council that seeks to promote greener practices amongst shopping mall operators and tenants. The success of the initiative ultimately resulted in the adoption of the Alliance by the Hong Kong government to promote environmental policies.

The other two nominees of the Women in Green Building Leadership award were Shakuntala Ghosh, Architect and Partner of Ghosh Bose and Associates in India, and Maria Cristina Samson, Co-President of The Net Group in the Philippines.

Commenting on the success of the Award, Joelle Chen, Regional Head of WorldGBC's Asia Pacific Network, enthuses, "Today, our Green Building Councils in the Asia Pacific Regional Network work with 5,000 of the most pioneering companies and innovators on Green building. Through initiatives like the Women In Green Building Leadership Award, we continue to grow our network and encourage industry adoption of sustainable practices.

For the full list of winners in the WorldGBC Asia Pacific Leadership in Green Building Awards, please visit: https://www.worldgbc.org/news-media/outstanding-green-building-leaders-honoured-worldgbc-asia-pacific-leadership-green.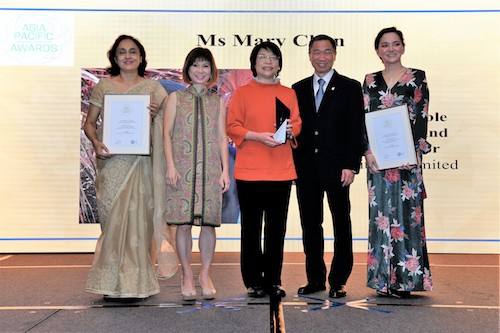 (from left to right) Shakuntala Ghosh (Finalist), Architect and Partner of Ghosh Bose and Associates; Dr Amy Khor, Senior Minister of State, Ministry of Health & Ministry of the Environment and Water Resources; Mary Chan (Winner), DLN Architects Limited, Hong Kong; Tan Swee Yiow, President of the Singapore Green Building Council; Maria Cristina Samson (Finalist), Co-President of The Net Group