UN Climate Change Conference COP25
Changing the course of climate action and ambition
10 December 2019 – The high-level Segment of the UN Climate Change Conference COP25 kicked off today, with urgent reminders that the international community is running out of time to effectively tackle the climate crisis and must change course and step up ambition in order to prevent the worst climate impacts.
As the global climate emergency intensifies and greenhouse gas emissions continue to grow, governments have gathered in Madrid for COP25 (2 to 13 December 2019) to take the next crucial steps in the UN climate change process.
"Global warming continues. The average global temperature has risen by about 1.1°C since the pre-industrial era and the ocean ocean has warmed by half a degree. 220 million people suffered from heatwaves last year. We have started seeing growth in hunger once again. Now we have more than 800 million people suffering from lack of food," Petteri Taalas, Secretary-General of the World Meteorological Organization (WMO), observed.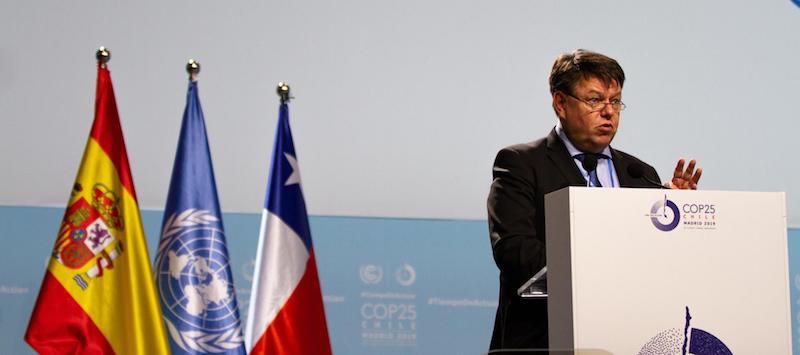 Whilst there are many facets of climate action, and progress needs to be made on finance, technology and capacity building, one key topic that needs to be resolved at COP25 and is crucial to raise climate ambition is the use of carbon markets in order to tackle climate change.
"2020 is only a few weeks away—the year when we must see more climate ambition reflected in new and revised NDCs. Without them, our window of opportunity closes," Patricia Espinosa, Executive Secretary of UN Climate Change (UNFCCC), concluded.

Italy and Mexico today committed to stepped-up climate and environmental education in order to equip a new generation with the knowledge, awareness and skills needed to tackle climate change and other environmental challenges, and called on other countries to follow suit.
The plan is to have a critical mass of countries committed to the environmental and climate education agenda by the time the UN climate conference COP26 takes place at the end of next year.
Lorenzo Fioramonti, Italy's Minister of Education, Innovation and Research, said, "Young people are demanding that governments take climate change far more seriously. There are many areas of society where we must act, and act with increased ambition: compulsory education on these topics needs to be a key part of this national and international response to the big issues of our time."
"Mexico is now committed to mandatory environmental education at home, but we are also committed to promoting environmental education internationally. The challenges we are facing are national but also global. Young people everywhere need the knowledge to fully respond to what is unfolding on in our world," said Martha Delgado, Vice Minister of Global Affairs in Mexico's Ministry of Foreign Affairs.
"Young people, through movements such as Fridays for Future, have been asking governments to tell the truth about the climate and environmental emergencies that we are now facing—'telling the truth' needs to happen in the schools and universities, and needs to happen now," said Kathleen Rogers, President of the Earth Day Network.
For more information, please visit: UN Climate Change News
• High-Level Segment Kicks Off
• Call for All Countries to Commit to Climate Education by COP26