Partnership signed to build the world's largest sustainable floating city in Busan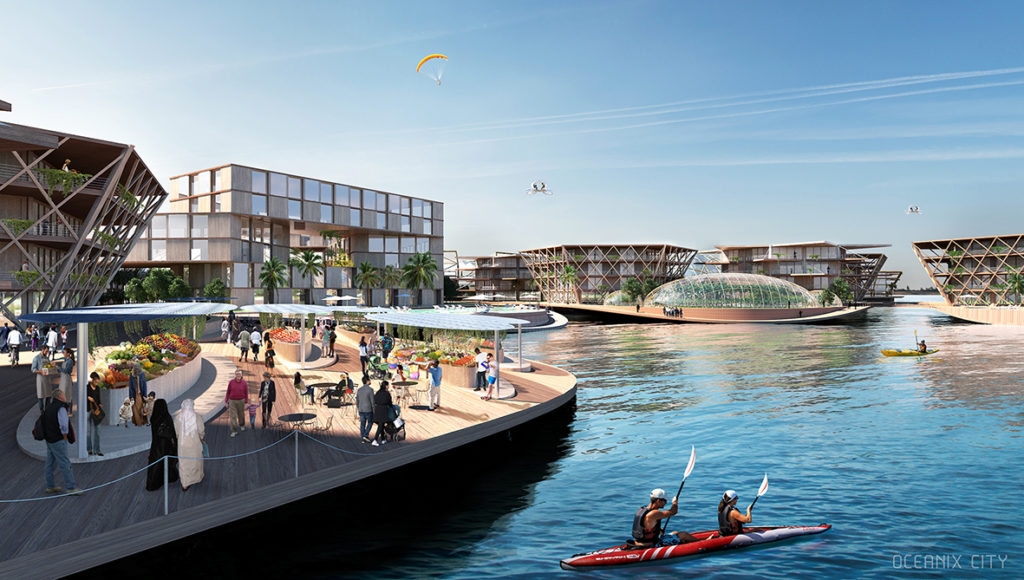 November 2021: The ocean is under threat from land reclamation. As coastal cities struggle to cope with rapid population growth—with 50 per cent of people in the world living in coastal areas—many simply pour sand into the ocean to create new land. This unfettered coastal urbanisation is destroying millions of hectares of ocean and marine life, with rising sea levels and climate change compounding the threat.
On the heels of COP26, a partnership formed between Busan Metropolitan City of the Republic of Korea, UN-Habitat and OCEANIX has signed an agreement to build the world's largest prototype sustainable floating city last Thursday (18/11). Busan's geography, with deep coastal waters and gentle tides, has helped the city grow into the world's fifth largest container handling port. It is home to some 3.4 million citizens and has one of the biggest industrial complexes in Korea. As one of the most important maritime cities of the 21st century, Busan is an ideal choice to deploy the sustainable floating city prototype.
"With the complex changes facing coastal cities, we need a new vision where it is possible for people, nature and technology to co-exist," said Busan's Mayor Park Heong-joon. The development called OCEANIX City has been designed by Bjarke Ingels Group (BIG), envisioned to house 10,000 residents on 75 hectares. This man-made ecosystem has been anchored in the Sustainable Development Goals (SDGs) of the United Nations to channel flows of energy, water, food and waste, creating a blueprint for a modular maritime metropolis. The city is designed to grow, transform and adapt organically over time, evolving from neighbourhoods to cities, with the possibility of scaling indefinitely.
"Sustainable floating cities are a part of the arsenal of climate adaptation strategies available to us. Instead of fighting with water, let us learn to live in harmony with it," said the Executive Director of UN-Habitat, Maimunah Mohd Sharif, stressing that the battle to achieve the SDGs would be won or lost in cities. OCEANIX Co-Founders, Itai Madamombe and Marc Collins Chen, added that the prototype would be approached at a hyper-local level, taking into account the rich social, economic, political and cultural uniqueness of Korea as the host country.