Green talks, Green actions: Green Architecture Symposium (GAS)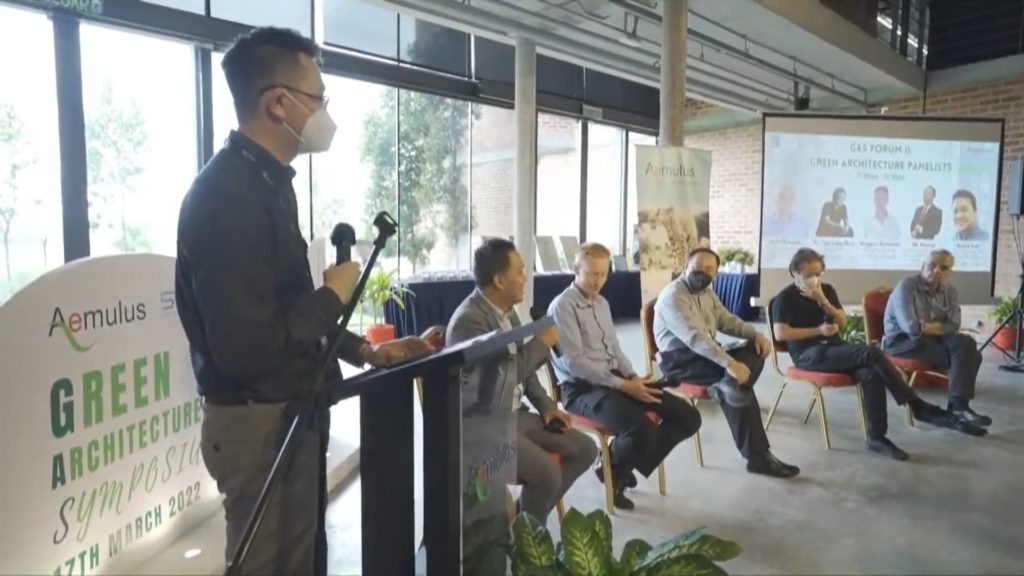 As companies globally are embracing Environmental, Social and Governance (ESG) criteria in conducting business, many industry players are seeking examples to advance their ESG standards and reflect it in every line of operation—an effort that can start from their facility buildings.
Green Architecture Symposium (GAS), which took place on Thursday, 17 March 2022 at Aemulus Base in Penang, Malaysia, was held in conjunction with the 50th anniversary of Penang's industrialisation. Dato' Seri Lee Kah Choon, Special Advisor to the Chief Minister of Penang, underlined in the opening address: "ESG has been in the limelight with growing interest from society lately, and has been identified as one of the focus themes in this 50th anniversary celebration." Penang has ambitions to become 'the Silicon Valley of the East' with its high-tech manufacturing zone, and ESG is crucial to achieve global standards of sustainability.
---
Cooling tropical buildings
As equally notable as the talks was the location of the event at Aemulus' office-cum-electronics production facility, which was designed by FuturArc Green Leadership Award recipient Design Unit Architects and completed in 2020.
John Bulcock, Director of Design Unit Architects, gave a presentation on the Green principles incorporated in the building. Aside from natural daylighting and rainwater catchment, passive cooling is achieved through many design elements, including the overhead shading canopy, the self-shading fins and perforated bricks on the outer wall, setback and break-out spaces that are well-ventilated, and landscaping on the east and west areas to shield against the sun's heat.
Photos courtesy of Gregers Reimann
Passive cooling is key to lower a building's carbon emissions, as highlighted by Serina Hijjas, Vice President of malaysiaGBC (Malaysia Green Building Council). Buildings are a major contributor to the urban heat-island effect, and even more so for taller buildings in areas with less greenery. Therefore, Green buildings of the future should be closer to the ground and encourage biodiversity. In Penang for example, temperatures have increased by 5.6 degrees Celsius from 1988 to 2020. This alarming raise indicates that the goal of being net zero by 2050 is not enough, according to Serina: "My view is that we need to get to carbon-neutral by 2030. That's only eight years from now."
---
A Green awakening
Early efforts of the Malaysian built environment industry to set Green targets was retold by Dr Tan Loke Mun, who led the team that launched the Green Building Index (GBI) back in 2009. It was in no small part due to industry demands: "We had international companies coming here [to Malaysia], and they told us that if we don't have a Green index, they would move their headquarters [elsewhere]." He tested out the index by applying it to his personal residence, S11 House in Selangor (which received the 2012 FuturArc Green Leadership Award). More large-scale buildings were then built and rated using the tool, such as a commercial office and a convention centre in Setia City.
However, the path to widespread Green adaptation is sometimes not linear. Government policies in Malaysia now limit the amount of solar power that could be installed in a house to 10 kilowatt peaks (kWp). As a comparison, S11 House had been equipped with 25 kWp photovoltaic panels, which allowed it to reach net zero and had a return on investment within five to six years. "If everyone could have just gone 'off the grid' and became self-sufficient, think of how you can reduce all those greenhouse gases," lamented Dr Tan.
Despite such obstacles, he shared how people remain curious and optimistic about the future. "I get asked this a lot wherever I go: 'What is tomorrow like?'" He shared the trends that are already taking place and is likely to become more widely adapted, such as the pandemic conditioning people to merge home and office spaces, moving away from single-use buildings. Climate, health and economic crises have proved how self-sufficiency and flexibility towards change are key attitudes to determine our survival.
Since the event was located in Penang, we had a question about the state's plan to reclaim land on the southern part of the island, and if the environmental issues could be reconciled through technology. Dr Tan responded: "I am not a supporter of such reclamation projects as it destroys the environment and habitats, which in turn negatively effects the overall ecosystem and the livelihood of the local community. It cannot be reconciled … period."
---
Future directions
Going back to the idea of sustainability as learning from Nature, Dr Kody Kato, Director of ODE, shared his observation on how Nature is always transient: "All elements in our built and natural environments are in constant response to one another, as well as external stimuli." These are translated to highly responsive, performance-based projects, such as a factory that responds to heat and 'communicates' to its users through colour-changing walls.
Another residential project uses a new method of dessicant-based cooling on the roof, presented by Gregers Reimann, Managing Director of IEN Consultants. In an area where temperatures could reach up to 40 degrees Celsius, the roof insulation will encourage hot air to escape during the day, while storing cool air at night. This system is said to be five times more efficient than conventional air-conditioning.
Bruce Lee, Virtual Design and Construction Lead of Taylor University, presented about the application of digital optioneering for passive design. This method uses an algorithm to generate various options from certain parameters, which can be fine-tuned to suit specific contexts. "Location is very important, because what is a Green building in Kuala Lumpur may not be a Green building in Oslo," he mentioned as an example. The same building can be tested with differently sized and oriented fins to optimise its performance.
---
The ripple effect of sustainable solutions

In the panel discussion, the moderator asked: "What are the challenges for SMEs to adopt Green architectures?" According to SK Chong, Chairman of Penang Natural Green Organisation who has worked with SMEs, there is a lack of knowledge of Green solutions and a concern for their financial constraints: "There is a mindset that Green is expensive." Since not many small companies can build their facilities from scratch, Chong believed that ready-made buildings from developers should be implemented with sustainable principles. However, there is a lack of enforcement to do so.
The idea that Green is costly needs to be challenged. "Green makes sense on every level, financially," said Bulcock. "Passive design saves on operational costs, while active [measures] would have a payback on the investment." Serina corroborated: "Green certification only takes up 1-3 per cent maximum of the overall cost … and the return is less than a year." Dr Tan also shared his firm's experience as a SME that operated from shophouses. He fitted the shophouses with rock wool insulation, installed double-skin louvres on West-facing facades, and had cooler and stable interior temperatures as a result, at a very small initial cost.
Lee added that an important part is to have role model buildings that break the mold in pushing sustainable principles, and can be visited by students, practitioners, clients and industry players alike. He recalled how as a student, he learned a lot from visiting Dr Tan's S11 House, and hopes that Green facilities like Aemulus Base and Paramit's Factory in the Forest can have a ripple effect on people's awareness in the future.
Participants visiting Paramit's Factory in the Forest; thermal imagery of landscaped areas. Photos courtesy of Gregers Reimann
The tropical landscape of Factory in the Forest, completed in 2017, continues to flourish. Photos courtesy of Gregers Reimann
---
The next issue of FuturArc will dig deeper into novel Green technologies and methods. Stay tuned for more!