Encouraging Green commitments and investments at BCI Equinox Jakarta
19–20 MAY 2022 – Returning after two years of being delayed due to the pandemic, the sixth BCI Equinox event in Indonesia was finally held at The Hall, Senayan City Mall in Jakarta on 19–20 May 2022.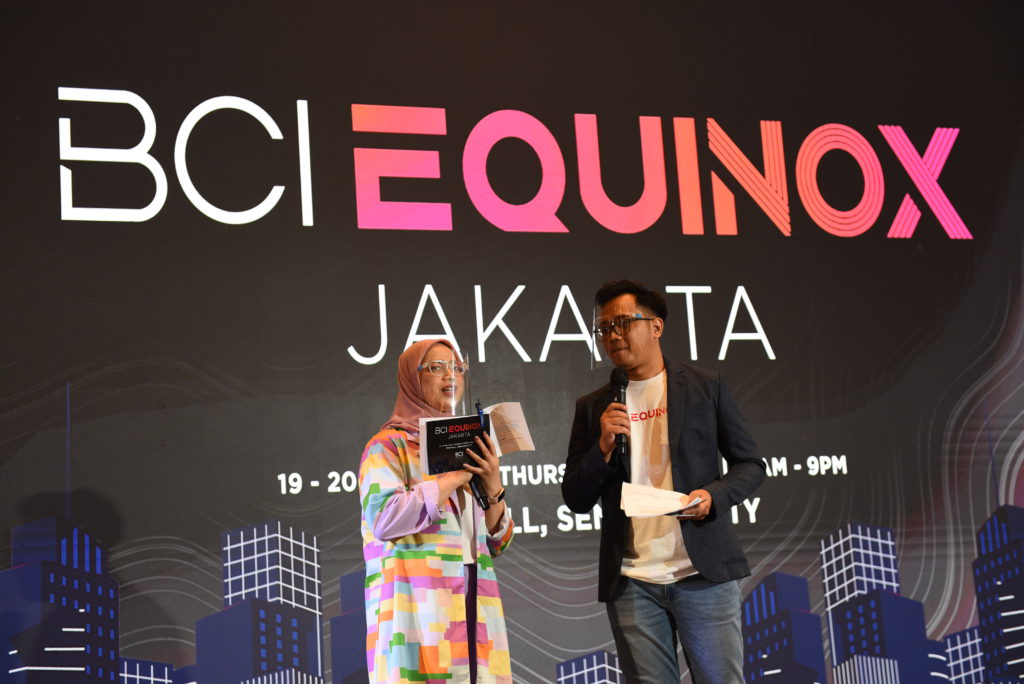 Drawing over 1500 registrants, BCI Equinox Jakarta featured 27 curated product vendors alongside 5 industry associations in the exhibition, providing a networking platform where construction industry players, including designers, developers and contractors can catch up on latest technologies and happening projects. To fulfil health measures, this year's event was spread out over two days—from 10:00AM on the first day and 12:00PM on the second day—lasting until 9:00PM at night.
A series of presentations titled Industry Talk and Tech Hub featured prominent architects, designers and association leaders to deliver updates on key issues that Indonesia's construction sector will need to tackle.

---
Pushing for Green standards in Indonesia
Surendro, Executive Director of Green Building Council Indonesia (GBCI), spoke about the necessity of fulfilling Green targets in Indonesia. "We want to invite you to take an active role … to increase public awareness of the importance of protecting the environment and create solutions that can support environmentally friendly businesses," he said, stating that GBCI has a programme to endorse Green solutions, including physical products, services, and systems.
A similar theme was also presented by Farida Lasida Adji, East Asia Pacific Lead Green Building Programme of International Finance Corporation (IFC), who spoke about the role of Excellence in Design for Greater Efficiencies (EDGE) certification in expediting the decarbonisation of buildings. Recently, IFC has supported the renovation of Istiqlal Mosque, a heritage building and the largest mosque in Southeast Asia, to reduce its energy and resource consumption and meet EDGE criteria.
---
Enthusiasm for landscapes and public projects
Due to the shift brought on by the past years' health crisis, the Indonesian public is more enthusiastic than ever for open-air spaces. This is most recently shown by the always-packed Tebet Eco Park—which rejuvenated two derelict parks and re-naturalised their river canal—as presented by its landscape designer Anton Siura, Principal of SIURA. Also presented were some of Siura's past work for Kampung Admiralty in Singapore and the master plan of Ragunan Zoo's revitalisation in South Jakarta into a bio-park.
Meanwhile, the private sector has also experienced a growing interest in open-air, public-oriented projects. According to Sibarani Sofian, Chairman of the Association of Indonesian Urban Designers (IARKI), "Just ten years ago, developments that do not prioritise cars was unthinkable [to developers]—because they used to view traffic jams as an opportunity to 'capture' the market towards their businesses." Sibarani stated that now, Indonesian developers are starting to value the importance of public walkability, openness and placemaking in cities, as seen through their increasing consultation with urban designers.

Another public sector project that invited lively discussion was the landscape design of the New Indonesian Capital, presented by Rahman Andra Wijaya as the Secretary General of Indonesia's Association of Landscape Architects (IALI). Considering the clay soil of Kalimantan, the new capital's landscape would focus on building the higher areas and retain the lowland as Nature reserves. Land with relatively flat contours has been selected for the central government area, thereby minimising construction impact from land grading. Afterwards, Mario Wibisono, Deputy Chairperson of the Indonesian Association of Architects (IAI) presented the integrated urban regeneration development plan for Jakarta after the capital city move.
---
Making and breaking the mold
The second day of the event saw speakers that presented about their exploration into traditional cultures and adapting it for the contemporary era. Rubi Roesli, Principal of BIROE, spoke about the interior redesign of Sarinah, Indonesia's oldest department store, using traditional materials in a modern way. Rina Renville, Chairperson of the Jakarta chapter of Indonesian Association of Interior Designers (HDII), also underlined the importance for designers to empower cultural artisans, as many crafts are in danger of extinction.
"Architects need to create things [and not just] buildings, and to use materials that do not destroy Nature," said Cosmas Gozali, Principal of Atelier Cosmas Gozali to open his presentation. "We must not only practice in big cities." The projects he presented include a village revival and community empowerment programme in Danau Klaru as well as the master plan of a fishery eco-tourism in Tampelas Village, Kalimantan.


The spirit of experimentation is most exemplary in the presentation by Antonius Richard, Principal of RAD+ar. Among the projects he presented were Tanatap Ring Garden, a café in Jakarta that aimed to upend assumptions that building sustainably was not profitable. "Instead of investing to build a hotel, I can show developers that this project, which is basically an open garden—can recoup the same profit in just months." The young firm seeks to highlight the advantages of Nature-suffused architecture in every project, including their own office space.
Get inspired by industry talks at BCI Equinox and other events in your region. For updates, follow us on social media.
---
Related stories:
BCI Equinox Ho Chi Minh City focuses on Net Zero Carbon and Wellness

BCI Equinox Ho Chi Minh City focuses on Net Zero Carbon and Wellness | FuturArc
20 MAY 2022 – Sustainability proves to be an important objective for the architecture and construction industry in Vietnam, considering industry players' enthusiasm and dedication for this topic. BCI Equinox Ho Chi Minh City (HCMC), one of the most well received industry events in Vietnam, was held…