BCI Equinox Hanoi 2023 Spotlights Net Zero & Energy Solutions
18 APRIL 2023 – Last week, architects and designers gathered at the event of BCI Equinox held on Friday, 14 April 2023 at the Novotel Hanoi Thai Ha to network in an exclusive setting and share insights on the topic of net zero solutions. The event comprised two sessions: the afternoon session welcomed students and young architects, while the evening session hosted professionals by invitation only.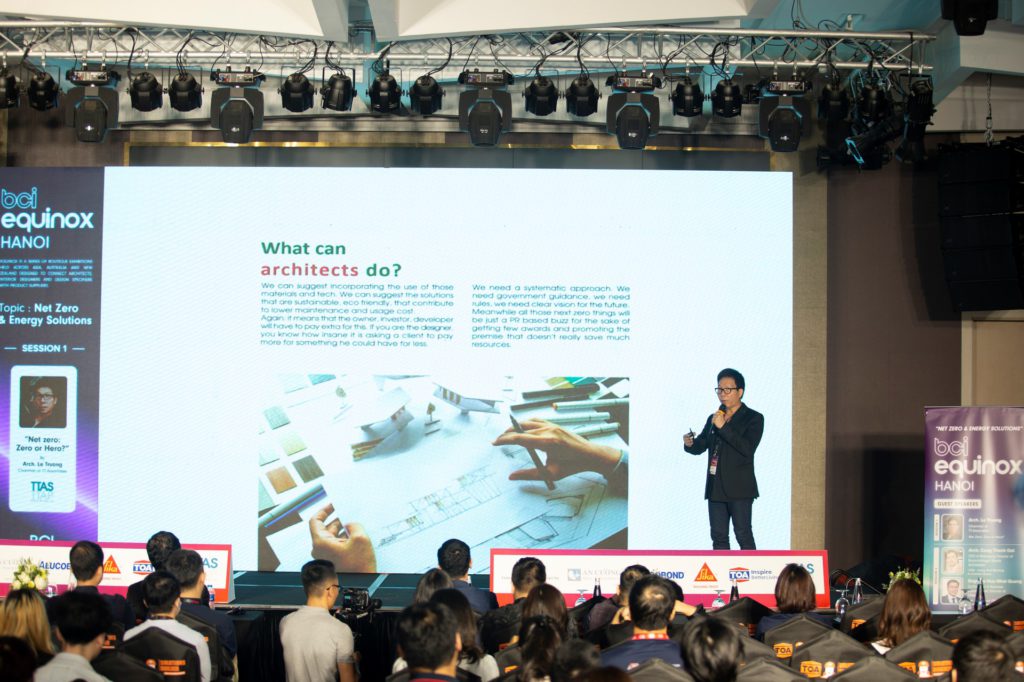 The array of speakers shared actionable practices and solutions that designers can consider in their practice. Le Truong, Chairman of TT Associates discussed the challenges and potentials of Green design in a presentation titled Zero or Hero? He mentioned: "There are still contradictions [to achieve Net Zero], we use clay (bricks), stone, timber … but it also means gradually destroying environmental resources. We need to be sustainable in using it, we need to keep the balance."
Cung Thanh Dat, CEO and Managing Director of Baumschlager Eberle Architekten highlighted the importance of building according to standards in the presentation titled Living and Working in Comfort Zones. In buildings, comfort can be observed through several metrics including indoor temperature, humidity, CO2 levels, wind/breeze speed and direction, and radiation. By monitoring and adjusting these parameters, building performance can be optimised.
Do Huu Nhat Quang, Co-founder and Business Development Manager of GreenViet presented a case study of CP Headquarters and GreenViet Headquarters, which are both Green-certified offices. He mentioned that on the occasion of Earth Hour 2022, GreenViet has reached net zero energy thanks to putting its 30 kWp solar rooftop into operation. The key takeaways from both projects include: a human- and environment-centric design; achieving energy savings first before supplementing with renewable energy; ensuring enough and optimal space for solar panels; and coordinating with the nation's energy sector regarding surplus renewable energy.

Other speeches and presentations included a keynote speech by Nguyen Cong Thinh, Deputy General Director at the Department of Science, Technology and Environment of the Ministry of Construction; Ho Hoang Giang speaking about Furniture and the Road to Net Zero; Vasudevan Murugesu, R&D Manager of Sika Limited on the topic of Net Zero Sustainability and Innovation; and Pham Truong Xuan, Plan & Spec Manager of Carrier on Solutions for Greener Buildings.
---
Read more Net Zero news below:
Can Indonesia accelerate the adoption of net zero buildings?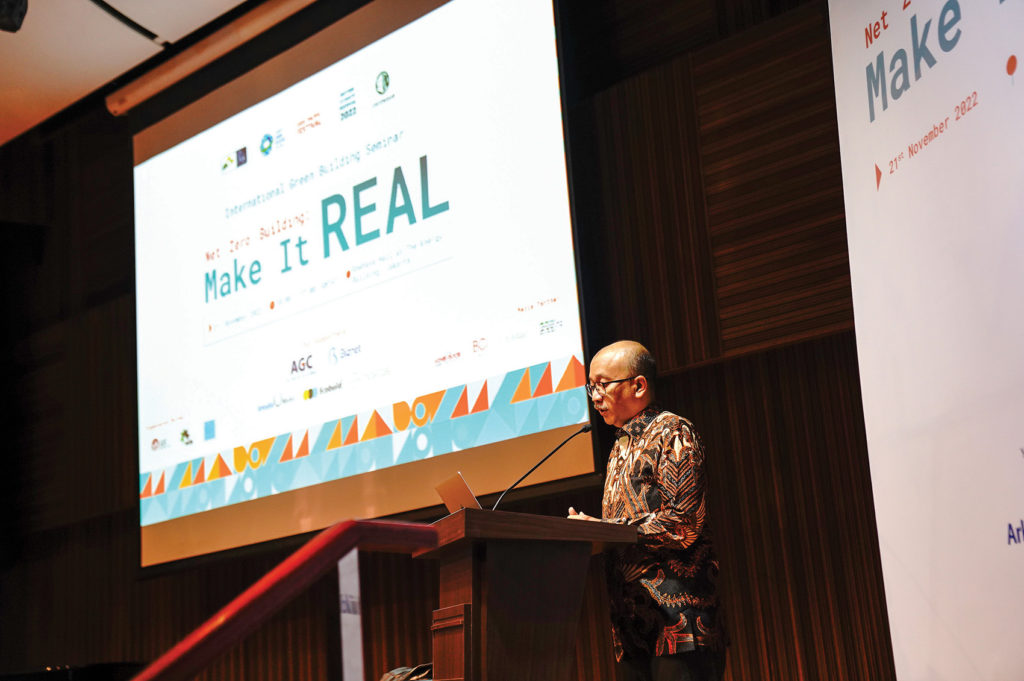 Can Indonesia accelerate the adoption of net zero buildings?
According to the Climate Transparency report in 2022, Indonesia is not on track for a 1.5-degree world.
Carbon Score Launched to Accelerate Malaysia's Net Zero Targets

Carbon Score Launched to Accelerate Malaysia's Net Zero Targets | FuturArc
27 November 2021: Malaysia Green Building Council (malaysiaGBC), in conjunction with the World Green Building Council's Advancing Net Zero project, has announced the launch of the malaysiaGBC Carbon Score (MCS) initiative. This is an assessment protocol designed to comprehensively measure…
Retrofitted SDE1 & 3 at National University of Singapore (NUS)

Retrofitted SDE1 & 3 at National University of Singapore (NUS) to open in February | FuturArc
31 JANUARY 2023 – As part of a larger campus redevelopment to meet net zero carbon targets, National University of Singapore (NUS)'s renovated School of Design and Environment (SDE) 1 and 3 will be opened this February. Alongside SDE4 as Singapore's first new-build net-zero energy building that was…