The way forward: A recap of COP27 commitments for climate adaptation and mitigation
22 NOVEMBER 2022 – The 27th Conference of the Parties (COP27) of the United Nations Framework Convention on Climate Change (UNFCCC) concluded last week, but it was no easy feat—the discussions reportedly exceeded over 36 hours past its scheduled end on Friday, 18 November.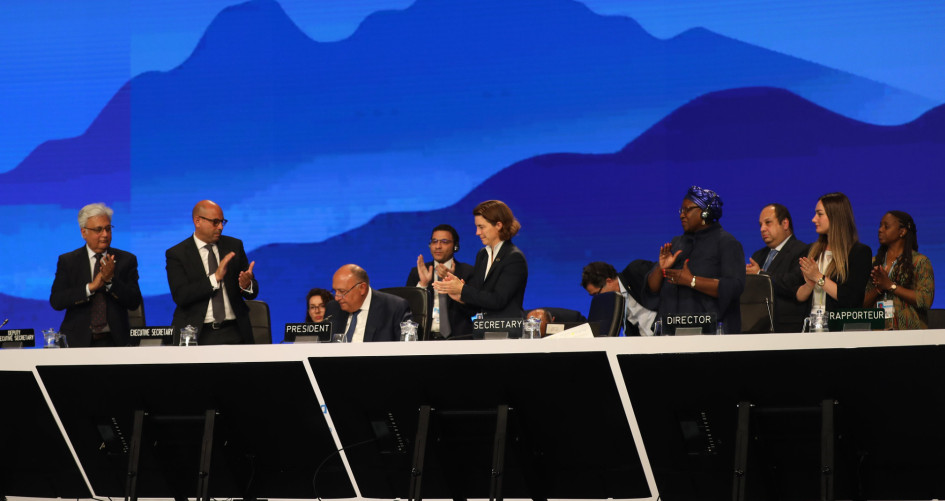 Participating countries were able to reach a "breakthrough agreement" to provide funding assistance for vulnerable countries, who have been hard-hit with loss and damages due to climate disasters. For the first time, this issue was added to the official agenda and adopted at COP27.
The agreement entailed establishing a transitional committee that will make recommendations on how to operationalise the new fund.
The parties also decided on the arrangements to utilise the Santiago Network for Loss and Damage, which will catalyse assistance for developing countries. Since being established in 2019, this year's COP27 discussions included how the network will be structured; who oversees its activities; where it is hosted; how it is funded; and who can request technical assistance from the network. 
---
Mitigating emissions
A mitigation work programme was launched in Sharm el-Sheikh, aimed at urgently scaling up mitigation ambition and implementation. The work programme will start immediately following COP27 and continue until 2030, with at least two global dialogues held each year.
Governments were also requested to accelerate efforts to phase down coal power and phase-out inefficient fossil fuel subsidies. The decision text recognised that the unprecedented global energy crisis has underlined the urgency to rapidly transform energy systems, accelerating "clean and just transitions" to renewable energy.
An example is the Just Energy Transition Partnership between Indonesia and a group of countries co-led by Japan and the United States, which was announced at the G20 Summit held in parallel with COP27. It will mobilise USD20 billion over the next three to five years to accelerate the early retirement of high-emission infrastructure in partnering countries, providing supports for investment in renewable energy and related infrastructure.
---
What's next after this "Adaptation COP"?
Adaptation was one of the keywords in COP27, with the plan to build climate resilience for 4 billion affected people by 2030. New pledges, totaling more than USD 230 million, were made to the Adaptation Fund.
A new programme was launched for 2023–2027 to promote climate technology solutions in developing countries. Jointly implemented by the Technology Executive Committee (TEC) and Climate Technology Centre and Network (CTCN) under the UNFCCC, the programme activities will include technology roadmaps; work on gender and technology; digitalisation and Nationally Determined Contributions (NDCs); and national systems of innovation, industry, and the water-energy-food nexus.
Countries under the Breakthrough Agenda, representing more than half of the global gross domestic product (GDP), also set out priority actions to decarbonise across five key sectors: power; road transport; steel; scaling up low-emission hydrogen production; and accelerating the shift to sustainable agriculture by next year's COP28. The collaborating governments include Australia, Japan, Germany, Spain, and Turkey, among others.
Governments have also agreed that the Global Goal on Adaptation—which was established under 2015's Paris Agreement—will conclude next year at COP28 and inform the first Global Stocktake. This entails taking stock of the implementation of the Paris Agreement, independently evaluating the progress against climate targets.
---
Initiatives for urban resilience
Under an initiative with the working title of Sustainable Urban Resilience for the next Generation (SURGe), COP27 sets out to add momentum to existing initiatives and provide a holistic framework in strengthening implementation of the climate agenda. The working groups will support five areas: building and housing; urban energy; urban waste/consumption; urban mobility; and urban water.
One of the possible architectural design solutions was presented at COP27's Buildings Pavilion Auditorium by Skidmore, Ownings & Merill (SOM), namely Urban Sequoia NOW—a readily constructible building that could sequester carbon throughout its lifecycle. The design builds upon their 2021 Urban Sequoia concept, aiming to reduce upfront embodied carbon by 70 percent—from construction alone—when compared to that of a typical high-rise. In the first five years of the tower's life, the building would reach a 100 percent reduction in whole life carbon, achieving net zero. Over an extended, 100-year lifespan, an Urban Sequoia building would absorb more than 300 percent of the amount of carbon emitted in its construction and operations.

A challenge from the United Nations Environment Programme (UNEP) called Beat the Heat: Nature for Cool Cities asked participating countries to pledge to increase nature-based solutions in their urban areas by 2030 and demonstrate tangible progress by 2025. It seeks to demonstrate urban nature-based solutions' ability to mitigate the urban heat-island effect, avoid emissions and reduce energy demand, while driving finance for replication and sending a demand signal to project developers and financiers.
The World Business Council for Sustainable Development (WBCSD) summed up the progress: "We see positive progress in some areas. Investments in building energy efficiency rose by 16 per cent in 2021 over 2020 levels, reaching USD237 billion. In 2021, 158 countries referenced buildings in their Nationally Determined Contributions, up from 135 in 2020, and the number of Green building certifications worldwide increased by 19 per cent compared to 2020. This progress is encouraging but we need more, now."
---
Related stories:
COP27 discusses loss and damages in face of climate change

COP27 discusses loss and damages in face of climate change | FuturArc
A big question at this year's COP27 is if it will be possible to get a consensus on the scale and timeframe of adaptation finance.
At G20, Indonesia signs a Joint Statement on the Green Transition Initiative with the Republic of Korea

At G20, Indonesia signs a Joint Statement on the Green Transition Initiative with the Republic of Korea | FuturArc
18 NOVEMBER 2022 – In the framework of holding the 2022 Group of Twenty (G20) summit, Indonesia's Minister of Public Works and Housing (PUPR), Basuki Hadimuljono and South Korea's Minister of Environment, Han Wha-jin signed a Joint Statement on the Green Transition Initiative in Nusa Dua, Bali on Mo…
Igniting Ideas from Other Insights

Igniting Ideas from Other Insights | FuturArc
How can buildings and cities answer the climate challenge? Here are ideas from Behnisch Architekten, SOM and SPACE10…
---
References:
https://unfccc.int/news/cop27-reaches-breakthrough-agreement-on-new-loss-and-damage-fund-for-vulnerable-countries
https://www.theguardian.com/environment/2022/nov/20/cop27-agrees-to-historic-loss-and-damage-fund-to-compensate-developing-countries-for-climate-impacts
https://unfccc.int/santiago-network/about
https://www.iied.org/interview-how-can-santiago-network-for-loss-damage-meet-technical-needs-communities-vulnerable
https://www.mofa.go.jp/press/release/press1e_000344.html
https://climatechampions.unfccc.int/breakthrough-agenda/
https://www.wbcsd.org/Pathways/Built-Environment/News/COP27-Built-environment-accelerates-climate-action