Jan - Feb 2018
World Architecture Festival 2017
by Alakesh Dutta
February 28, 2018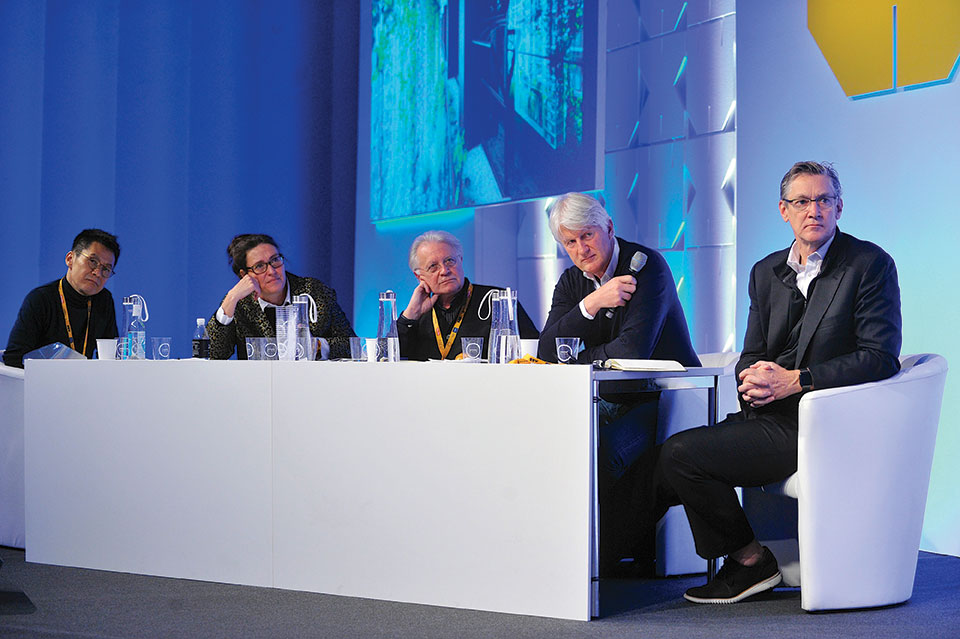 The World Architecture Festival (WAF) had returned to Europe in 2016, after four successful editions in Singapore. This year's event WAFX marked its 10th anniversary. It was held from the 15 to 17 November 2017 at Arena Halle in Berlin. WAFX was co-located with INSIDE, the World Festival of Interiors, and brought together more than 2,000 architects and interior design professionals from across the world to meet, learn, present and exchange ideas on projects, products and innovations. The programmes at WAFX comprised five key series of events taking place in tandem. They included thematic conference sessions with eminent keynote speakers; exhibitions of the award entries for 2017; various sponsor and exhibitor stands; and a series of networking/social events.
Theme: Perfomance of Spaces
The theme for WAFX examined the various definitions of performance that contemporary architecture needs to embrace and define, including aesthetic, technical, economical as well as psychological performance. Coming from diverse design backgrounds and regions, each keynote speaker put forth their own comprehension of performance and how that shaped their works.
The opening keynote address was made by Rafael Viñoly, principal at Rafael Viñoly Architects. Viñoly described creating architecture as an act of performing where a threshold of acceptable performance needs to be established for projects to be acknowledged as being 'workable'. However, he lamented the dearth of this notion in contemporary practice and the lack of an intellectual analysis of the performance of spaces and architecture. Viñoly also commented that this lack of critical appreciation for the quality of performance is causing designers to lose opportunities to interject and elevate the quality of the spaces and their programmes.
Jacob Kurek, partner at Henning Larsen Architects, described the creation of flexible spaces that foster social interaction as an integral paradigm that defines the successful performance in projects. The Harpa Concert Hall in Reykjavik, Iceland, demonstrates this through its multifunctional use of the different spaces, lending them flexibility and creating opportunities for social interactions. Its kaleidoscopic façade embodies the concept of climatic performance in projects that respond to their individual microclimates, a theme that was resonated by many speakers and also demonstrated by several finalists.
Climate responsive design and designing architecture as volumes (rather than just areas) are key principles guiding the performance of social spaces for projects by Alison Brooks Architects. An example of their work was The Smile installation, which won the award in the category Display – Completed Buildings. The project has a small build with a significant impact wherein it transforms an open space to a landmark, elevating it to a civic area. Alison Brooks terms this as 'generosity'.
The notion of 'generosity' also finds its place amongst the five parameters that WOHA have formulated to measure the performance of their projects. Presenting their works, Wong Mun Summ and Richard Hassell of WOHA listed these parameters that straddle across diverse aspects to assess an integrated performance of buildings. First, the Green Plot Ratio (which targets to reintroduce biodiversity and green relief into the city); second, the Community Plot Ratio (which encourages buildings to create a greater space for social gathering and human interaction); third, the Civic Generosity Index (which aims to uplift the civic life of the city spatially, functionally and visually); fourth, the Ecosystem Contribution Index (which drives buildings to be agents supplementing the city's ecosystem); and lastly, the Self Sufficiency Index (which pushes buildings to perform to sustain their own demands for resources).
Today, intelligent technology has become an essential aid for designers. It is improving not only the way buildings perform but also the way they are going to be built. Jason Hawthorne and Gordon Ingram, directors at VU.CITY, used their creation—a fully interactive 3D model of London—to discuss the possibilities that future technology can offer architects and planners. Mathias Kohler, co-founder at Gramazio Kohler Architects, presented about their works on robotic fabrication, which combines human intelligence with machine logic and accuracy to create and build intuitive designs using robots.
WAF Awards
The WAF Awards recognises excellence for completed buildings, future projects and landscape projects. The world's largest architectural award programme, WAFX saw its biggest participation with a total of 924 entries from projects located in 68 countries. The finalists in each category were shortlisted by the jury and were presented at the event.
Several keynote speakers were also part of the jury panel that judged the finalist projects across 32 disciplines. The first two days of the festival announced the winners for these categories and the final day saw these category winners present and compete for the four primary awards:
• World Building of the Year was awarded to the Post-Earthquake Reconstruction/Demonstration Project of Guangming Village designed by The Chinese University of Hong Kong. The project reinvented traditional building technology to provide the villagers with an affordable, economical and sustainable construction strategy, enabling them to reconstruct the village that had been destroyed by the 2014 Ludian earthquake.
• Future Project of the Year was awarded to the Sydney Fish Markets project by Allen Jack+Cottier and NH Architects. The jury commended that the project demonstrated a vision that transcends its brief and looks to transforming a bigger world then itself, through a successful engagement and collaboration of the multiple stakeholders.
• Landscape of the Year was awarded to Peasants and their Land: The Recovered Archaeological Landscape of Chengtoushan, Lixian County, China by Turenscape. The project showcased an intriguing assimilation of archaeological history, rice production and tourism to create a landscape that promotes engagement between visitors and the traditional farmers.
• World Interior of the Year was awarded to Singapore's PRODUCE Workshop's flexible plywood interior named Fabricwood.
WAFX Manifesto
As part of its 10th-year celebration, the WAF organisers launched the WAFX Manifesto. This identifies the critical challenges that architects and planners will have to address in their works in the forthcoming ten years. These include climate, energy and carbon; water; ageing and health; re-use; smart city technology; building technology; cultural identity; ethics and values; power and justice; and virtual worlds. In accordance with this manifesto, WAF identified buildings and future projects that entered this year's awards programme and addressed the Manifesto's challenges. Special awards were accorded to these exemplary projects that represent the world's most forward-looking architectural concepts.
The festival concluded with a gala dinner and award function where programme director Paul Finch announced that the World Architecture Festival will be moving to Amsterdam in 2018, and will take place at the RAI venue from 28 to 30 November.
Previously Published Happening