1st Quarter 2020
Women in Design 2020
by Bhawna Jaimini
March 16, 2020
"Cooperation", "collaboration", "co-creation": These were some of the terms that were echoed throughout the Women in Design 2020 three-day conference hosted by the HECAR Foundation in Mumbai, India from 8 to 10 January 2020. The conference saw some of the biggest names in architecture, such as Billie Tsien, Brinda Somaya, Shimul Javeri Kadri, Annabelle SelLdorf, Laila Iskander, Morag Myerscough and Cathleen McGuigan, as they each shared about their work and journey.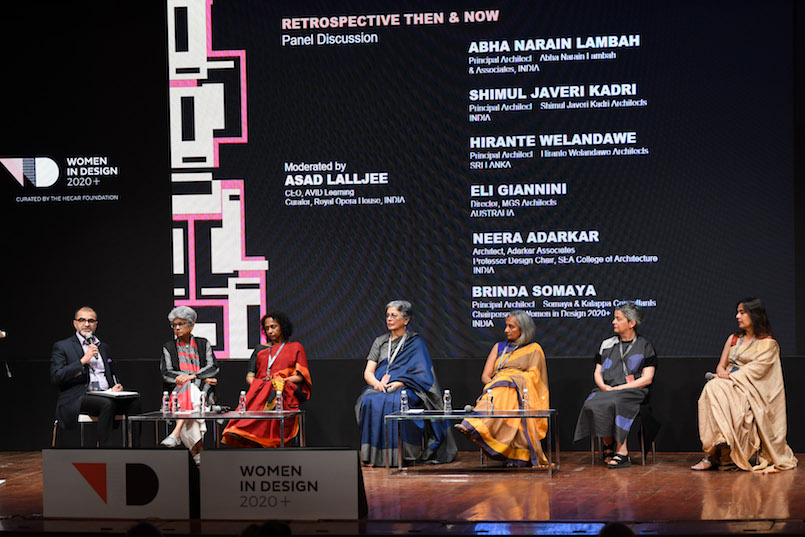 The idea of hosting a conference of and by women architects first came to Brinda Somaya, the chairperson of HECAR Foundation, almost thirty years ago. It was realised in the year 2000, when she organised Women in Architecture 2000, a conference dedicated to the works of South Asian women architects. Twenty years later, Brinda passed the baton to Nandini Sampat Somaya, her daughter and architect, who curated Women in Design 2020 along with Ruturaj Parikh and Mary Norman Woods.
It's not what I expected
The highlight of the first day was the keynote address by architect Billie Tsien, titled 'It's not what I expected'. She presented a range of her projects, where her experience of designing the Obama Presidential Center was the most intriguing and inspiring.
"When we were doing the preliminary design, Michelle Obama commented on how she always found it tedious if she had to get her two children into snow suits and pack them into a car to take them places. She was keen that the centre would be near the museum so that other mothers with children would not struggle. That's planning. We don't live our lives in proportions."

Billie Tsien, explaining the design of the centre.
Adding to what women bring to the design table, Tsien remarked, "Take, for instance, Chandigarh and the way Le Corbusier planned the city. Was it planned according to the way people live and work in India? Maybe not. If women were to plan a city, they would be more attuned to how people live and use the space."
Billie Tsien set the stage for more than 35 female architects, designers, artists and film-makers to discuss a range of topics from sustainability and innovations to gender imbalance in the design world. It was rather refreshing to see a group of stellar women not once giving in to the narcissism that comes with being celebrated and accomplished in their respective fields. Instead, they acknowledged and thanked their personal and professional support systems. Though one panel discussion did turn patronising when the moderator kept asking questions about the panellists being "woman" rather than being "architects", the overall spirit of the conference remained around the celebration of the contribution of women to the world of arts, design and architecture, and sought new ways to bridge the glaring gender gap in the profession.
A better legacy
In India, 65 per cent of architecture students are women but that number does not translate to women-led practices. Cathleen McGuigan, editor of Architectural Record, presented some unsettling facts about the gender imbalance in the architecture world in the US during her presentation. She informed that only 11 per cent of the architects in the US are women, of which only 400 are black women.
"Women of my generation often don't acknowledge the problems they faced as women. We often bulldozed our way through and presented like nothing was wrong. However, we owe it to the next generation to talk about what it actually means to be a female practitioner in a male-dominated world, and leave a better legacy for them. That is why such a conference is important."

Morag Myerscough remarked during an off-stage conversation.
What was truly remarkable was the diversity of speakers and panellists at the conference. The curators hand-picked practitioners with varying projects and practices. There was conservation architect Abha Narain Lambah, who is known for restoring the Royal Opera House in Mumbai and playing a prominent role in acquiring the UNESCO World Heritage status for the Mumbai's Art Deco buildings. While being unapologetic about going after every conservation project in the country, Abha spoke about taking her daughter to her sites from a young age. In contrast to Abha's beautifully restored buildings is the rehabilitation work done in the war-torn Yemen and other parts of Middle East by Salma Samar Damluji.
Then there was Annabelle Selldorf talking about designing the Rubell Museum, which is one of the largest private museums in the world. Amongst these well-known names, there was a relatively unknown woman named Ratnamala Swain, whose story inspired many. Swain is a developer and contractor from the eastern part of India who battled multiple challenges, including death threats from the local mafia, to set up her firm. Today, she is one of the leading developers in her state and was recently awarded the entrepreneurship award by the state government. Women in Design 2020 truly raised the bar for how design and architectural conferences are curated and organised.
Previously Published Happening