Sep - Oct 2016
WCS, SIWW and CESS integrate dialogues, innovations and talent
September 6, 2016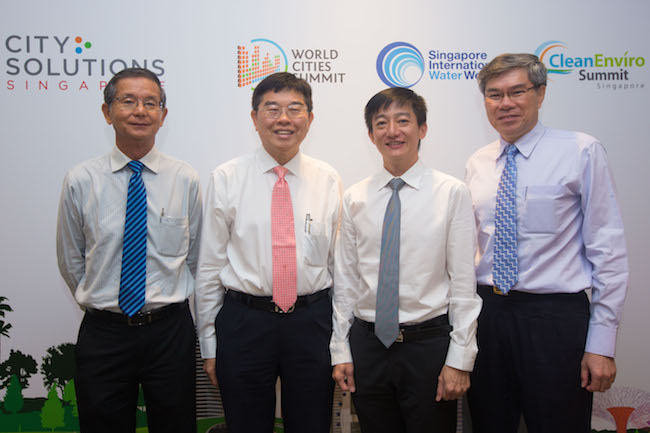 World Cities Summit
About 110 mayors and city leaders representing 103 cities from 63 countries and regions from around the world gathered at the World Cities Summit (WCS) 2016 to discuss changes, challenges and innovations emerging in their cities. These cities included Seoul, Antwerp, Hamburg and Rotterdam. Their interactions at the WCS highlighted the global need to focus on social, technology and governance innovations to build resilient, liveable and sustainable cities of the future.
Held from 10 to 14 July, the fifth edition of the WCS, together with Singapore International Water Week (SIWW) and CleanEnviro Summit Singapore (CESS), was attended by more than 21,000 visitors and participants including ministers, mayors, government officials, industry leaders and experts, academics, as well as representatives from international organisations. This year, besides established tracks on urban governance and long-term planning and development, WCS also provided a platform for discussions on the softer aspects of a sustainable and liveable city—community and culture—particularly on how heritage and culture can
be integrated into the urban planning and design of cities.
The next WCS will be held from 8 to 12 July 2018 at the Marina Bay Sands Expo and Convention Centre, Singapore, and will continue to be co-located with the SIWW and CESS. The WCS Mayors Forum 2017 will be held in Suzhou, Jiangsu Province, China.
Singapore International Water Week
Efficient water management, future technologies and talent development emerged high on the global water sustainability agenda at the seventh SIWW. The global water conference also concluded on a record-breaking note, garnering S$15.2 billion in total value for the announcements on projects awarded, tenders, investments and MOUs.
Some of the significant announcements made at this year's SIWW included:
• Call for upcoming tenders for the design and construction of Singapore's Deep Tunnel Sewerage System (DTSS) Phase 2 and the Integrated Waste Management Facility; the design and construction of DTSS Phase 2 is estimated to cost S$6.5 billion;
• A S$200-million funding boost under the Research, Innovation and Enterprise 2020 plan to further R&D in the Singapore water industry over the next five years;
• The construction of a fifth desalination plant on Singapore's Jurong Island that will add 30 million gallons of water per day to the nation's water supply;
• An investment of S$3.5 billion by Korea's Ministry of Environment over the next 12 years to refurbish and build new water infrastructure;
• A five-year agreement between PUB, Singapore's national water agency and GE Water to explore new research opportunities as well as develop novel water treatment technologies and R&D projects locally.
The Water Leaders Summit played host to over 500 water leaders from the government, utilities, international organisations, academia and private companies, including 14 water-related ministers, water utility leaders from every continent and CEOs of the world's biggest water companies.
"This year's SIWW saw more discussions elevating the water agenda for cities, enhancing collaborations between the public and private sectors, and the use of next-generation technologies for the future of water," said Bernard Tan, managing director of SIWW. "The high value and wide-ranging announcements cement SIWW's value proposition as a global platform for business matchmaking, practical solutions and innovative technologies."
More than 100 co-located events were organised on the sidelines of SIWW. Highlights included the inaugural high-level ASEAN Plus Three Water Ministers Forum (APTWMF), where ministers shared the latest plans and developments of water resources management among APT countries. It facilitated the strengthening of cooperative efforts to improve overall water management
among the ASEAN-China, ASEAN-Japan and ASEAN-Korea Centres.
CleanEnviro Summit Singapore
The CESS 2016, a global platform to develop environmental solutions for rapidly growing cities, concluded with over S$3.04 billion worth of projects announced and S$470 million worth of business deals discussed. The event also facilitated knowledge exchanges aimed at driving sustainability through innovation and developing a skilled industry. Key among the projects announced was the S$3-billion Integrated Waste Management Facility, co-located with the Tuas Water Reclamation Plant, which will transform the way solid waste and used water will be managed in land-scarce Singapore in order to meet the nation's future waste management needs.
"This year, the CleanEnviro Summit Singapore placed strong emphasis on conversations about driving economic growth and competitiveness by harnessing the power of smart technology and innovation. Salient concepts such as the circular economy and the importance of embedding sustainability in every step of the value chain were also widely discussed," Dalson Chung,
managing director of CESS, said.
This year, the Clean Environment Convention (CEC) focused on the need for the industry to come together to co-create smart solutions for sustainable waste management. Themed SMART Solutions for Growing Cities, the two-day convention focused on the vast potential of machine-to-machine communications and the importance of shaping mindsets to achieve a smart, skilled and sustainable industry. Featuring a plenary session and two separate tracks, the convention provided distinct perspectives from all
sectors of the industry, ranging from regulators to industry professionals. A key industry step-change discussion this year included the potential of connected devices and smart technologies that can transform the industry, provide city-level solutions to address current challenges and create new business opportunities.
Previously Published Happening