Jan - Feb 2017
Vietnamese architect named laureate of SIAGetz Architecture Prize for Emergent Architecture in Asia 2016
January 31, 2017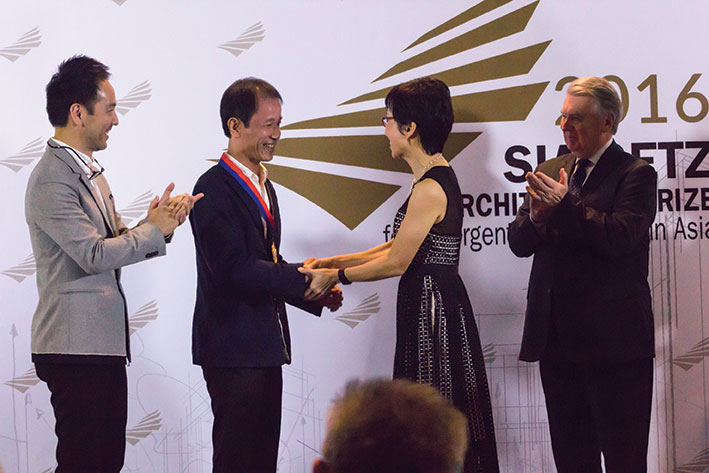 Hoang Thuc Hao (1+1>2 International Architecture J.S.C.) was selected as the first Vietnamese architect for the Singapore Institute of Architects and Getz Bros. & Co. (Singapore) (SIA-Getz) Architecture Prize for Emergent Architecture in Asia 2016. Hoang, the sixth recipient of the prize, was presented with a medallion by Grace Fu, minister for Culture, Community and Youth, during the award presentation ceremony at The Star Performing Arts Centre on 11 November 2016.
Hoang was selected as the 2016 laureate for his distinctive architectural philosophy and the significance of his works. The jury found Hoang's cultural sustainability philosophy impressive. "We felt that Hoang's work is a great example of how architecture can be contextual and yet liberating or the underprivileged. It goes beyond building sustainability in that he [also] addresses cultural sustainability in his works, an aspect often neglected in developing economies," said Ho.
"I am honoured to be the laureate for the SIA-Getz Architecture Prize 2016. I see this award as a recognition of my work among the underprivileged and rural communities. Many parts of Asia are still rural and underdeveloped. I do hope that more architects will step up to bring creative and sustainable solutions to the architectural needs of [these] communities. Thank you, Singapore Institute of Architects and Getz Bros!" said Hoang. His works can be found at https://hoangthuchao.com/.
FuturArc has also featured some of his prominent projects, most recently in the Nov-Dec 2016 issue where we gave readers an insight to the National Happiness Centre in Bhutan and his treatise on the "Architecture of appiness". We have also presented the Ta Phin Community House in theSapa highlands (FuturArc issue, May–Jun 2013) and both the Cam Thanh Community House (FuturArc issue, Nov–Dec 2015) and Earth Village (FuturArc issue, May–Jun 2016) were recipients of the 2016 FuturArc Green Leadership Award.
The jury panel, chaired by Richard Ho (RichardHO Architects, Singapore), comprised Mochamad Ridwan Kamil (Urbane Indonesia PT and mayor, Bandung, Indonesia); Rocco Yim (Rocco Design Architects Limited, Hong Kong); Tony Grist (HASSELL, Australia); Sathirut Nui Tandanand (president, Architects Regional Council Asia (ARCASIA), Thailand); and Manit and Sonali Rastogi (Morphogenesis and Prize Co-Laureates 2014, India).
Previously Published Happening