Sep - Oct 2018
The Liveability Challenge 2018
October 28, 2018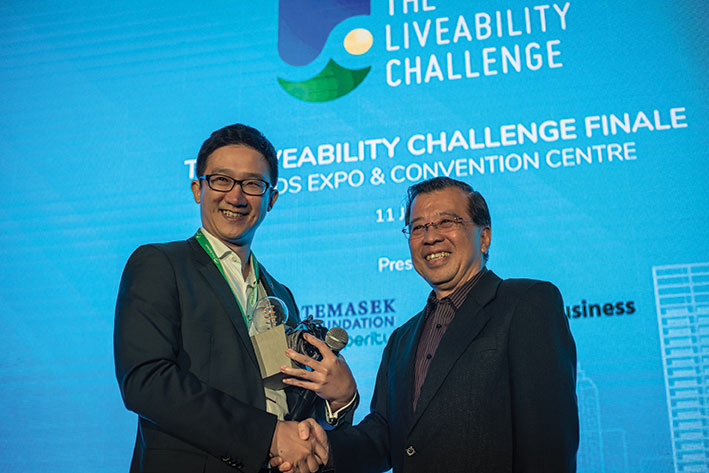 RWDC Industries Pte Ltd has emerged the winner of the inaugural edition of The Liveability Challenge with its proposal to produce drinking straws made from a certified biodegradable biopolymer, which can replace single-use plastic straws. RWDC Industries has been awarded SGD980,000 to jumpstart the testing and production of its drinking straws, and thereafter to produce other biodegradeable alternatives to plastic products.
Presented by Temasek Foundation Ecosperity and organised by sustainability media Eco-Business, The Liveability Challenge aims to close the gap between the ideas that will make Asia's cities more sustainable and the investments that will make these solutions a reality. The finale event was held at Singapore's Marina Bay Sands Expo & Convention Centre, following a successful two-month global call for innovative, game-changing solutions in waste management and sustainable cooling. RWDC Industries was one of six finalists from more than 200 applications from 34 countries to present their solution to make Singapore and other cities more liveable and sustainable, as well as to present a profitable business opportunity.
Based on polyhydroxyalkanoate (PHA) biopolymers that are made from 100 per cent renewable resources via fermentation of sugars and/or plantbased oils, RWDC Industries' innovation is suitable for a broad range of environmentally beneficial products for the food service, food and beverage packaging, consumer goods packaging, agricultural/horticultural related markets and more. This could have a far-reaching impact and put an end to the global acute plastic waste problem.
RWDC's PHA is certified as fully biodegradable by Vincotte, an internationally recognised, independent certification agency. These straws will be almost indistinguishable from conventional plastic straws, but will be fully biodegradable in all potential end-of-life scenarios, including marine conditions.
Zhaotan Xiao, President (Asia Pacific) of RWDC, shared, "The Liveability Challenge has provided us the opportunity to educate and raise awareness on single-use plastics. We see fully biodegradable—not just compostable— drinking straws made from PHA as the first step to combating plastic pollution not only in Singapore, but also globally."
The judges were: Elim Chew (Founder, FastFast), Vinnie Lauria (Managing Partner, Golden Gate Ventures), Brandon Courban (Executive Director, Olympus Capital Asia), Assaad Razzouk (Group Chief Executive, Sindicatum Sustainable Resources), and Lim Hock Chuan (Chief Executive, Temasek Foundation Ecosperity).
Other solutions presented at the finale event were proposals for biodegradable foodware, a reverse vending machine that pays for waste in cryptocurrency, a vacuum-based solution for radiant cooling, a cooling concept based on chilled beam technologies, and an integrated indoor climate technology.
Previously Published Happening