Mar - Apr 2018
Sustainable living in the outdoors
April 28, 2018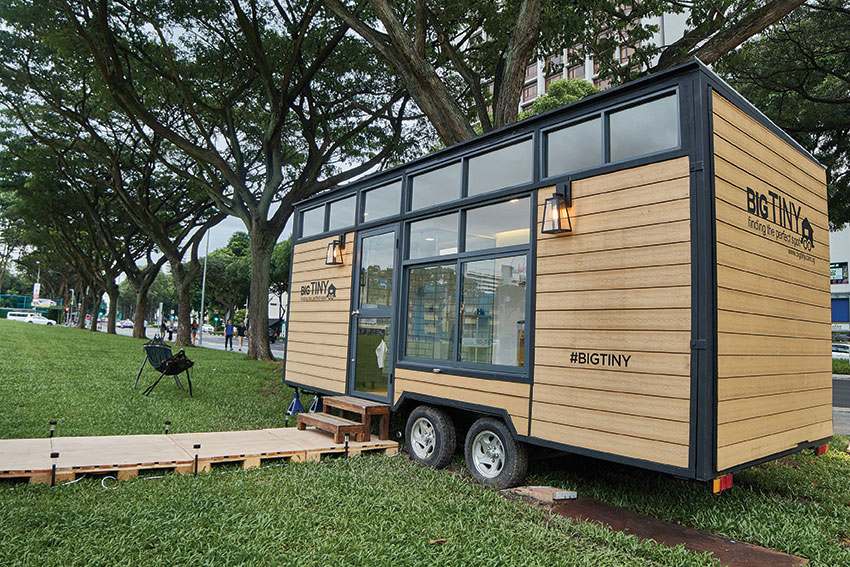 Tiny houses are part of an international trend of simplifying lives by reducing the size—and therefore resource consumption—of homes without sacrificing the quality of life. Currently, there are no definite measurements that qualify a tiny house. However, any residential structure under 46 square metres is generally accepted as one.
The catalyst
Two years ago, one of Big Tiny's founders travelled from Singapore, one of the most densely populated cities in the world, to a farm in the rural outskirts of Australia. He discovered that the nomadic, off-the-grid environment was the ideal getaway from the hectic, digitally-connected lifestyle of the urbanite. Surrounded by vast greenery and the natural environment, he found solace and yearned to create similar experiences for urban dwellers. The ideation process of Big Tiny hence began as a mutually beneficial solution.
The journey
Each Big Tiny house features eco-friendly elements—amenities that are powered by electricity that is harvested from solar panels, composting toilets and a rainwater collection system. Targeting small families that are looking to strengthen familial bonds in a back-to-nature setting, the tiny house movement has also gained momentum overseas as a form of eco-tourism, where it imbues another layer of mindfulness for travellers looking to connect with nature, as well as city dwellers looking for a place to recharge.
With a price range of SGD 150 to SGD 250 per night, the Big Tiny houses have been launched in February 2018 and are available for booking on Airbnb and Booking.com, where amenities and reviews are detailed. Tourists only need to select their desired destination, check-in and check-out dates, as well as the number of adults and/or children in their party. Big Tiny will then send an information pack about activities available for pre-booking on the hosted land. Guests will meet the landowner upon arrival and receive a safety briefing, after which on-site support is available during office hours.
About Big Tiny
Founded in March 2017, Big Tiny is the first company in Singapore to integrate the concept of tiny houses with eco-tourism. Big Tiny places its aesthetically pleasing compact homes on wheels in rural settings, amplifying the benefits of the tiny house movement by pairing the advantages of a thoughtfully efficient abode with the recharging potential of a connection with nature. The company is also looking into launching in more markets in Asia Pacific.
Previously Published Happening