Jan - Feb 2017
NUS breaks ground on first net-zero energy building
January 31, 2017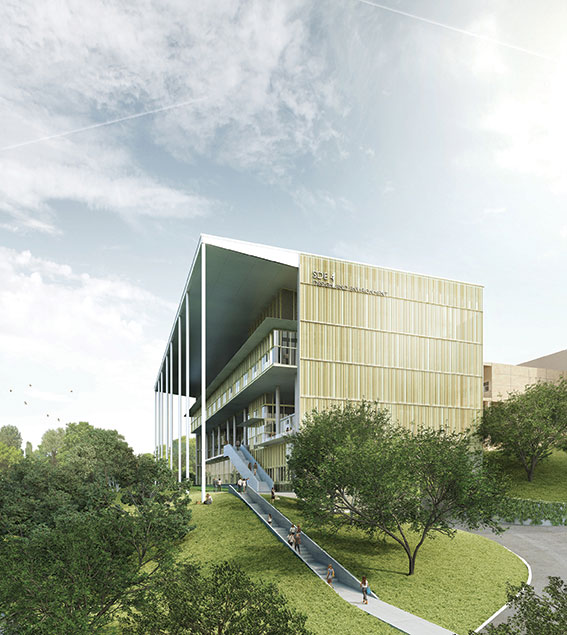 The National University of Singapore (NUS) broke ground on a new sustainable building at the Kent Ridge campus on 7 November 2016—its first purpose-built net-zero energy building (NZEB@SDE). Desmond Lee, senior minister of State for Home Affairs and National Development, officiated at the groundbreaking ceremony.
Conceptualised by the NUS School of Design and Environment (SDE), the NZEB@SDE is designed to be climate-responsive with net-zero energy consumption. Scheduled to be completed in 2019, the six-storey structure will be a new addition to the existing three buildings of the NUS SDE that seeks to promote research collaboration with public agencies and industry partners.
Prof Lam Khee Poh, dean of NUS School of Design and Environment, commented, "This project marks a new chapter in our school's vision of learning, knowledge advancement and multidisciplinary collaboration. Many hours of discussion, design iterations and collaborative teamwork have gone into the design of NZEB@SDE, which will serve as a living laboratory to inspire our staff and students to explore innovative ideas as we continue to push the boundaries of sustainable design to build a Green and resilient urban habitat for all to enjoy."
With a gross floor area of 8,514 square metres, the new building will house a mix of research laboratories, design studios, teaching facilities and common learning spaces. It also includes a 3D scanning laboratory, the NUS-JTC Industrial Infrastructure Innovation Centre and the NUS-CDL Smart Green Home.
Green design concepts
One key aspect of the NZEB@SDE is its contemporary architecture design, which demonstrates an understanding of Singapore's tropical climate. The design concept incorporates a large overhanging roof, which, together with the double façades on the east and west sides of the building, offers shade from direct sunlight and provides a cooler interior.
The building design also makes use of the architectural concept of floating boxes, where its shallow and porous layout allows for cross ventilation, natural lighting and views of the landscape. Weather permitting, windows can be opened to invite breezes and air-conditioning will be used only where it is needed, hence reducing the electricity consumption of the building. The result is an architecture that seeks to offer a biophilic experience that connects NUS staff and students to the campus' natural surroundings.
NZEB@SDE is designed to consume only as much energy as it produces. This is made possible by harnessing solar energy with the use of more than 1,200 solar photovoltaic panels that will be installed on the roof. On days when there is insufficient solar energy, the building will draw energy from the power grid. Over the course of the year, the net amount taken from the grid will be zero, achieving net-zero energy consumption.
Integral to the concept of net-zero energy consumption for NZEB@SDE is the need to rethink air-conditioning, which typically accounts for up to 60 percent of a building's total energy load, especially in a tropical country like Singapore. This resulted in the proposal of a hybrid cooling system, which will ensure that rooms would not be excessively chilled—in addition to ceiling fans to increase air circulation, cool air will be supplied at higher temperatures and humidity levels. Coupled with NZEB@SDE's tropical architectural design, this will create a comfortable environment that is also significantly more energy efficient.
"The NZEB@SDE offers lessons to architects and engineers on how energy use and occupant comfort might be better balanced in future buildings. It also suggests [that it is not necessary for] a building [to] deliver the same condition all day to everyone. Giving occupants the option to control comfort—such as [the adjustment of] fan speed or [the choice of] natural ventilation—would be viable solutions to achieve [well-being]. When the building is completed, we hope to use it to experiment [with] various design concepts and approaches in partnership with our collaborators," Prof Lam added.
Previously Published Happening