May - Jun 2016
NUS and CDL partner to develop Green living technologies
May 6, 2016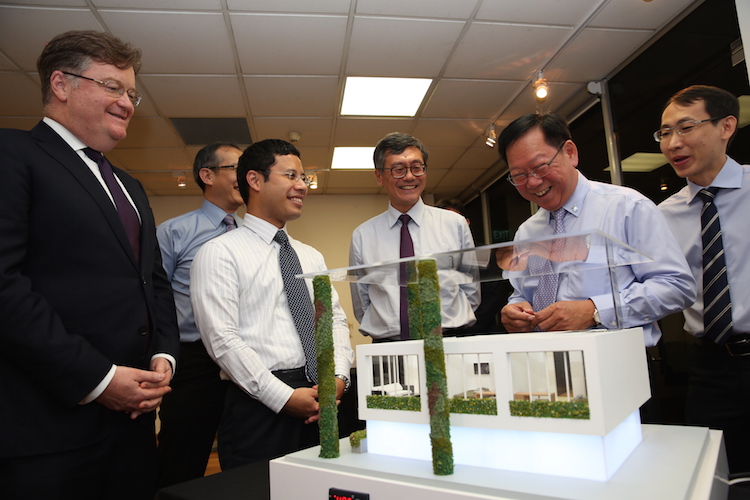 On 22 March 2016, the National University of Singapore (NUS) School of Design and Environment and City Developments Limited (CDL) announced their partnership in promoting innovations in smart, Green building technologies. CDL granted SGD2.25 million to NUS to establish two new research laboratories dedicated to the study of smart building technologies for indoor and outdoor environments, and to provide funding for research projects. These initiatives, which are also supported by the Economic Development Board (EDB), will further establish Singapore's position as a leading global smart city and improve the quality of life in this highly urbanised environment.
Desmond Lee, Senior Minister of State, Ministry of National Development and Ministry of Home Affairs, officiated the launch of two new programmes under the partnership: NUS-CDL Smart Green Home and NUS-CDL Tropical Technologies Laboratory (T² Lab) Programme. These new programmes are the first-of-its-kind tailored to the tropical climate.
Professor Heng Chye Kiang, dean of NUS School of Design Environment, said, "We are deeply appreciative of the generosity of CDL and strong support of the EDB. We look forward to working closely with CDL and EDB to promote and deepen our efforts in developing sustainable solutions and technologies for smart, urban living that are suited for the tropical climate, hence benefitting
Singaporeans as well as the local and regional building sectors."
Grant Kelley, CDL chief executive officer, said, "In support of the national vision for a smarter, Greener and more liveable Singapore, CDL is excited to collaborate with NUS on the NUS-CDL Smart Green Home and T2 Lab, with EDB as our supporting partner. For over 20 years, CDL has championed leading-edge innovations in our projects to create impactful solutions and greater value for homeowners. CDL will continue to push boundaries to develop quality homes that are even more comfortable, resource-friendly and cater to a Green and smart lifestyle. We aim to add value to homebuyers by creating practical and crucial solutions to meet their energy, security, mobility and healthcare needs. The capabilities developed by the two NUS-CDL platforms will also set new benchmarks for our building industry, as Singapore gears up to become a smart and sustainable nation."
"Urban Solutions and Sustainability has recently been announced as a key technological domain to receive dedicated public research funding in the next five years. This research partnership between CDL and NUS is a prime example of how companies can work alongside government partners and institutes of higher learning to capture business opportunities in this exciting growth
sector. We look forward to CDL and NUS co-developing, testing and exporting innovative sustainable urban solutions that are tailored for a rapidly urbanising tropical region," Goh Chee Kiong, executive director, Cities, Infrastructure & Industrial Solutions, EDB, said.
NUS-CDL Smart Green Home
The NUS-CDL Smart Green Home programme aims to develop modern solutions to create homes that are secure, healthy and comfortable. This test-bed environment will include advanced research and educational facilities to support a platform that is designed to create, experiment and implement technologies that will build a smart community and nation. The facility has a reconfigurable structure to enable comparative research through flexible experimental set-up, testing and monitoring. Energy efficiency, quality of indoor environment and house sustainability are some factors that can be tested here.
The facility, expected to be completed, by December 2017, will be located within a new building at the NUS School of Design and Environment and it will be managed by the Department of Building. This is designed as a 100-square-metre full-size home. The facility also serves as a showcase for visiting students and industry collaborators.
NUS-CDL T2 Lab
The 107-square-metre T2 Lab is conceived as an adaptable indoor-outdoor research space that can be configured to test lifestyle scenarios, space-use configurations, as well as emerging technologies. Managed by the Department of Architecture, the laboratory will be used to study new ideas relating to research themes such as Green living, which explores the integration of passive and active building systems to achieve substantial reductions of carbon emissions. This new laboratory, planned to be completed by December 2016, will be located on the NUS Kent Ridge campus.
Possible studies that can be carried out at the facility include examining biomimicry building envelope devices and systems for harvesting energy from renewable resources (such as sunlight and wind); solar control and shading; vertical and edible garden; solar chimney; and smart building materials. Researchers could also use the test bed to explore how architecture and building design deal with rising sea water levels and extremities in weather and air pollution.
Moreover, designers and building scientists could examine new ideas and concepts in transforming existing building designs to address environmental challenges that threaten liveability, safety and comfort, work-life balance, and social and cultural expectations, especially in an intensified, compact urban environment like Singapore.
Previously Published Happening