Jul - Aug 2018
Macao International Environmental Co-operation Forum & Exhibition 2018
August 28, 2018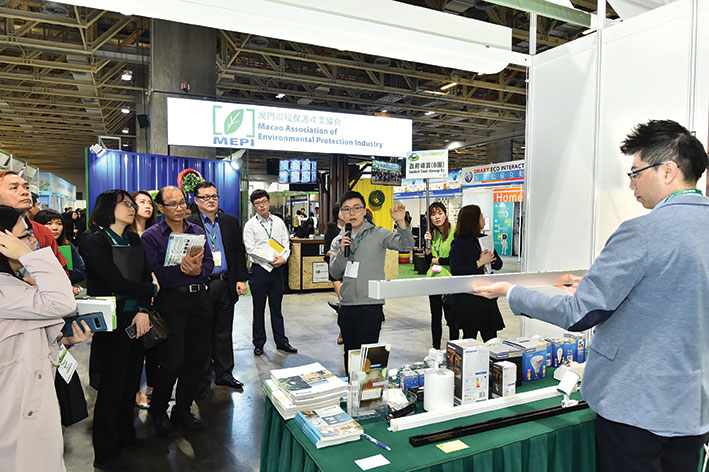 The Macao International Environmental Co-operation Forum & Exhibition 2018 (2018MIECF), hosted by the Macao SAR Government, was successfully concluded on 14 April 2018. The three-day event promoted interaction and cooperation between Green enterprises from countries and places such as those along the Belt and Road, the Pan-Pearl River Delta Region, the Guangdong-Hong Kong-Macao Greater Bay Area, and the European countries.
MIECF provided a common platform for representatives from the governmental, industrial and academic fields from around the world to interact. The theme for the 11th edition was Shaping of Eco-Cities for an Inclusive Green Economy, where a wide range of activities was organised for the participants, including Green Matching sessions (a total of 349 businessmatching sessions were held); seminars and presentations; and a networking session for the Green building industry.
The Green Forum—one of the MIECF event's key activities—held six panel sessions and one special session this year, attracting more than 3,900 participants and bringing together more than 50 environmental pioneers, as well as executives of multinational companies and policymakers, etc., from Mainland China, Australia, Costa Rica, the Netherlands, Portugal, Singapore, the United States, Hong Kong and Macao, and other regions and countries. The guest speakers provided insights on topics such as sustainable tourism, green exhibitions, eco-cities, green finance, and the green chemicals sector, thus promoting an exchange of information for a potential environmental cooperation among regions.
Christiana Figueres (Vice-Chair, Global Covenant of Mayors for Climate & Energy), who is the former Executive Secretary of the United Nations Framework Convention on Climate Change, had graced the event as the keynote speaker. She presented in the special session of the Green Forum, sharing her professional insights on the topic Industry Shaping Tomorrow's Eco-cities. A number of authorities in the environmental sector also attended as session keynote speakers, and among them were Dr Ma Jun (Chairman of Green Finance Committee of China Society for Finance and Banking); Li Jun (Deputy Division Chief of the Ministry of Ecology and Environment); and Dr Ouyang Zhiyun (Director of the Research Center for Eco-Environmental Sciences of the Chinese Academy of Sciences).
There were more than 490 exhibitors from 19 countries and regions that had participated in the Green Showcase exhibition, which focused on environmentally friendly solutions for addressing issues connected with air; water and soil pollution; as well as eco-city construction. It featured several themed areas, including Innovative Environmental Protection Technologies, Green Construction Pavilion, and Green Transportation.
The next edition of MIECF will be held from 28 to 30 March 2019.
Previously Published Happening