2021
Lung Fu Shan Environmental Education Centre
March 29, 2021
Ecology in The Making (1816-present) Exhibition: Encounter valuable records from Hong Kong's natural history
Lung Fu Shan Environmental Education Centre was jointly established by the Environmental Protection Department and The University of Hong Kong (HKU), the only one of its kind between government and tertiary institutes. Through promoting nature conservation, the centre seeks to encourage a community that lives harmoniously with nature while practicing sustainable living.
The centre cooperates with HKU, the government and communities to provide a professional environmental education to the public. By organising activities such as guided nature tours, it provides a place for the public to learn, grow closer to and enjoy nature. The centre is also a platform to showcase the history, heritage and environment in the Lung Fu Shan area.

The exhibition showcases valuable records and replicas dating back to the early 19th century, as well as contemporary depictions made by local "amateur naturalists". Throughout the exhibition, visitors can not only get a glimpse of the making of Hong Kong ecological knowledge, but also understand more about Hong Kong's history and biodiversity.
Portraying the first impression of Hong Kong
The exhibition showcases the early stages of Hong Kong natural history, including a replica of Waterfall at Hong Cong (Kong) (published in 1818) and replicas of botanical watercolour paintings from the early 1840s.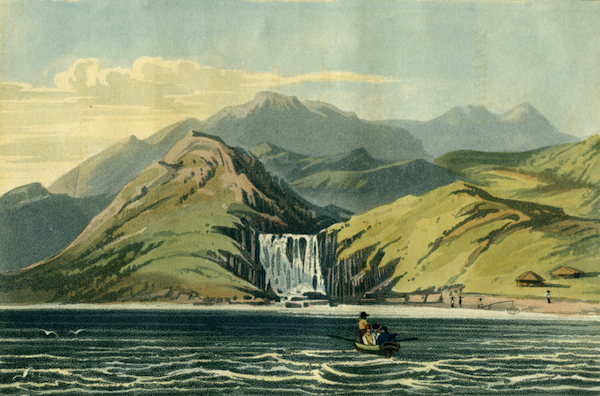 Replica of Waterfall at Hong Cong (Kong) (1817): Over 200 years old, it is the first landscape painting portraying Hong Kong by the West.
In addition to these early visual records, there are also specimens of a Crested Goshawk, a snake skeleton, wasp nests and a goat. Beginning with British naval surgeon Clarke Abel, who set foot on Hong Kong Island in the early 19th century, the exhibition features prominent enthusiasts of Hong Kong natural history, such as:
Insect expert John Charles Bowring, son of the fourth Governor of Hong Kong (Sir Bowring);
Writer Yip Linfeng;
Civil servant and Hong Kong orchid expert Gloria Barretto; as well as
Biology teacher, amphibians and reptiles expert Father Anthony Bogadek.
From one generation to another, they laid the foundations for Hong Kong natural studies by broadening local scientific knowledge, contributing to local conservation, and expanding ecological education. They do so by writing, painting, observing in the field, teaching and mentoring. Alongside stories of these passionate individuals, accounts of the discovery of a native species, Hong Kong Camellia and endemic species Romer's Tree Frog are also presented.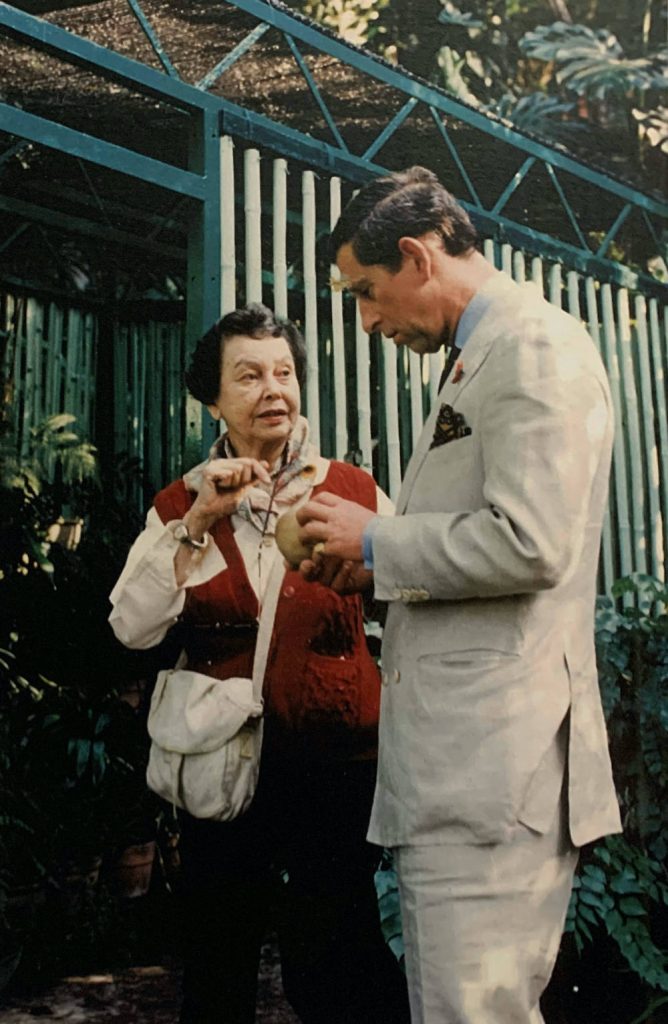 Civil servant and orchid lover, Gloria Barretto joined the Kadoorie Agricultural Aid Association after retirement.
Barretto first entered the Kadoorie Farm and Botanic Garden to work at the reception, and was responsible for public relations including receiving important guests like HRH The Prince of Wales.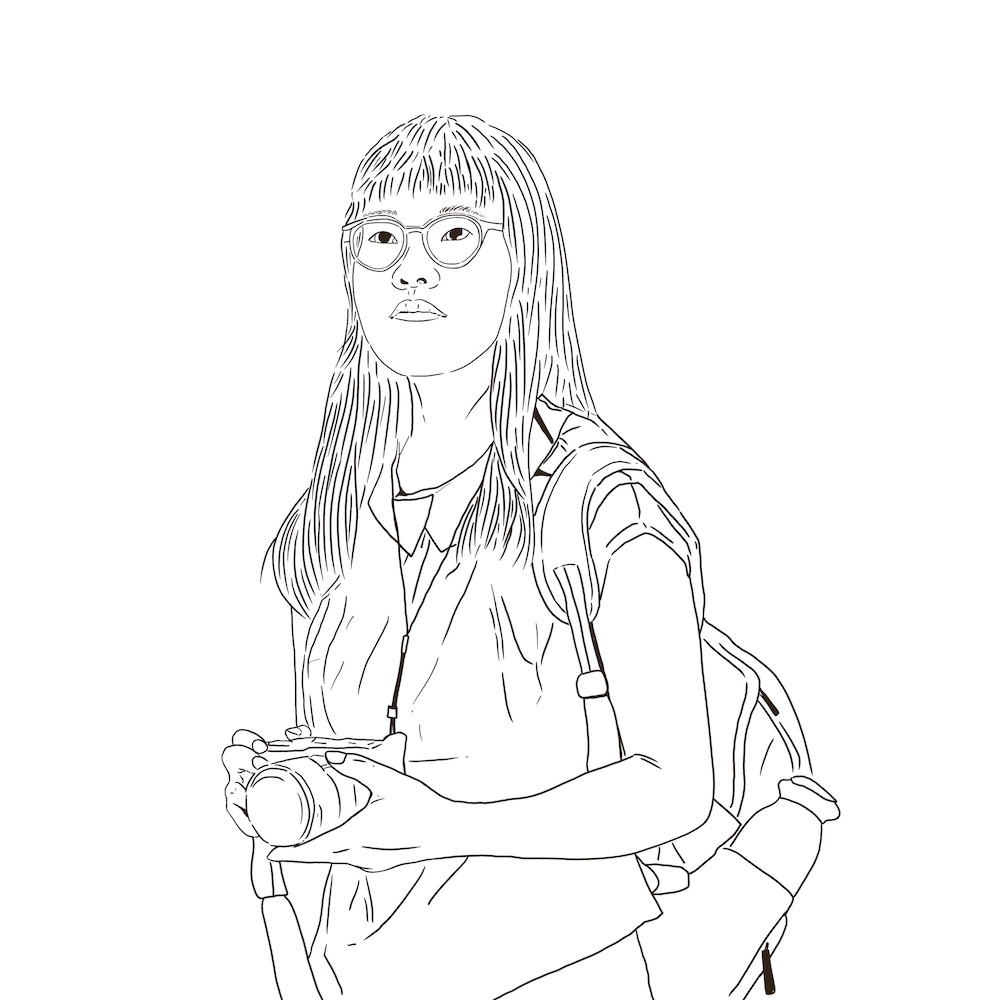 Natural history has become popular
Stories of 21 contemporary amateur naturalists are a special feature in this exhibition. This include:
Former Director of Hong Kong Observatory Lam Chiu Ying;
Author of In Search of Flora and In Search of Fauna, Human Ip;
Eco-photographer and the founder of WildCreatures Hong Kong Robert Ferguson;
Embroidery artist Sandy Lam;
Hong Kong Bird Watching Society Kite Research Group Convenor Peter Chan; and
Former taxidermist Li Kin Man.
Human Ip, image courtesy of Lung Fu Shan Environmental Education Centre.
A writer-artist, she began exploring the mountains, documenting the animals and plants along the way with only a pen and a watercolour brush. She gained knowledge on ecology by studying on her own. She would spend days in the wilderness. This exhibition will showcase her newly painted Hong Kong Camellia.
An in-depth exploration while staying in town
Located in a revitalising historic building, Lung Fu Shan Environmental Education Centre is a hidden gem for nature exploration. The Centre's garden and exhibition hall are free for public admission. The 130-year-old bungalow is a Grade 1 Historic Building that houses the exhibition gallery. The gallery showcases regular exhibitions on history, ecology, geology and stories of the locals of Lung Fu Shan, as well as non-scheduled themed exhibitions.
The centre also provides a wide range of outdoor activities such as ecological guided tours, Forest Bathing and BioBlitzes. These activities allow the public to learn more about Lung Fu Shan while exploring the history, humanities, environment and ecology of Hong Kong. Behind the centre is Lung Fu Shan Country Park, home to over 100 bird species, 100 butterfly species, 30 amphibians and reptiles and more, including the endangered Yellow-crested Cockatoo and Short-legged Toad.
Exhibition details
Name: Ecology in The Making (1816-present)
Organisers: Lung Fu Shan Environmental Education Centre and Hong Kong Science Museum
Duration: Open till 14 April 2021 (Wednesday)
Venue: G/F, Exhibition Hall, Hong Kong Science Museum
Opening hours: Special opening hours are from 10am to 5pm (closes on Thursdays except public holidays). Visit by sessions, each lasting two hours, with admission quota. For more details, please visit Hong Kong Science Museum.
Fee : No additional admission fee to permanent exhibition hall
Previously Published Happening