May - Jun 2016
Lee Kuan Yew Water Prize 2016
May 6, 2016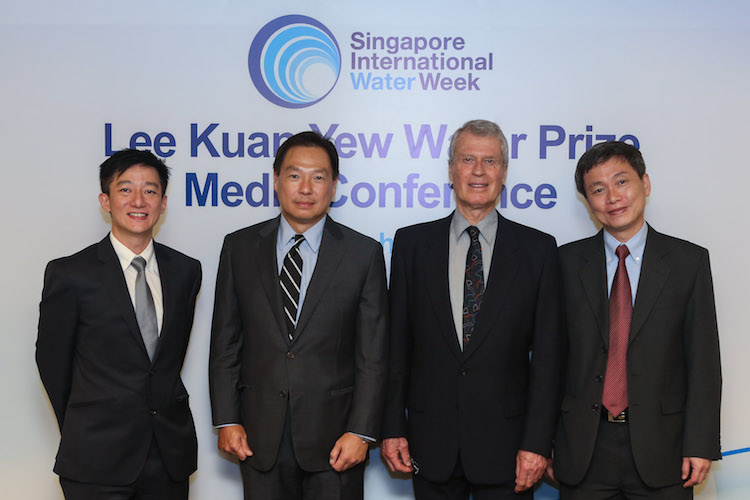 The Singapore International Water Week (SIWW), a biennial event that gathers leaders and innovators from the global water industry on a single platform, awarded the Lee Kuan Yew Water Prize 2016 to world-renowned hydrogeologist, Professor John Anthony Cherry on 21 March 2016. This event also marked the first time it was held in conjunction with World Water Day, to emphasise the integral role that water has in affecting communities and economies of all sizes.
A leading authority in hydrogeology, Prof Cherry's research in collaboration with international partners has provided the global groundwater community with a better scientific framework to formulate policies and best practices. He has been a major influence in advancing global recognition of groundwater processes and the development of better field methods for groundwater contamination. His findings and policy impact have contributed to more effective risk management in groundwater pollution control measures, as well as revisions and formulation of new groundwater remediation guidelines and approaches in several countries including the United States. The effect of his contributions have also established new models for public-private partnerships for groundwater research.
Adding to his list of accomplished achievements, the monitoring technologies and clean-up processes that he developed have been implemented in areas that face groundwater contamination, including those in the United States, China and Brazil, among others. One of the most important insights that he discovered subsequently formed the theoretical basis for the set of benchmark criteria used in the disposal of hazardous industrial and nuclear waste, which has been incorporated into regulatory frameworks.
He is also an advocate of the monitoring and research of the effects of shale gas exploitation and fracking on groundwater resources. In recent years, he has focused his research on fractured rock, the least understood of all groundwater systems but one that is particularly susceptible to contamination. His knowledge in fractured rock hydrology and rock drilling has contributed towards the supply of safe drinking water to people living in mountainous bedrock regions with limited vehicle access. He remains active in the scientific community and is currently leading an international team to acquire and test small, low-cost portable rock drills to make small-capacity wells that are designed to have a low risk of bacterial contamination.
As the 7th Lee Kuan Yew Water Prize Laureate, Prof Cherry will deliver the Singapore Water Lecture on 11 July 2016, and will receive his award at the ceremony on the same night. The award ceremony is one of the flagship programmes of the SIWW, which will be held from 10 to 14 July 2016, co-located with the World Cities Summit and CleanEnviro Summit Singapore.
Previously Published Happening