Nov - Dec 2018
International Green Building Conference 2018
by Candice Lim and Carissa Kwok
December 28, 2018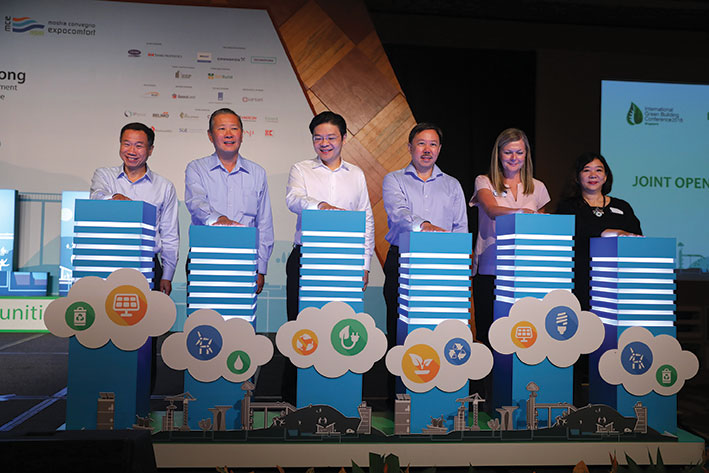 Organised by the Building and Construction Authority (BCA), Singapore Green Building Week (SGBW) 2018 was host to 10,654 international visitors from 54 countries, including international Green building experts and professionals, policymakers, thought leaders, academics, built environment practitioners, tenants and end-users (including members of the public and students) for a congregation of ideas, collaboration, partnership and learning, to achieve a shared vision of a greener planet through the Green building movement. In addition, 311 one-to-one business-matching meetings were facilitated at the events.
Build Green: Build Smart. Build Communities.

Singapore has declared 2018 as the Year of Climate Action. It will be a milestone year for Green building development as well as zero energy and zero carbon initiatives. The built environment sector is going through rapid changes, brought about by various smart initiatives to raise productivity, improve energy performance and enhance the quality of life. But even as smarter and more efficient solutions are tapped on, stakeholders and users need to be rallied as a community to help drive the Green building agenda. With this goal in mind, the theme for the International Green Building Conference (IGBC) 2018 (4 to 7 September 2018) was Build Green: Build Smart. Build Communities. One of the key highlights of IGBC were the specially curated Green Mark tours to 12 award-winning BCA Green Mark projects in Singapore to explore what goes behind a Green, sustainable and smart building. A total of 1700 delegates from more than 30 countries attended IGBC 2018.
Lawrence Wong, Minister for National Development and Second Minister for Finance, together with Lee Fook Sun (chairman, BCA) and Tan Swee Yiow (president, SGBC), graced the joint opening ceremony on 5 September 2018.
"Singapore is committed to contribute, despite our small size. We target to reduce our emissions intensity by 36 per cent from 2005 levels by 2030."

In his speech, Minister Lawrence Wong stated that as a global challenge, climate change requires global action.
Minister Wong elaborated on three broad plans to meet the target as a tropical city, where solving the cooling issue, the biggest source of energy consumption in Singapore's buildings, is key to meeting the sustainability targets. They include a) passive designs to reduce the need for electrical cooling systems; b) active designs to improve the efficiency of mechanical and electrical systems in handling the heat load; and c) enhanced renewable energy regeneration to meet the energy needs via clean and sustainable means.
Super Low Energy (SLE) Programme
Minister Wong announced, "BCA is launching a Super Low Energy (SLE) Programme to encourage cost-effective, energy-efficient building designs. Let me share the three initiatives under this Programme. First, we will introduce a new Green Mark scheme for SLE buildings. Second, BCA has worked with the industry and academia to develop a comprehensive Technology Roadmap, which will be a guide for the industry to realise the potential of SLE buildings. Third, BCA will be launching the SLE Challenge, where progressive developers make a public pledge to achieve the new Green Mark for SLE buildings. More than 10 developers involving both public and private developers have agreed to strive for the new Green Mark SLE."
Since the beginning of Singapore's Green building journey in 2005, with the introduction of BCA Green Mark and the three Green Building Masterplans, Singapore has 'greened' more than 3,400 buildings covering more than 100 million square metres of gross floor area. There has been growing acceptance that Green buildings make economic sense from the building life cycle perspective. In BCA's latest Building Energy Benchmarking Report 2018, commercial buildings continued to show commendable improvement at 14 per cent in energy performance since 2008. This improvement from over 1,000 commercial buildings translates to about 1,000 GWh in energy savings per annum, which is equivalent to about S$200 million savings in a year.
"To sustain the Green building movement, we also need Green-minded communities. We need strong partnerships between the government, industry, building owners and members of the public."

Minister Lawrence Wong added.
FuturArc attended the IGBC conference and below are some of the highlights from the sessions.
5 Sep 2018: Track 1.1 | Global View to Net Zero
In this session, Joelle Chen, regional head of the Asia Pacific Network, World Green Building Council, shared, "Buildings are not the same throughout the world, each one has its own typology. I think sometimes it's about going back to the vernacular, to look at how people used to build in the past. A lot of times we are looking at buildings as a very modern, Western construct of steel and glass, but in my opinion, there are a lot of opportunities for different types of buildings now. We can look at passive design approaches and use that as a key driving force, such as different types of cooling or heating requirements. I think it's doable, especially for the mid- and low-rise levels. I think there are a lot of skepticisms around high-rise still, so I am really quite encouraged to see the SLE challenge announced earlier by Minister Wong. And it can be done."
Chen elaborated, "I was in Myanmar last year, where the context is obviously very different. The country is looking at where to procure energy so a lot of the buildings are also relying on generator sets, etc. It's also looking at renewable energy as a viable option, such as the possibility of building power plants. While we don't have a Green building council in Myanmar yet, we work very closely with people from the Association of Myanmar Architects (AMA) and the Building Engineering Institute (BEI); that's basically more of a from-the-ground type of initiative. But they are actually still looking at establishing their building code, and considering integrating some of the sustainable and environmental aspects into the code. And I think that's an opportunity to look at what other more advanced countries have done, skip pass their mistakes, and look at what a low-carbon future might mean for Myanmar."
In conclusion, the speakers had the following to round up the session:
Gary observed, "A lot start with passive design and operation. Now, we also have the option of several carbon-positive materials in the market; timber is an obvious one, and bricks as well."
Chen added, "The objective of going net zero is a real mindset shift. It's not about 'no, but', but it's about 'yes, and'. So I really encourage everyone to pull out that optimistic realist in each of you and ask how do you, as an individual, change your own lifestyle, influence the people around you, and demand for zero carbon buildings."
Andrew concluded, "Before Roger Bannister broke the four-minute mile, everyone said that it's impossible for man to run a mile in under four minutes. The year after he broke the four-minute mile, there were something like 20 people who broke four minutes. So once somebody achieves something, it's a lot easier for others to follow in those achievements. As we continue to achieve successes, we will be able to see more successes. I'm very optimistic we will achieve our 2050 targets. But all of us must be passionate and say yes."
5 Sep 2018: Track 1.2 | Design for Manufacturing and Assembly (DfMA)
This year was the first time construction and manufacturing related topics (DfMA; MET or mass engineered timber; IDD or integrated digital delivery) were discussed at the IGBC, perhaps signalling a shift in the dialogue to turn the lens on the methods and ways in which buildings are being built, aside from how they are being designed.
This was an engineer's track—both presenters, who are engineers by profession, gave an insight on the advancements in construction methodologies and technologies. Wong Swee Khian, deputy director of Building Research at the Housing and Development Board (HDB), gave a detailed overview of the journey, milestones and current technologies employed by the statutory board in their design and construction of public housing for more than 80 per cent of the population in Singapore. Research has been carried out over the years to develop smart technology such as its own hybrid prefabricated prefinished volumetric construction (PPVC) designs that allow for flexible configuration of space in residential units without being limited by structural walls; as well as using BIM and 3D concrete printing technology to elevate construction competence and processes. Teo Tiong Yong, director of the Public Projects Division from JTC Corporation, also reiterated certain strategies presented by Wong while highlighting adoptions in DfMA for industrial estates.
The panel discussion that followed was moderated by Pek Lian Guan, executive director and CEO of Tiong Seng Holdings, and included the two presenters, as well as Dr See Lin Ming, principal at Arup Singapore. Interestingly, the session started with the moderator admitting he did not know what DfMA meant and needed to Google to find out. It goes to show that even within the industry, this topic is not well understood amongst practitioners. Questions raised by the attendees included implementation challenges in countries where employment for construction labour is priority, and how to strike a balance between adopting building technology and workers' relevancy.
6 Sep 2018: Spotlight Plenary | A Low Carbon, Beautiful Built Environment
Tai Lee Siang, immediate past chair of WorldGBC, presented examples of beautiful Green buildings and projects overseas (High Line in USA) and in Singapore (Oasia Downtown, Singapore), and addressed the question of bringing to life low-tech, low-carbon and good-looking buildings and how the two can be mutually embracing—Green does not always have to mean high-tech, and low-carbon does not have to mean ugly. Can the two coexist? He joked that when he visited Santorini, Greece, an island known for its beauty, it was indeed 'low-carbon' because it was winter, thus the shops and restaurants were closed and there was hardly anyone on the streets—so technically, no one was expending carbon.
Tai said, "The world has changed, the environment has changed. We need to think passive design as forward and innovative. I went to Santorini to challenge some of my own habits of living in big cities: you walk more, you have more fresh air and you depend a lot less on cars. Another place that I spend a lot of time in the last few years was London. Londoners have a low-carbon lifestyle generally—low-rise historical city fabric means that mixused is a way of life; people live, work and play in the same building. Cost of driving in the city is high and public transport is truly for the masses. There are more open spaces for use and in most cities; one can find a useable park easily within 400 metres of walking distance."
During the same session, Prof Arnoud De Meyer, president of the Singapore Management University (SMU), also gave a peek into the making of SMU's Tahir Foundation Connexion or SMU-X, which would be predominantly built with MET, along with other active strategies, and is targeted to be an on-site Net Zero Energy building when it is completed by 2019.
He elaborated, "We have plans for water consumption reduction by 30 per cent baseline 2011 by 2020. We have adopted the WELL Standards and do that by mainly increasing the amount of greenery in the buildings and we will increase that by 50 per cent by 2020. In terms of Green energy, we are building solar plans, we are putting photovoltaic cells on the top of our buildings, and we will have the largest solar plans in the city centre. Not to be compared to other big buildings or estates in Singapore, but we will have a 1.35-megawatt-peak solar plan by 2019, and hope that by doing so, produce 8 per cent of our own energy for the whole campus. In air-conditioning, we are moving towards passive displacement cooling, which we have enhanced with a software that we have developed internally to monitor each of the rooms. It will adopt and adapt to the number of people in the room, the usage pattern of the room, etc. We go for life-cycle-based Green procurement."
Prof De Meyer referred to the graphs in his presentation, "In 2016, we went from 5,000 to 10,000 students today. At the same time, you see that the energy consumption per kilowatt hour per square metre per year went down over those years. And we had total savings of 49 million kilowatt hours. The consumption was reduced by 30.6 per cent and the cost savings we had over those years was $10.8 million. Now everybody will then immediately ask the question, 'It's nice to have cost savings, but how much did you spend to get there?' We spent about $4 million, so it has been an excellent return of investment. A lot of hard work to get that, but with the doubling of the number of students, we had a significant consumption reduction over that period. For water performance, there was a total saving of 142,000 cubic metres. The consumption between 2011 and 2017 reduced by 18 per cent with a cost saving of about $305,000."
Architect John McLaughlin, director of MKPL Architects, admitted that while he is not an expert in the various systems or technologies that are going into the construction of this new campus—MET, DfMA façade, modular MEP and smart building systems—he recognised that to create a smart building does not just mean the adoption of different systems. It is about bringing together these new technologies and the parties involved to pave a new way of thinking in line with such an adoption—a collaborative course of action with a common goal.
McLaughlin elaborated, "There are many key elements in sustainability, such as photovoltaic cells, high performance façades and enhanced passive displacement cooling, with the goal of a net zero energy building. All of these are implemented without any compromise to the use of the building; there are no constraints, it's a 24/7 building. In buildability, there are certain strategies that we have explored such as MET, DfMA façade, modular MEP and smart building systems. These are solutions to a problem predicated by the site access and the limited time that we have. We did thorough research—the team went on study trips and spoke to specialists, learnt about best practices, and from there we decided what was the best material to adopt. Ultimately, these are just a gathering of systems that we used for the project. The biggest issue was that in designing SMU-X, the design team had to envisage what changes would be required of the 'next generation' of institutional building. A willingness to adapt was key. The casting aside of conventional thinking and a motivation to test new ideas and learn from others was vital to appropriate and informed decision-making."
6 Sep 2018: Track 2.1 | Healthy Places for Senses
Based on the presentations, this track seemed mainly focused on the workplace. The attendees were introduced to initiatives rolled out by property developers CBRE and Frasers Property Australia, as well as data, research and surveys collected from occupants/tenants/workers on the impact of Green building operations and health/well-being campaigns that were being carried out, which included input from Singapore's Health Promotion Board. Topics included demonstrating the evolution of Green building design and operation with a more people-centric approach, where thoughtful designs can craft health-enhancing spaces with relatively modest investments.
There was, however, not much discussion on other types of Green projects and how their architecture and placemaking strategies could affect occupant comfort and health. Are health and wellness means to serve mainly bottomline ends; do we focus too much on their relationships to the economy in terms of employees' productivity and profit? How about wellness for wellness' sake?
Some interesting questions raised during the panel discussion revolved around how to include nature into the built environment to make them into healthy places; whether it would be healthier to get people out of buildings and into more natural settings; as well as tackling issues on bacteria and virus in built-up areas.
Moderated by Joelle Chen (regional head, Asia Pacific Network, WorldGBC), this session's speakers included Emma McMahon (director – Sustainability, Asia Pacific, CBRE); Paolo Bevilacqua (general manager, Sustainability, Frasers Property Australia); and Neo Yi Lin (deputy director, Workplace Health Planning, Workplace Health & Outreach Division, Health Promotion Board).
6 Sep 2018: Track 2.3 | Synergising People, Nature and the Built Environment in Liveable Biophilic Cities
This is also the first time this topic was included in the IGBC line-up, in collaboration with NParks.
Dr Kweon Byoung-Suk, associate professor, Department of Plant Science and Landscape Architecture at the University of Maryland, shared a deeply insightful talk on the importance and impact of green spaces on different urban settings and the people, presenting data and research from her own studies across different social settings (workplace; schools) and social groups (by income; race). She brought up the concept of "nature equity", i.e., equal access and availability of nature to everyone, regardless of income or racial groups, and its importance, because she said it is often the poorest and most deprived groups that lack natural/green spaces the most, and therefore are the ones who need it.
On the topic of biophilia in city design, Karthik Karkal, senior vice president, Urban Planning at CPG Corporation, presented award-winning examples such as Singapore's Khoo Teck Puat Hospital and Gardens by the Bay, which have become the poster child of biophilic urban spaces.
During the panel discussion headed by Dr Lena Chan, senior director, International Biodiversity Conservation Division at the National Parks Board, the topics highlighted liveability in density—how cities can be made liveable; and how to live with nature and wildlife. Prof Thomas Schroepfer, from the Singapore University of Technology and Design, strongly believes that it is possible to create liveable dense cities. Is it a question of having enough land? Or is it a question of space planning? Karkal said neither; rather, it is a question of urban planning. This means planners and policymakers need to have a clear plan on how to best utilise the available land/resources so that dense, limited spaces can become liveable.
Dr Chan addressed questions on living harmoniously with nature, with wildlife. "Who was here first? You or the monkeys?" Her tongue-in-cheek comment was in response to concerns about wild monkeys and other animals invading into homes and such. She said it was us who have disrupted the habitats of wildlife through urbanisation. If it is about bringing nature 'back' to the cities to make them liveable, then it is also as much about shifting mindsets of the people to accept that it is inevitable to have nature right at one's doorstep, and to co-exist amicably with nature and wildlife.
"We need biodiversity, especially in cities. We cannot survive without it."

Dr Lena Chan concluded.
Other panelists included Prof Thomas Schroepfer (professor and founding associate head of Pillar, Architecture and Sustainable Design co-director, SUTD-JTC I3 centre director, Advanced Architecture Laboratory, Singapore University of Technology and Design) and Er Dr Johnny Wong (group director, Building & Research Institute, Housing & Development Board).
Strategic platforms for the industry
The SGBW took place from 5 to 7 September 2018 at Sands Expo & Convention Centre in Singapore, with anchor events such as IGBC; Build Eco Xpo (BEX) Asia, Southeast Asia's leading trade exhibition for the region's Green building market; and Mostra Convegno Expocomfort (MCE) Asia, a regional HVAC-R, water and energy exhibition. They offered strategic platforms for key stakeholders to deliberate on the future of Green buildings and sustainable development in the region and globally.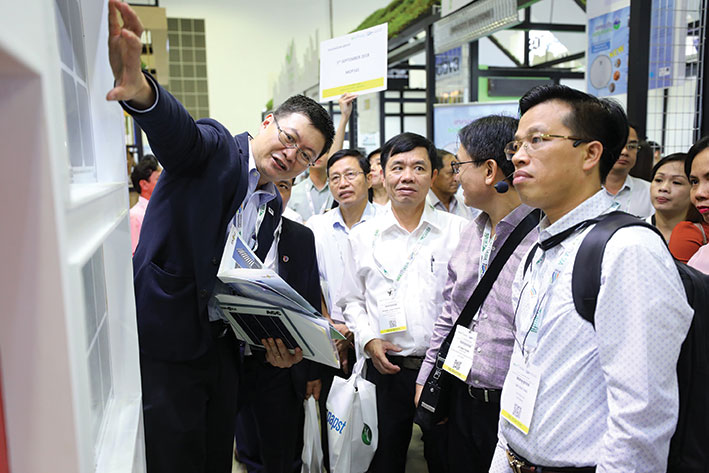 Into its 11th edition, BEX Asia is Southeast Asia's leading trade exhibition for the Green building market to source, network, learn and grow at a single, convenient platform. The event saw the convergence of Green building experts, policymakers, academics and built environment practitioners. Exhibitors highlighted ways in which Green buildings and new technologies can work in tandem for a regenerative approach to building designs, propelling the industry beyond the existing sustainability agenda. BEX Asia showcased the latest from the following product categories: architectural; automatic controls; concrete and structural; energy performance contracting; furniture and interiors; landscaping; lighting; mechanical and electrical; as well as smart solutions.
The next SGBW will take place from 4 to 6 September 2019.
Previously Published Happening