4th Quarter 2022
IBEW 2022 aims for Industry Transformation
December 7, 2022
Amidst today's global geopolitical tension, supply chain disruptions and the existential threat of climate change, the built environment (BE) industry needs to come together and build resilience. In this spirit, regional BE leaders and practitioners convened in person from 6–8 September 2022 for the International Built Environment Week (IBEW) Conference held at the Sands Expo and Convention Centre, concurrently with the trade exhibition Built Environment Xpo (BEX) Asia.
With the theme of Accelerating Transformation, Growing Together, the conference aims to strengthen collaboration across the entire value chain. Each day focused on a specific content pillar, covering topics from sustainability to innovative systems for growth.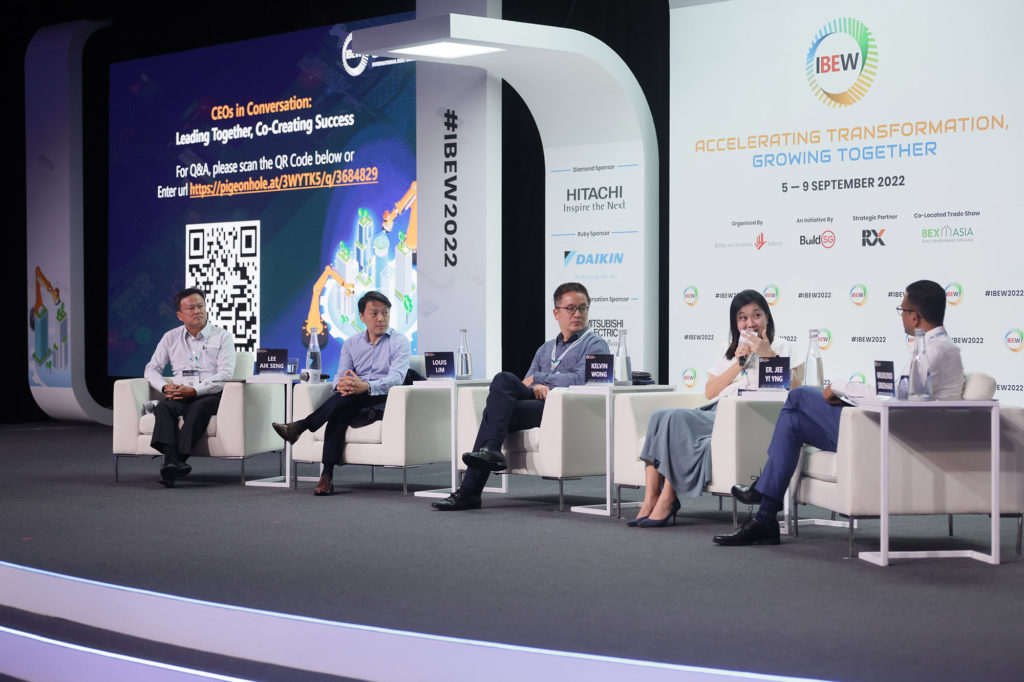 ---
Experiencing Green projects
IBEW offered pre-conference Site Tours on 5 September for delegates who wished to directly experience exemplary projects in Singapore. The guided tours included 10 projects and allowed delegates to interact directly with the people involved in designing and executing them. Some highlights included the DBS Newton Green, a 30-year-old building that underwent massive retrofitting to make it a net zero building; NTU Academic Building South, a project largely composed of mass-engineered timber (MET) and will be one of the largest timber buildings in Asia upon completion; and Avenue South Residences, the world's tallest prefabricated prefinished volumetric construction (PPVC) project.
---
Sustainable industry and cross-border Green ecosystem
The opening ceremony on 6 September saw Desmond Lee, Singapore's Minister of National Development officiating the event. In the speech, he delivered an outline for collaboration across the architecture, engineering and construction (AEC) industries through a refreshed Industry Transformation Map (ITM) for the built environment (BE) that adopts a life-cycle building approach.
First launched in 2017, the ITM has seen progress across three key transformation areas: Design for Manufacturing and Assembly (DfMA); Integrated Digital Delivery (IDD); and Green buildings. According to the Minister: "DfMA and IDD have helped progressive firms mitigate the impact of the pandemic over the past two years. For example, contractors who embraced DfMA technologies were able to minimise the impact of manpower shortages and deliver projects on time … We have also raised our sustainability ambitions for the built environment, in support of the Singapore Green Plan and our net zero aspirations."
[This is an excerpt. Subscribe to the digital edition or hardcopy to read the complete article.]
---

Singapore Zero Energy Cases | FuturArc
As targets are being put in place to green 80 per cent of Singapore's GFA by 2030 and to achieve 80 per cent of new developments to be SLEB, buildings are driven towards achieving this goal. There are a handful of buildings that have managed to achieve zero energy, such as the National University of…
RELATED: Academic Building South in Nanyang Technological University

Academic Building South in Nanyang Technological University | FuturArc
This is a proposal for the new business school within Nanyang Technological University's lush garden campus. The building is laid out on-site in a gently curved form, with abundant greenery and waterscape introduced into the site to reunite with its surroundings. The building has approximately 40,00…
RELATED: Avenue South Residences

Avenue South Residence: World's tallest PPVC residential building | FuturArc
Among the challenges faced by Singapore's architecture, engineering and construction (AEC) industry are its limited land and shortage of manpower. To optimise resources—as well as to reach carbon targets—there is a need to expedite construction times, streamline the work, reduce waste and minimise c…

Previously Published Happening